Editor's note: This post was updated in November with information on Ministry of Supply's Mask° 2.0, and Apollo Mask.
---
As COVID cases rise this fall, it's more important than ever to do your part and wear a mask. And while some masks made by fashion and shoe companies are very stylish, it's hard to tell what's actually effective from what's just aesthetic.
Enter MIT-founded fashion brand Ministry of Supply, which builds masks that nearly break the internet, and sell out everywhere every time they're released. Their original model, The Mask, was designed with informed choices in material, design, and filtration. It was initially developed for frontline workers, but in light of the CDC recommendations for better face coverings for civilians, MoS also made it available for consumer purchase. In August, MoS re-launched the sold-out Mask with a few key improvements: the 3D Print-Knit Mask° 2.0. Since then, the company has also launched a new, light model designed for moisture wicking and a more breathable feel, The Apollo.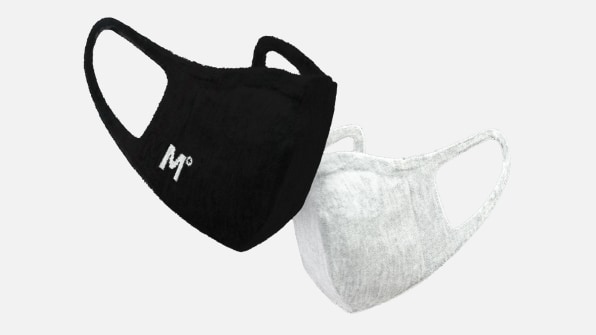 3D Print-Knit Mask° 2.0  is (as the name suggests) 3D printed to make for extremely efficient production times (each takes less than nine minutes to weave). Just like the first iteration of the Maskº, the Maskº 2.0 is made of a viscose and PBT polyester blend, it's machine washable, and the hygroscopic material pulls moisture to the core of the fiber, making it soft, breathable, and dry after even hours of wear. Because it's 3D printed, MoS was able to quickly iterate new prototypes in hours and test the shape and texture of different fabrics, meaning the resulting mask is a great fit and very comfortable—which is important if you don't want people constantly touching their face to adjust. The Maskº 2.0 features lighter construction that makes it easier to wear all day. In fact, this iteration boasts a 50% reduction in weight from the previous version. Its extended sizes guarantee a protective, correct fit for all different shapes and sizes of faces, and updated to super-soft ear loops add comfort. These design edits were made to create a more comfortable and practical everyday mask  for wearers, and the change were all based on customer feedback.
Meanwhile, the Apollo mask is designed for warmer days (or those of us who run hot) to be breathable and moisture wicking. That's thanks to the NASA-developed Phase Change Material it's made of, which was originally designed to control astronauts' body temperatures in space. According to MoS's website, the fabric is 19x more breathable than cotton—so say goodbye to feeling trapped in your own hot breath when exercising or doing heavy lifting. The Apollo comes in one size, and multiple colors.
---
FC Recommends 
---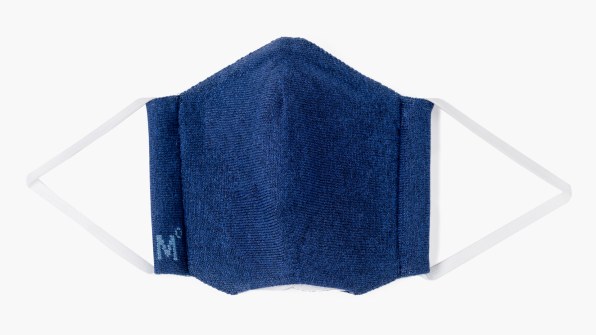 The masks can be worn without a filter for consumer use, but we recommend that you buy a pack of perfectly-fitted filters to slip into the pocket. They are Nelson Labs certified, and were developed in counsel with MoS's healthcare advisers at the MIT spinout MakerHealth. To get nerdy about it, each melt-blown polypropylene filter boasts a higher than 95% Bacterial Filtration Efficiency (BFE) rate and a 95% Particulate Filtration Efficiency (PFE) measurement at 0.1 microns. Translation: It stops a high percentage of droplets and particles from getting in or out. Separating filters and masks allowed the brand to use special production techniques (i.e., 3D-print knitting and die-cutting) to create the mask, and work on the filter technology separately, resulting in a better-fitting and more effective product. The Maskº Filter Kit ($20) comes with 10 filters—which are recommended for only eight hours of use a piece.
(Note: This is a non-medical mask—not an N95 or surgical mask—and should not be used for the diagnosis or treatment of COVID-19.)
Looking for more recommendations? Check out our other handpicked suggestions.
Fast Company may receive revenue for some links to products on our site.