One of the happiest stories to come out of the pandemic is the boom in pet adoption across the nation (and even the world). Animal shelters and adoption centers are emptying, and Petfinder (the online pet adoption platform) saw a 116% increase in adoption inquiries in the second half of March, according to Vox. Meanwhile, those of us who already have pets are realizing the truth of the CDC's assessment that pets can help ease "loneliness and depression by giving us companionship."
To help you show your new pet or longtime BFF just how much you care, we've rounded up a list of the best gear, treats, and toys that you can get safely delivered to your door. Because let's be honest, we know they're very good girls and boys.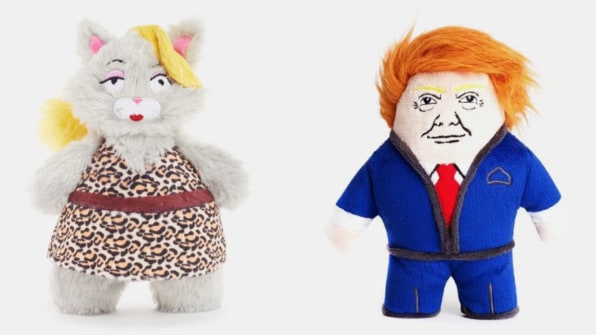 Bark Shop Toys
The best way to amuse both yourself and your pet when you're stuck inside: the cheeky, funny toys made by Bark Shop. May we direct your attention to the Dognald plush toy (aka a plump little Donald Trump for your pup to chew on), or the Cool Cat Carole (yes, a stuffed Carole Baskin toy for all you Tiger King fans)? The company also offers playful super chewy toys, shaped like beer growlers and mushrooms, along with ample dog treats. And to keep all the toys you're collecting off the floor, there's Felt Toy Bin more. It's much more chic than having Carole and Donald strewn about when there's company.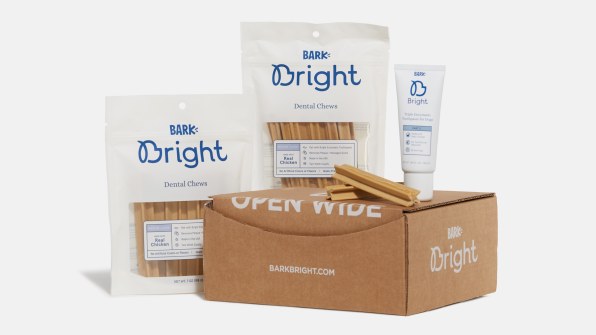 Bright Dental 
It's an unfortunate fact that dogs have hot, stinky breath. Bright—a branch of BarkBox—is on a quest to change that, without the $250 price tag of getting your pooch's teeth cleaned at the vet. The Bright Dental kit is a subscription that delivers teeth-cleaning goodies to your home for $1 a day. It includes a proprietary gel that utilizes three different enzymes that break down the debris in your dog's teeth that cause bad breath. All they have to do is chew on a stick, and goodbye dumpster-fire breath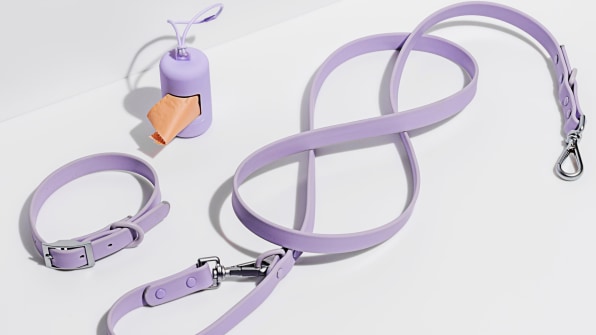 Wild One Collar Walk Kit
Finally, a chic, sleek collar and leash set that looks like it belongs in 2020. This set from boutique pet brand Wild One is made of flexible polyurethane-coated nylon that is insanely easy to clean. Just rinse or wipe off, and it never looks dingy. Other design details include length adjustors for the leash, a coated carbon-steel D-ring that puts an end to the jingling and rattling, and a perfectly-matched poo bag carrier that completes the set. If you want to add a comfortable harness that won't chafe underneath your pooch's arm, you can get it in the same matching color.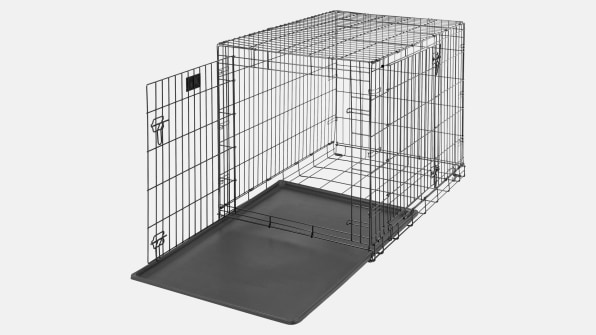 MidWest Life Stages Dog Crate
Kennels are tough. You want one that looks good, but is durable enough to withstand generations of dogs and puppies as they grow up. That means no wooden dog kennels that look like chic side tables (sad face) and no plastic domes. The MidWest Life Stages crate is consistently top-reviewed and has seen both of my dogs through kennel training (although Rainer is still awaiting graduation). This crate simply folds down for easy travel and storage, can be made smaller with the insertion of a divider, and features double doors—so you can more easily situate it within your space to fit your needs. Oh, and it's basically indestructible.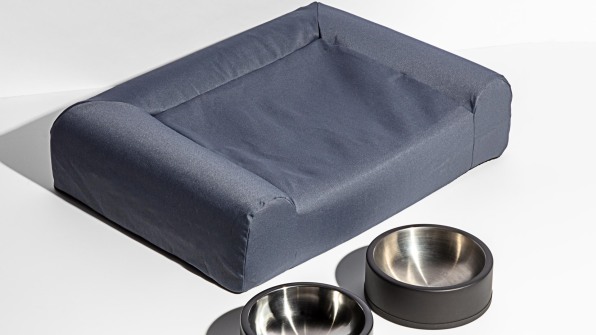 Wild One Home Kit
Wild One's Home Kit grants you aesthetically pleasing, perfectly-sized feeding bowls and a dog bed that are both pooch- and person-approved all in one kit, for an easy price starting at $150. The bed is made of supportive memory foam that's wrapped in a water-resistant (a.k.a. mess-resistant) coated liner. The two bowls included are made of food-grade stainless steel with a silicone base ring that ups the design while also adding the practical feature of preventing your dog from scraping his or her bowl across your floor.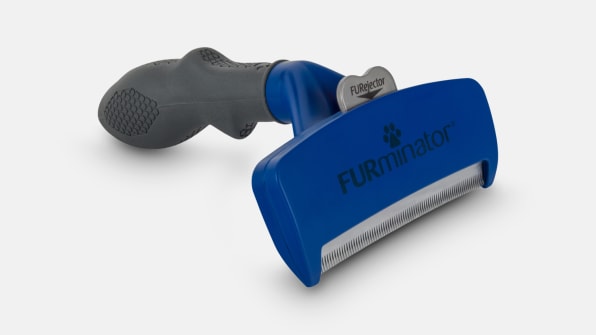 FURminator Brush
No one likes having a dog that sheds; most of us just deal with having a dog that sheds. But ask anyone who's used a FURminator brush and you'll be convinced that you don't have to deal with hair stuck to your pants and couches and scattered across the floor anymore. I own a long-haired Bernese, and before I bought this brush, we were vacuuming every other day. Now we're down to once a week. The FURminator uses extremely fine-toothed metal combs to detach dead hair from your pooch and remove it before it falls out—so you're effectively stopping the shedding by removing the hair before it has a chance to be shed. It's extremely easy to use, comfortable for your pets, and comes in a plethora of sizing options—including toy-sized, medium, and large—as well as brushes specifically for dogs with long hair or short hair.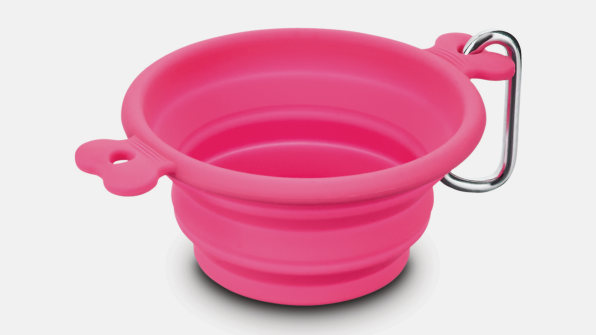 Collapsible Travel Food and Water Bowls
Whether it's for a camping trip, a day at the park, a long hike, or an overnight trip, these collapsible travel food and water bowls conveniently save the day, time and time again. They are compact enough to slip into a backpack or purse, making them easy to remember. And to add to the practicality of these to-go heroes, they are dishwasher safe (and BPA-free).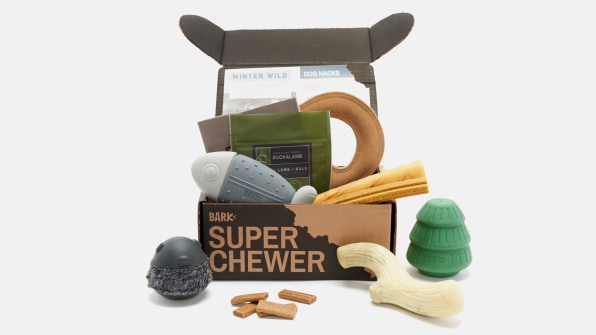 BarkBox Super Chewer 
Chances are that you already know about BarkBox, the monthly subscription that delivers treats, toys, and other goodies to your pooch. But what you may not know is that BarkBox has a special box reserved for those doggos who love to chomp, bite, chew, and rip (which is exactly what my 6-month-old rescue pup is all about right now). The Super Chewer box is delivered to you every month (with plans starting at $22 per box) with two super-tough toys (that are always, thankfully, fluff-free), two full-size bags of treats, and two all-natural meat chews. It puts getting toys and treats that occupy your pup on autopilot, and, really, what's cuter than your pup getting snail mail?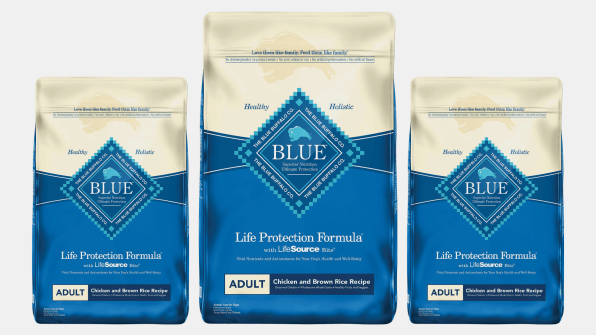 Chewy Food Subscription 
Before I signed up for a food subscription service, I inevitably would get down to the bottom of the dog food bag and have to scramble last-minute to go buy another from the specialty food shop in our neighborhood before closing time. It's a problem that's way too easy to procrastinate about—but luckily, the solution is just as easy. Chewy carries almost any food that you could possibly want for your puppy, dog, or senior dog—from raw and human-grade foods, to veterinary diet foods, to your regular wet and dry foods from brands such as Purina, Taste of the Wild, and Iams. When you check out, just make sure to choose "Autoship" on your purchase. You'll never have to worry about remembering dog food again.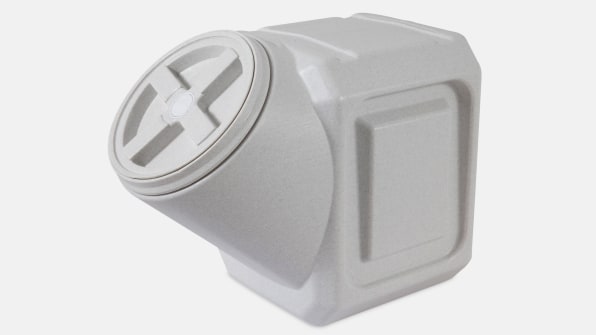 Gamma Vittles Food Vault
The Gamma Vittles Food Vault allows your pet's dry food to stay as fresh as it was the day that you opened the bag—all while making for easy transportation and complete protection from pests and bugs (or little hungry paws that like to sneak snacks from the bag). The food vaults come in different sizes, from a stackable container that holds 40 pounds of food to a heftier option that holds the standard 50-pound bag of food.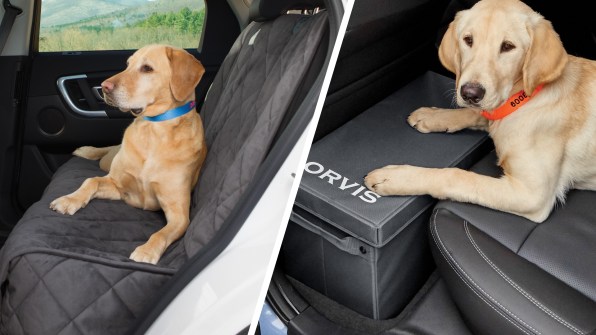 Orvis Backseat Protector and Back Seat Extender
Whether you have a puppy that gets carsick (my heart goes out to you), your pooch tends to get drool-y, or you just want to keep the interior of your car spic and span, the Orvis Backseat Protector is a lifesaver. It's incredibly easy to set up (you simply clip it onto your headrests), and the nonslip backing prevents shifting, even if your dog moves around. It's water-resistant and washes off easily if there are any accidents or extra-muddy hikes. And if you have a large dog that treats the backseat like their throne (or a couple of dogs who have to share the backseat), the backseat extender sits in your footwell to give your pups that much more room to relax. Bonus: The backseat extender doubles as a storage container, thanks to a handy pop-top, for easy access to leashes, treats, food, or whatever else you need to stash.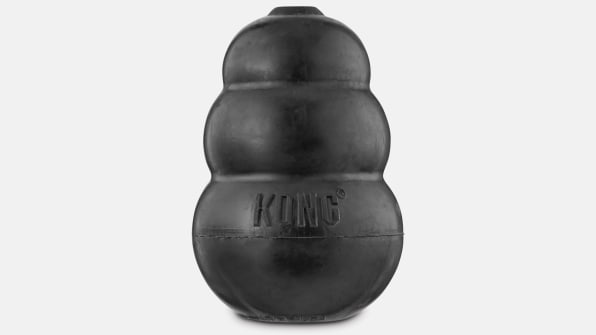 Kong 
Many an hour and many a dog has been occupied with possibly the most iconic dog toy of all time: the rubber Kong. It bounces like crazy, can withstand years of chewing, and is the perfect hiding place for peanut butter or treats when you are kennel training or trying to keep your dog occupied. Seriously, if your dog doesn't have a Kong yet, you're both missing out. Choose from five different sizes, depending on your pooch's needs.
Looking for more recommendations? Check out our other handpicked suggestions.
Fast Company may receive revenue for some links to products on our site.