Surfing legend John John Florence raised eyebrows last February when he walked away from a lucrative, multiyear contract with ubiquitous surf brand Hurley. Rumors swirled about whether he would sign with another surf giant such as Billabong or Quicksilver, or even a more mainstream sports brand such as Nike.
So when the two-time world champ announced last summer that he was launching his own apparel brand, you'd be forgiven for assuming it's another, you know, surf brand. Instead, he called his new company Florence Marine X to give it flexibility beyond surfing.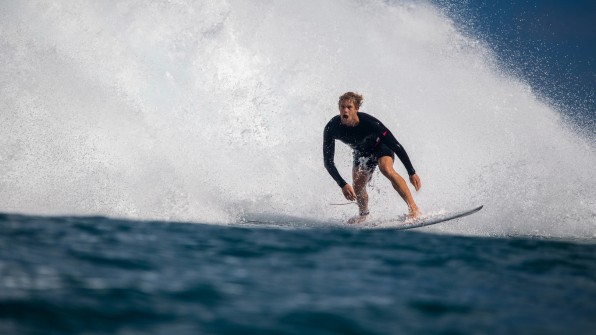 "I don't see this as just a surfing brand," says Florence, currently on a World Surf League tour stop in Western Australia. "I see it as an outdoors brand, based around the ocean. By no means am I thinking of this in terms of just surfing. In my life alone, I'm in the ocean in so many different ways, as are so many people, whether it's kayaking, diving, sailing, or fishing. All these ways people enjoy the ocean, that's the idea I'm building this around."
The undercurrent of encouraging people to enjoy the ocean is to also foster respect for it and the effect human behavior has had on its health. Sustainably sourced fashion is a growing industry trend. Florence hopes his brand helps people see why sustainability is so important.
After more than a year of planning and designing, Florence Marine X is launching its first run of products this week. The line includes T-shirts ($30), hats ($30), board shorts ($70), and wetsuits ($750), many of which are created using fabric repurposed from factory floor scraps. Brands such as Patagonia are an inspiration, for how it builds its products and runs itself responsibly. For Florence, making its initial products with recycled materials and those that can biodegrade over time is a starting point, with goals to expand its use of sustainably made products in the future.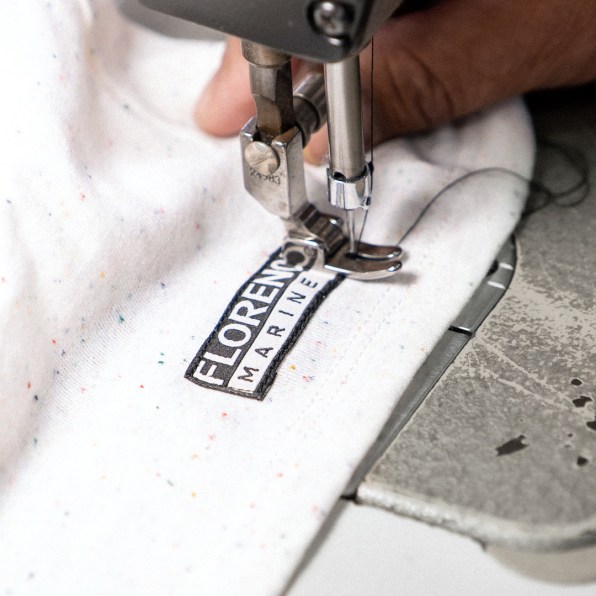 The brand is launching with a membership program dubbed the Florence Marine X Society. A one-time sign-up cost of $20 gets you in for life (and a $20 credit on your account), with benefits such as 10% rewards on purchases, limited-edition products, first access to new products, and exclusive content. A portion of the membership will go toward revolving initiatives, kicking off with the SeaTrees mangrove project.
View this post on Instagram
When it comes to brand design, Florence said he asked his team to follow two words. "I'm not a huge fan of big logos in your face, so it was about keeping things clean and simple," he says.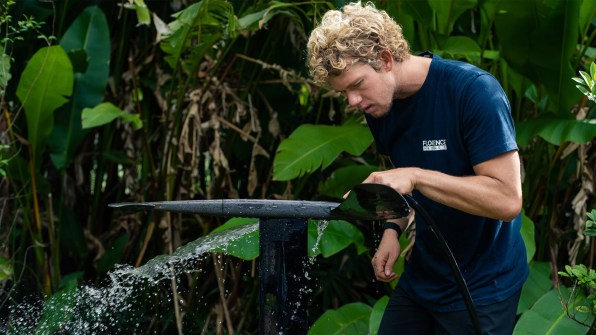 In recent years, surf pros Kelly Slater and Dane Reynolds have launched smaller surf brands (Outerknown and Former, respectively), but the surf world is largely dominated by a handful of larger brands that have been there for decades, such as Billabong, Quicksilver, O'Neill, and Rip Curl. Florence, a two-time world champion, is one of the most recognizable names in the sport, something that will only get bigger when surfing makes its Olympic debut with Florence front and center on Team USA.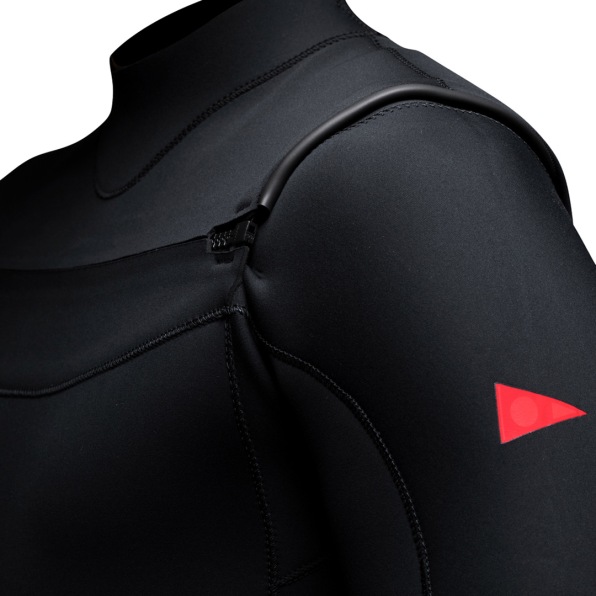 Florence Marine X is a partnership with Bob Hurley's new company, Kandui Holdings. Hurley launched what would become a Southern California uniform brand back in the '90s, before selling it to Nike in 2002. Nike then sold Hurley in 2019. The forced lockdowns and stoppage of the World Surf League tour last year afforded Florence the time and headspace to wrap his brain around starting a new company. "Now it feels like we're at the fun part, designing clothes, working with the team, and it doesn't feel like a taxing effort or a distraction," Florence says. "We've been in Australia for almost two months, with meetings twice a week, but they actually give me energy, rather than take it away."
This is Florence's attempt to build something that will outlast his pro career and grow beyond his sport. He cites one of his own sponsors, Yeti, as an example of a brand that can inspire people to get outdoors without tying it to a specific activity. This approach will arguably allow Florence Marine X to reach a broad consumer base, whether surfing and surfwear are popular or not. While surfing has seen a pandemic-fueled boom, in recent years Quicksilver declared bankruptcy (2015), and both Billabong and Rip Curl were acquired amid sagging sales.
View this post on Instagram
By diversifying the potential audience, Florence is betting on the popularity of water-based activities and a general shift toward environmental awareness. In 2019, 75% of consumers said that sustainability was important to them. "Marine X" is short for marine exploration, the kind that will bring people closer to the ocean and outdoors, whether on an epic adventure or just finding a new local spot. Florence hopes that exploration will encourage people to think harder about how their lifestyle choices impact the ocean. "You can tell someone to stop using plastic bottles, but that usually goes in one ear and out the other," he says. "But when you experience the ocean in a profound way, you can build a deeper respect and concern."
Initially, Florence Marine X products will be available online directly, with members getting priority for the first month. The brand will roll out to retail stores in the United States, Europe, and Australia later this summer.