Tell me if this sounds familiar: You're browsing around on a Roku or another media streamer, trying to find something to watch, and suddenly you feel overwhelmed.
There are so many apps, and so many options within those apps, that figuring out what to watch becomes a slog. Now you're yearning for the old DVR, which, despite its ugly interface and clunky hardware, at least presents all its content in a straightforward way.
Roku may have just solved this problem–not with its newly announced Roku 4 hardware, but with the accompanying Roku OS 7 software. Finally, someone has managed to break down the barriers between streaming apps in a way that makes sense.
The centerpiece of Roku's new software is Roku Feed, a feature that lets you bookmark movies and TV shows, and get notified when they're available for streaming. While browsing through those bookmarks, you'll see a list of apps where each video is available, drawing on more than 20 streaming sources, such as Netflix, Hulu, and Amazon Prime. Basically, it's a universal watch list for the things you really care about.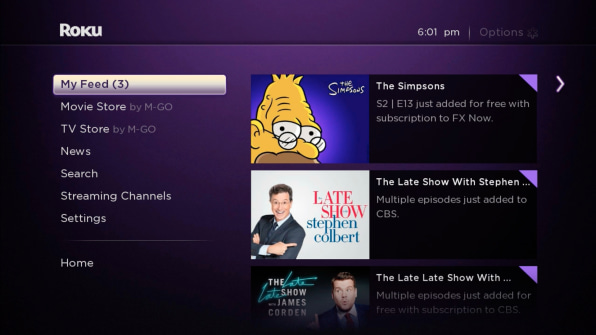 Roku Feed–or "My Feed," as it appears on the player itself–actually launched last April, but at the time you could only follow movies that were still in theaters. With Roku OS 7, you can track movies from any time, along with TV shows, actors, and directors. Notifications on the Roku home screen indicate when new videos from your feed are available, or when prices have changed.
In a way, Roku Feed is resembles the menu you'd find on a DVR, with a big list of videos that's always being updated as new content becomes available. Compared to universal search–which remains the focus on other TV boxes like Apple TV and Android TV–the feed seems like a more helpful starting point. Search only makes more sense when you actually know what you're looking for.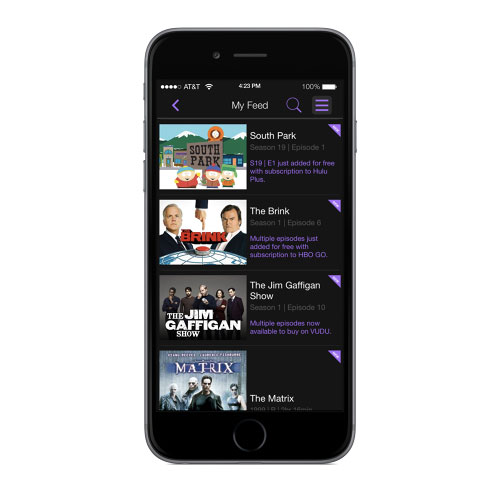 "It's a way for us to bring content to you," says Sharad Sundaresan, Roku's senior vice president of product management. "It's kind of like the search that keeps on searching."
This system also extends to a revamped Roku mobile app, which lets users browse and add to their feeds from anywhere. The app can send notifications to your phone or tablet when new content arrives, and you can use the app to launch videos on the Roku itself.
Roku will start rolling out the new software–which also adds support for hotel and dorm room Wi-Fi networks–to "current-generation" Roku players in mid-October.
Alongside Roku OS 7, the company is also announcing a new TV box called the Roku 4. At $130, it's the most expensive streamer Roku sells, but it's also the first Roku player to support 4K video.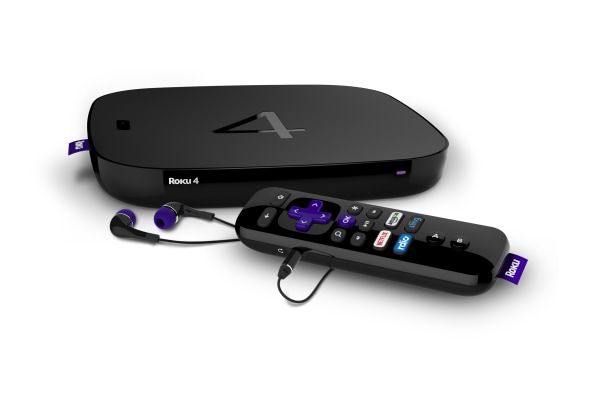 Roku isn't the first media streamer to do this. The Nvidia Shield Android TV launched with 4K support in May, and Amazon just released a Fire TV box with 4K streaming as well. But again, Roku aims to simplify finding 4K content, which is still relatively scarce. A special "4K Spotlight" section of the home screen will include a mix of movies, TV shows, and Internet video that take advantage of the super-high-resolution format.
The new player will also allow for a resolution boost to 1080p for the main Roku interface (other models use 720p for everything but the actual video streams), and Roku promises faster software overall due to the Roku 4's quad-core processor. It supports the latest 802.11ac Wi-Fi standard, and also includes optical audio output.
The remote control is largely unchanged–no Apple TV-style touch pads here–but Roku is adding a speaker with one clever purpose: If the remote ever gets lost in the couch cushions, you can have it play a tone by pressing a button on the set-top box.
"It's one of the features I like, because it solves a real problem," says Lloyd Klarke, Roku's director of product management.
These are challenging times for Roku, which was one of the first entrants in the streaming TV box business. Google's Chromecast has sold 20 million units to date, and its Android TV platform will soon be integrated into televisions from HiSense and TCL–both of which currently integrate Roku's software. Amazon threatens to win on pricing with its $40 Fire TV Stick and its $100 Fire TV, the latter of which undercuts Roku's 4K streamer by $30. Meanwhile, the upcoming Apple TV may capture the high end of the market, just as Apple has done with smartphones and tablets.
Still, Roku has faced down existential threats before, and the strategy is usually just to keep offering a more practical product. Roku Feed could play a major role, especially because it has so many streaming services on board.
In that regard, Amazon's decision last week to ban Apple TV and Chromecast from its online store seems fortuitous for Roku. Amazon is unlikely to release Prime Video apps for Apple and Google platforms anytime soon, leaving Roku as the only low-cost streaming option not made by Amazon itself.
When I spoke with Roku CEO Anthony Wood earlier this year about the company's long-term survival plan, he pointed to Roku's status as an "independent, trusted partner" for streaming services. "If you think about our competitors, like Apple, Google, and Amazon, they all have content offerings of their own, and all prioritize and preference their content. And customers know that," Wood said.
With those companies now publicly quarreling in a way that punishes their customers, Roku's strategy could start to pay off.