It's been exactly one year since Amazon's last big tablet announcement. So it's logical enough that the company is announcing four new models today: the Fire, Fire HD 8, Fire HD 10, and Fire Kids Edition. (The last is a version of the Fire bundled with a kid-proof case and content and software features tailored for young folks.) It's also introducing updates to its two streaming-TV devices, the Fire TV and Fire TV Stick.
I got a sneak peek at all these new gizmos at an Amazon event earlier this week. The value proposition remains classic Amazon: respectable-looking products running Amazon's Fire OS variant of Android, low price points, and deep integration of Amazon content stores so the company can make money off you over time if you actually use a device. What's new is about incremental improvements, not great leaps forward. But those incremental improvements look good–and some of them even surprised me.
Last year, Amazon offered a decent 6-inch tablet for $100, and it was a pleasant surprise. This year, its baseline Fire tablet is a decent 6-inch model for . . . $50. That's not a new low for a tablet–here's a 7-inch model you can buy on Amazon right now–but the Fire has an IPS display for a wide viewing angle and a quad-core processor that should be acceptably peppy even for games. The overall level of polish looks off the charts for the price point.
At $50, Amazon thinks people will buy Fire tablets for multiple family members and to give as gifts. It thinks that folks might even use one as an alarm clock or keep a couple in the car. And in one of the more entertaining decisions I've seen from a tech company lately, it's going to sell a six-pack of Fire tablets for $250. (Buy five, get one for free!)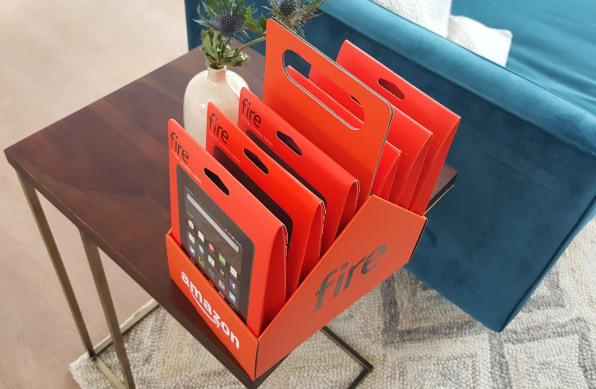 Historically, Amazon's tablets have sharply undercut the prices of iPads–but their screen sizes have been smaller. No longer. Amazon is now offering larger displays at lower prices than in the past. Rather than introducing 7-inch and 8.9-inch models, it's offering $150 8-inch and $230 10.1-inch versions. Each has a slightly larger screen than the equivalent iPad, and with a widescreen aspect ratio designed for movie playback.
For this season's tablets, at least, Amazon seems to have concluded that people would rather pay a really low price than get really high resolution. The new 8-inch and 10.1-inch tablets have 1280-by-800 HD screens rather than the super-high-res displays of the pricier Fire HDX tablets of past years. Nothing wrong with that, but it does mean they're in a different class of tablet than the iPad Mini and iPad Air 2, which sport Retina displays with way more pixels.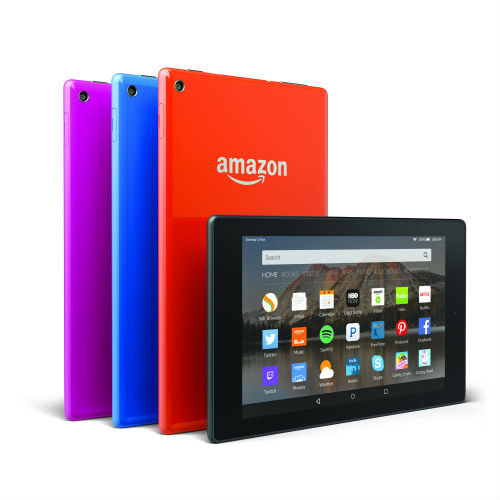 Recent generations of Amazon's medium-sized and large tablets have had industrial designs that seemed to aim for an understated elegance. That's been especially true of the magnesium-clad 8.9-inch model, which has been a contender–to my eye, at least–for the honor of being the best-looking tablet on the market. The new versions toss the old industrial design aside entirely. The 8-inch and 10-inch Fire HD tablets have metal frames covered in super-glossy laminates–black, magenta, blue, and tangerine for the 8-inch model, and black and white for the 10-incher. They also have jumbo-sized white Amazon logos on their backsides. The overall effect is one of fun over low-key sophistication, and reminds me of M&Ms. Or, if you prefer, of Apple's dearly departed iPhone 5c.
In a new option reminiscent of a service called Spritz, you can choose to read selected Kindle books using a feature called Word Runner. It displays words rapid-fire, one at a time in the middle of the screen, adjusting the pace as appropriate for complex words and paragraph breaks.
If you're an Amazon Prime member, Fire OS 5's new On Deck feature can automatically download movies and TV episodes based on its knowledge of your viewing habits. The goal is to give you stuff to watch in offline mode–such as if you're on a plane–without forcing you to plan ahead and do any downloading yourself. (On Deck videos automatically make way for anything you choose to put on your tablet, so they're not competing for storage space.) It reminds me of the Suggestions feature that TiVos have long had.
At first blush, the new Fire TV streaming box looks like a pretty formidable competitor to the upcoming all-new Apple TV, especially for the starting price of $100. (A version with an improved version of Amazon's game controller is $140.) And the single, most obviously significant advantage it has is support for 4K video. Some movies and TV shows will be available from Amazon in 4K–including all of its new original content–and Netflix will also offer 4K. Even if you don't yet own a 4K TV, it sounds like an attractive bit of future-proofing.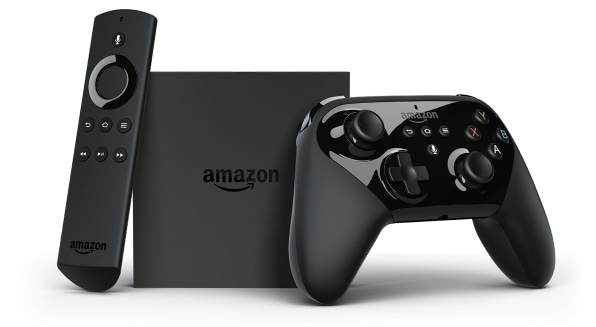 The new Fire TV and Fire TV Stick have a version of Amazon's Alexa smart assistant, which debuted on the Echo smart speaker. It includes on-screen cards for info such as sports scores and factoids, making it feel like a more direct competitor to Siri and Google Now than Echo's audio-centric version. And Amazon says that it will upgrade it to perform new tasks on an ongoing basis–starting with commands for controlling movie and TV show playback, such as "next episode."
I would have guessed that if Alexa was ready for Fire TV, Amazon would also roll it out for its tablets. Nope. There's already an Echo companion app that lets you use a supplementary version of Alexa on a Fire tablet, but the assistant isn't yet built into the tablets. Maybe next year.
The new Fire TV has Mayday, Amazon's built-in customer support feature. But it's not the full-blown version that originated a couple of years ago on the Fire HDX tablet, which lets you see and talk to a rep in a video window right on the tablet. Instead, you initiate a support session via phone, whereupon an Amazon employee can take over your Fire TV–with your consent–and walk through features and mark up screens. From the glimpse I got, it's less magical than the original version, but might be almost as straightforward and useful.
Okay, okay–I know that you weren't expecting Amazon to announce a second-generation version of its famously failed Fire Phone. But you know what? I was, if only because it was always obvious that it would take a version or two for the company to get the idea right. For all I know, it'll announce a new version next week. But I would have been happy if one had been part of today's unveiling. Maybe I'm the only one.
All of these new products are available for preorder starting today. The Fire tablets begin shipping in the next couple of weeks; the Fire TV and Fire TV Stick arrive in October.