Butterfingers rejoice: The next smartphone you buy might have a screen that's meaningfully more likely to survive a tumble without shattering. Corning, whose Gorilla Glass has shipped on more than 6 billion devices since its 2007 introduction, held an event at its Silicon Valley office this morning to announce Gorilla Glass 6. The company says the material is twice as robust as 2016's Gorilla Glass 5, and able to withstand 15 drops from one meter, or around three feet, on average. It's due to arrive on new phones by the end of the year.
According to Corning research, damage due to drops is a primary concern of smartphone owners, so the company focused on improvements in that area for Gorilla Glass 6. The new material offers about the same resistance to scratches as Gorilla Glass 5.
Corning's event included demos of the gadgetry the company uses to test Gorilla Glass, much of which involves dropping or slapping dummy phones against 120- and 180-grit sandpaper, which helps the company approximate contact with surfaces such as rough asphalt in a consistent manner. "Nobody's broken more phones or glass than Corning," said John Bayne, Gorilla Glass's general manager.
Bayne acknowledged that lab-test results don't convey the range of real-world possibilities when a phone suffers a fall. Some folks may crack their phone in minor mishaps on the day they buy it, he said, while others could knock it from a building's second story without shattering the glass. (Tell me about it: A factory-fresh Samsung Galaxy S8 Plus with Gorilla Glass 5 fell out of my shirt pocket onto a linoleum floor when I bent over, and it cracked.) But Corning's data shows that smartphone owners typically drop their phone seven times a year, well under the 15 drops that Gorilla Glass 6 is rated to endure on average.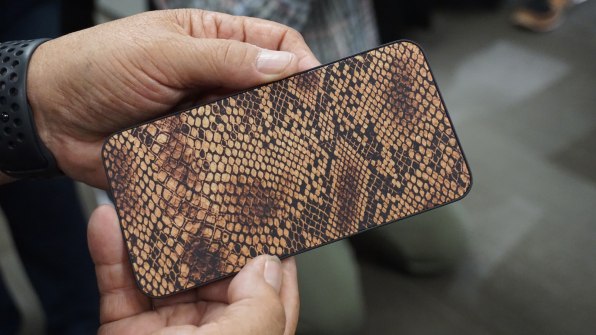 The Corning event wasn't just about durability. Many new phones now ship with glass backs—which allows for wireless charging and is helpful for cellular reception—so the company also showed off new options for spiffing up phone backsides. Phone makers can use Gorilla Glass and inkjet printing to achieve surprisingly convincing simulations of materials such as wood and snakeskin, not just visually, but also down to the texture.