Every time I travel, I bring my own towel. No, not because I'm a paranoid clean fanatic—though I've seen those black-light tests on hotel linens. Rather, it's because one of the most versatile travel companions I own is a set of Turkish towels.
Lightweight, 100% cotton flat-weave towels—sometimes called Turkish towels, foutas, or hammam towels—may not look like anything special: They're not much thicker than your average cotton T-shirt, usually rectangular, and woven, sometimes with subtle cotton fringe. But they can roll up to the size of a closed, compact umbrella and be stuffed and squished into any gap in your luggage or carry-on.
And in my humble opinion, Turkish towels are superior to any other towel you can buy. They are extremely absorbent, thanks to long, soft cotton fibers that make up the weave, and they dry much quicker than that super-plush, fluffy spa set you thought you had to have. (Remember, the longer your towel stays damp, the longer it becomes a breeding ground for bacteria.) They make great impromptu picnic blankets, beach towels, and, if you really need it, a wrap or sarong.
I've used them to drape over particularly questionable airline and train seats and snuggled under them when stuck under an air vent. At home, I especially like my Turkish towels for drying my hair. Because of their flat weave, they produce less tension and friction on my wet hair, reducing the risk of frizz and breakage. Sometimes I use them for a layer of organic texture on my sofa or bed. And sometimes, when I've spilled an entire glass of water on the ground, they're the towels I grab to finish the job in one swipe.
And after all that and hundreds of washes, the striped Turkish towel set I received six years ago still looks brand-new. (Note: Turkish towels must be washed before their first use to loosen up their fibers—each wash thereafter adds to their softness.) Have I convinced you to get a set of your own? (How could you not?) Here are some great options at all price points in a range of colors, as well as some alternatives for those who aren't quite ready to take the flat-weave plunge.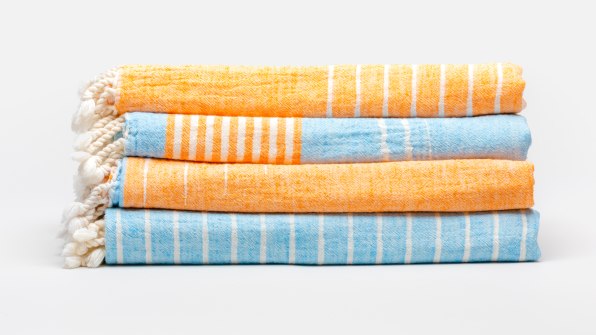 FiveADRIFT Beach Towel
Fiveadrift's towels are generously sized, surf-and-sand-friendly, and made with blend of super absorbent hemp and cheerful colored cotton. Founded by TempAlert founder Harry Schecter, and his wife, Michelle Keef, the brand follows Paul Newman's approach of donating 100% of profits to ocean conservation and cleanup charities like Oceana and Surfrider Foundation, and are pending in their process of B Corp certification. 
House no. 23 Handwoven Turkish Beach Towel
Muted coastal stripes make House no. 23's dreamy and durable cotton towels even more irresistible. They're perfect for lounging by the pool or adding a burst of color to a neutral space.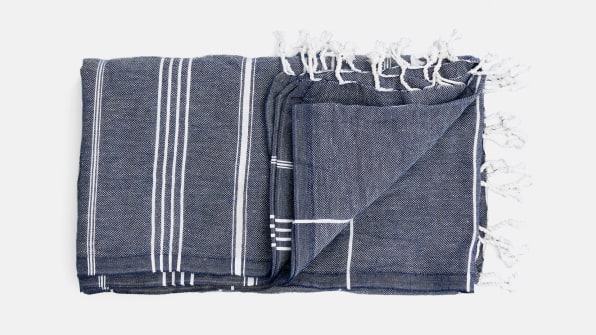 Huckberry Turkish Towels
These sunny striped towels from Huckberry are great for getaways. They're easy to brush sand off of, can fit in a handbag, and are breathable and airy enough to drape over your shoulders when you need a break from the sun.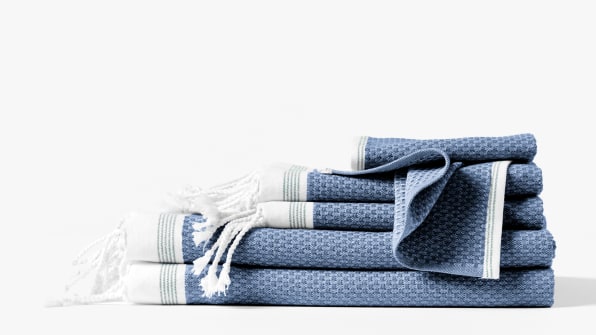 Coyuchi Mediterranean Organic Towels
If you're looking to outfit your entire bathroom, Coyuchi's 100% organic cotton towel sets are ideal. The soft textured weave gives each linen heft, so they look substantial but still feel as light as a cloud.
Sand Cloud Turkish Towels
For fun patterns, bright colors, and flat-weave towels that will still appease little ones, Sand Cloud's offerings are tough to beat. Plus, 10% of profits go toward sea-saving orgs like the Marine Conservation Institute and the San Diego Coastkeeper.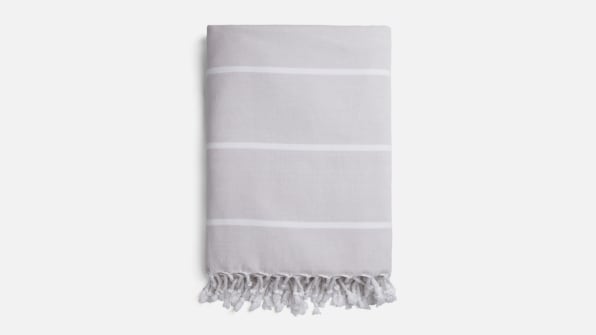 Parachute Oversized Beach Towel
A Turkish towel for two! Parachute's dreamy oversize towel is a hybrid: flat weave on the front, terry on the back.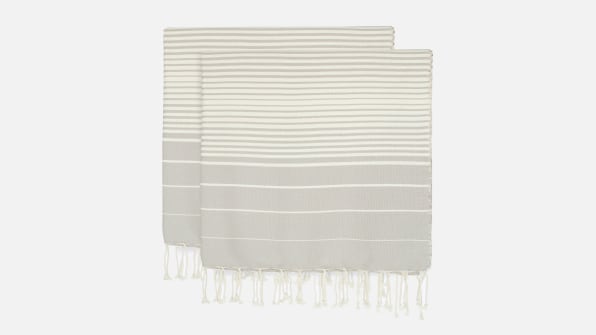 The Citizenry Marrakech Spa Towels
The Citizenry's super soft, striped towels are made from luxurious Egyptian cotton. Each is handmade by artisans at the Houmet Weaving Workshop just outside Marrakech, Morocco.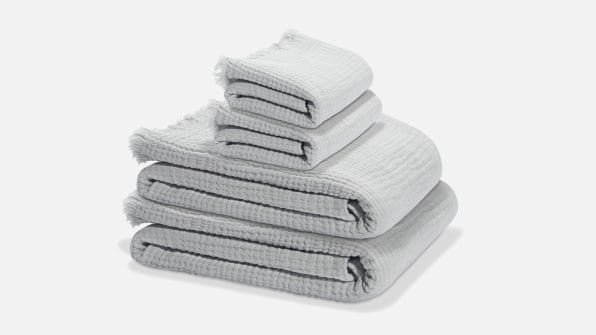 Riley Four Layer Towels
For those who can't quit the puffy fluffiness of their favorite towels, Riley's unique cotton variety may be the happy medium. Each lightweight, slightly puffy towel is made in Portugal and features a unique quilting texture, which makes it absorbent, cozy, and lint-free.
Fast Company's Recommender section is dedicated to surfacing innovative products, services, and brands that are changing how we live and work. Every item that we write about is independently selected by our editors and, wherever possible, tested and reviewed. Fast Company may receive revenue from some links in our stories; however, all selections are based on our editorial judgment.