If you buy a cup of coffee to go at Babette Café in Berkeley, California, later this month, you might not be able to get it in a disposable cup. The owners have one case of compostable cups left, and aren't planning to buy more. Instead, anyone who doesn't have a reusable mug of their own—and doesn't want to stay in the café—can use an app to borrow a gleaming stainless steel mug from a stack on the counter.
The café is one of nine locations in the city to pilot Vessel, a system that lets customers check out a free mug, like a library book, and then drop it off at any of the other participating locations, where it will be collected, washed, and returned. Vessel, a startup that also operates in Boulder, Colorado, will soon launch a similar pilot in San Francisco.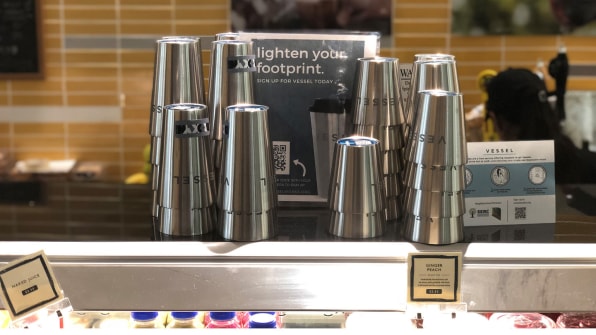 "The idea is to make it so much easier for people to go reusable rather than being focused on this disposable culture," says Martin Bourque, executive director of the Ecology Center, a nonprofit that handles recycling for the city and that partnered with other organizations to launch the pilot, which began last fall.
In Berkeley, a new fee is designed to cut down on single-use cups: As of January 1, coffee shops have to charge customers an extra 25¢ per cup. The city wanted to tackle part of its waste problem, estimating that residents go through around 40 million disposable cups in a year. The fee is part of a law that also requires restaurants to use compostable cups and other to-go containers. By July, restaurants will have to use reusable dishes and silverware for customers who are dining in.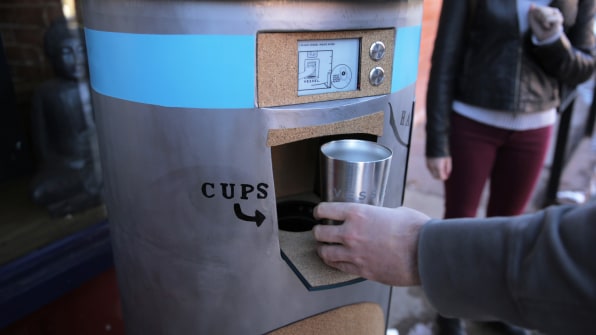 It wasn't enough just to require compostable containers, says Sophie Hahn, the city council member who proposed the new policy. "The whole point of the legislation is for people to throw less away," she says. "It's for us to move from throwaway to reusable, not to move from recycling to composting. Composting is a better alternative on the way to reusable. Reusable is the ultimate goal."
That opens up new business opportunities for startups like Vessel. The Ecology Center, which worked with Hahn on the law, started evaluating some of the companies in the emerging space of reusable packaging to invite to come to the city. Vessel was appealing in part because it's free for customers; the coffee shop pays a 25¢ charge to cover Vessel's cost of washing and restocking. (The system will need to scale up to become financially sustainable, and at the moment, the Ecology Center is helping cover some of the cost.)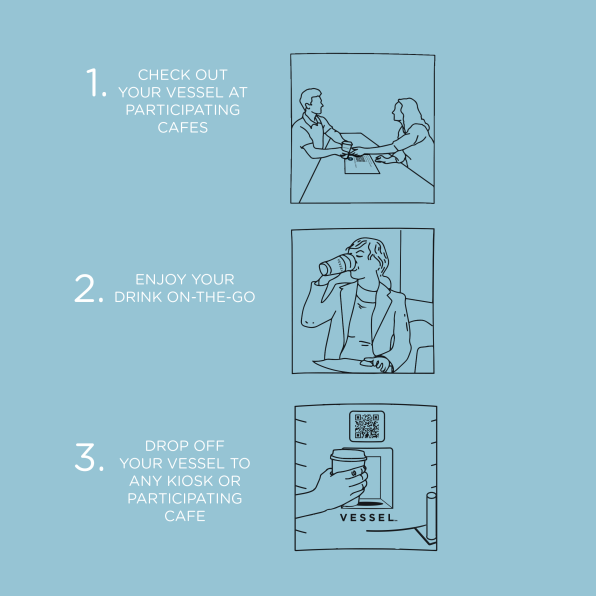 If a customer doesn't return the cup, they're charged $15 and they own it. "It makes it really easy for the customer," says Bourque. "We want the fewest barriers to people using the program as possible." The stainless steel cups, which come with silicone lids, also look good. "We also wanted something that cafés would be excited about having on their shelves."
For customers that don't have phones or credit cards, they might be left with the choice of either drinking their coffee on the premise or paying an extra fee for a compostable cup (unlike at Babette Café, most places will probably keep some compostable cups in stock). Even for some people with the financial means, the system can be hard to navigate. Babette Café's owner describes walking some customers through how to sign up and scan QR codes.
Vessel says that it's too early to say how the new January law is helping its system grow, but since the pilot began last fall, adoption rates have exceeded the company's projections, and it now has a waiting list of cafés that want to join the program. "We have been outstripping those goals every month, and in some cases, by double," says Dagny Tucker, the company's cofounder and CEO.
The new fee on disposable cups is likely to be effective compared to discounts that some retailers, like Starbucks, offer customers when they bring reusable mugs from home. "From a cognitive science perspective, what we know is that people are not inclined to be incentivized by discounts," she says. "But as soon as you are charging someone something, it creates a cognitive flip in which people immediately stop, like, 'I'm not going to pay extra.'" When Starbucks tested a small fee on disposable cups in London, for example, the use of reusables grew 126%. When cities and states have adopted fees on plastic bags—something that the Ecology Center also helped pioneer—the use of reusables has also grown dramatically.
The law is also helping push more businesses to change. The café chain Blue Bottle, for example, plans to pilot a zero-single-use-cup policy in the Bay Area. "We've already seen pretty dramatic impacts," says Bourque. As other cities, like San Francisco, adopt similar ordinances, Vessel is seeing increased interest in its services; it's also in conversations with some of the largest restaurant chains. "There's been a significant shift since our last conversation," says Tucker. "I think it's because of the awareness around plastic pollution in the ocean and the public pressure that's there."
By 2023, Berkeley hopes to create a new model for a citywide system of reusable to-go containers for all food, not just drinks (the stainless steel cups, it should be noted, can be used for soda, smoothies, and other drinks, not just coffee). "That has spurred a lot of interest from entrepreneurs," says Hahn. "I think a lot of times when we are trying to make these transitions that we have to make for our local communities and for the planet, people think of it in terms of hardship." City staff is working with restaurants, and providing small grants, to help make the transition easier. But she says that it can also lead to new businesses. "People really need to think of these things as opportunities for innovation."