Sheryl Sandberg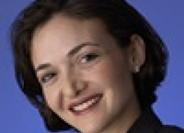 Sheryl Sandberg
Sheryl Sandberg is Chief Operating Officer at Facebook. She oversees the firm's business operations including sales, marketing, business development, human resources, public policy and communications.
Prior to Facebook, Sheryl was Vice President of Global Online Sales and Operations at Google, where she built and managed the online sales channels for advertising and publishing and operations for consumer products worldwide. She was also instrumental in launching Google.org, Google's philanthropic arm.
Before Google, Sheryl served as Chief of Staff for the United States Treasury Department under President Bill Clinton where she helped lead the Treasury's work on forgiving debt in the developing world. Earlier, she was a management consultant with McKinsey & Company and an economist with the World Bank.
Sheryl received a B.A. summa cum laude in Economics from Harvard University and was awarded the John H. Williams Prize for the top graduating student in economics. She received an MBA with highest distinction from the Harvard Business School. Sheryl serves on the boards of Starbucks, the Brookings Institution, Women for Women International, V-Day, and the Ad Council.
Sheryl was named as one of the 50 Most Powerful Women in Business by Fortune and one of the 50 Women to Watch by The Wall Street Journal.