Entrepreneur. Digital Guru. Change Agent.
AUTHOR PAGE
Nathaniel Perez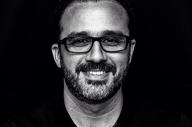 Nathaniel Perez
Nathaniel Perez (@perezable) is an entrepreneur, a digital guru and change agent helping companies all sizes transform and innovate. Formerly Global Head of Social Experience at SapientNitro, he spearheaded digital strategies rooted in social behavior and both the art and science of new media connections.
He's an ultra-creative "technologist turned strategy executive", with over 17 years of experience working with leaders including IBM, Razorfish, Microsoft and SapientNitro. He has led marketing excellence across disciplines, including media, commerce, CRM, analytics, big data, mobile and physical/digital. He has helped over 100 global brands in various industries, including Coca-Cola, ESPN, LeBron James, NASCAR, Target, H&R Block, Amway, MARS, Unilever, Sprint, Metlife, Kraft, Citi, JCPenney, AT&T, TMobile, Verizon, Terra, Conde Nast, Mercedes, Carnival Cruises, Burger King and more.