Lisa Nirell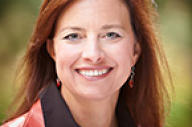 Lisa Nirell
Lisa is the Chief Energy Officer of EnergizeGrowth, LLC and a nationally-recognized expert on CMO success.
Companies such as Adobe, Microsoft, Infor, and Hilton hire Lisa to generate fresh ideas on marketing strategy, revenue growth, and leadership. Lisa also hosts the exclusive Marketing Leaders of DC peer group and global CMO communities.
Lisa is an award-winning expert blogger for Fast Company, Forbes, and The Huffington Post. She authored EnergizeGrowth NOW: The Marketing Guide to a Wealthy Company and recently released The Mindful Marketer: How to Stay Present and Profitable in a Data-Driven World. Visit www.energizegrowth.com to download her latest CMO videos and white paper, and follow Lisa on Twitter @lisa_nirell.