Curt Jones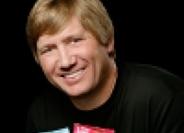 Curt Jones
Inventor, entrepreneur and microbiologist are but a few of the titles that apply to the man who guides one of the most innovative companies in America.
Curt Jones was raised on a farm near Grand Chain, Illinois. He started early with various business projects including radio repair, broom making, raising livestock and baling and hauling hay and straw.
In 1987, while researching various freezing techniques for the large scale commercial preservation of bacteria and enzymes Curt developed the idea behind Dippin' Dots® Ice Cream. By utilizing liquid nitrogen in a quick-freeze process, a unique, high quality ice cream novelty was born that has proven to be very popular in a competitive marketplace. Dippin' Dots® products are now distributed throughout the United States and in international markets.
A Master's Degree in Microbiology, college teaching experience, and former research and managerial experience all combine to create in Curt a belief in himself and his companies. With a unique approach to business management he is able to obtain a level of employee commitment and empowerment not commonly found in business today.