Beth Comstock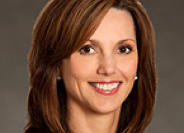 Beth Comstock
Beth Comstock is Chief Marketing Officer and SVP of GE. She leads the company's organic growth and commercial innovation initiatives, and the sales, marketing and communications functions. She is responsible for the GE-wide business platforms ecomagination, devoted to reducing environmental impact with new technology, and healthymagination, focused on achieving sustainable health through innovation by lowering costs, improving quality and reaching more people.
She returned to the CMO role after having spent over two years as President of Integrated Media at NBC Universal. Beth oversaw the television ad sales, marketing and research teams, with a focus on new advertising innovations. She led the company's digital media development and distribution, including the formation of hulu.com, Peacock Equity and the acquisition of ivillage.com.
In 2003, she was named GE's first Chief Marketing Officer in more than 20 years and as such, helped reinvigorate marketing across the company, introducing ecomagination, Imagination Breakthrough innovations and the "imagination at work" brand campaign.
Previously, Beth held a succession of publicity and promotions roles at GE, NBC, CBS and Turner Broadcasting. She began her career in local television production in Virginia.
Beth is a trustee of the Smithsonian's Cooper-Hewitt National Design Museum. She is a graduate of the College of William and Mary. She and her husband have two daughters.