Andiara Petterle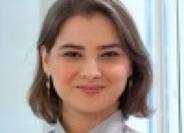 Andiara Petterle
Andiara Petterle is CEO of Bolsa de Mulher, the
largest women-focused media group in Brazil and Latin America.
Passionate about building and leading fast-growing interactive media
companies from the ground up, Andiara's entrepreneurial zeal is matched only
by her enthusiasm for helping women create successful, engaged lives. At
Bolsa de Mulher, Andiara leads a team whose mission is to provide women with
information and opportunities for interaction. The company operates a
number of vertically focused websites and offers social networking, content,
services, e-commerce, and relationship tools for the Internet and mobile
devices. Bolsa de Mulher is also a leading provider of women-focused market
research through its Sophia Mind division.
The company's portfolio includes: Bolsa de Mulher.com (a content-driven
social network for women with over 9 million members), iTodas (women's
content), Estrela Guia (astrology), Feminice (teen topics), Bem Leve
(dieting and health services), Universidade Feminina (e-learning), Bolsa de
Bebê (babies and pregnant women), Netcard (e-cards), TeContei (celebrity
news and social network), Bolso de Mujer.com, Bolso de Bebé.com, and Sophia
Mind (business intelligence and research).
Andiara has MA and BA degrees in Social Communications from PUC-Rio, was a
guest researcher at Brown University, studied Interactive Media Development
at the University of British Columbia, and participated in the Women's
Leadership Program at Harvard Business School. She sits on the board of the
Brazilian Advertising & New Digital Strategies association (BrANDS ) and
regularly lectures and writes about digital media, the female marketing
demographic, and the future of media convergence.