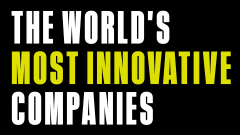 Founded in 2012 by two Stanford students, Snap is the Los Angeles-based technology and social media company behind messaging app Snapchat. Probably the social network that best illustrates the divide between millennials and the Gen-Xers who preceded them, Snapchat's photo and video messages disappear after they are viewed. The app's focus on fun features like stickers, drawing tools, and augmented-reality filters has helped Snapchat grow to more than 150 million daily users and become a hot advertising platform, with a projected 2017 ad revenue of over $935 million. No wonder competitors like Instagram have begun borrowing some of Snapchat's best features, like the daily photo and video collections called Stories.
In September 2016, Snap unveiled Spectacles, a pair of playful smart eyeglasses that allow wearers to capture short videos that can be shared via the Snapchat app. Although companies like Alphabet (formerly Google) have tried to sustain buzz about previous smart glasses, Spectacles so far has had one of the most impressive product debuts in the category, thanks to a surprise launch and an innovative strategy of selling the glasses through pop-up vending machines, randomly placed throughout the U.S.

In 2014, the company started aligning itself with music events: a natural fit for some of Snapchat's most popular features. Live Stories, which allow users at the same event or location share Snaps to the same feed (called Our Story), are the perfect conduit for live music events sharing. More people watched Snapchat stories from the 2015 MTV Video Music Awards than watched the event itself on cable.
Snapchat Discover, launched in early 2015, created a new type of "front page" for news and entertainment outlets. Users turn to it to view short-form, video-driven content from brands like ESPN, BuzzFeed, and Cosmopolitan. Discover has become a way for legacy media brands to reach a younger audience in a totally new way.