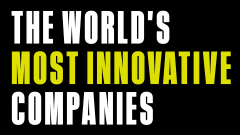 "I'm loading some innovation on my phone right now," Box CEO Aaron Levie quips as he pulls out his iPhone. He demos a 360-degree view of a brain scan, the result of Box acquiring 3-D modeling company Verold.
Box--which boasts over 50,000 clients, from General Electric to prized startups like Spotify and Airbnb--is to cloud storage what Slack has become to team communication. Think the "Switzerland of enterprise," as Levie says. Box pivoted to enterprise before it became sexy--and soon after Levie started the company in 2005 with now-CFO Dylan Smith--giving the company a leg up on a major rival, Dropbox. After kicking off 2015 with an IPO, Box brokered partnerships with heavyweights like IBM, Apple, and even the once-aloof Microsoft.
These allies lend Box both cachet and visibility. Box has also been developing a plugin with Oculus that, coupled with the virtual reality firm's headset, will make those 3-D models immersive.
What to look out for:

Box is working with Oculus to create a plugin that can be used in tandem with an Oculus headset. A client like GE could use Box's newly acquired 3-D modeling tech--through its recent purchase of Verold--to immerse themselves in, say, a model of an engine prototype.
Social media handles:
Twitter: @boxhq
Facebook: Facebook.com/box
Youtube: Youtube.com/box
LinkedIn: linkedin.com/company/box.net