A group of autonomous vehicle developers are pressuring California lawmakers to introduce a regulatory process that would eventually allow autonomous trucks on public roads.
Thirty-five autonomous vehicle leaders including Waymo, Uber, Volvo, and Aurora signed an open letter last week addressed to California Governor Gavin Newsom, arguing that if California does not soon permit testing of autonomous trucks on public roads, it could lose its competitive edge. 
While California has allowed for the testing of smaller, autonomous vehicles on public roads since 2019, semi-trucks and delivery vehicles weighing more than 10,001 pounds remain prohibited. California figures as an important testing ground for autonomous vehicles for two reasons: Not only is the state an innovation hub for self-driving technology, but it's also the home of several highways that connect multiple key cross-country freight routes.
California's plans for allowing autonomous trucking still remain unclear. "The DMV plans to work with the California Highway Patrol on developing regulations governing autonomous vehicles weighing more than 10,001 pounds, but has not established a timetable for that rulemaking process," a spokesperson for the California DMV writes in an email.
Any state-level legislation around autonomous vehicles has stalled since 2012, meaning that autonomous vehicle makers—many of which are located in California—have had to develop and test out key technology like driverless semi-trucks in states with more accommodating legislature.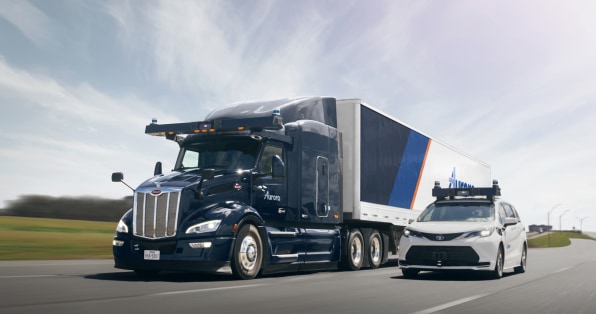 One such state is Texas, where autonomous vehicle makers like Aurora have been deploying autonomous trucks in commercial pilots on freight routes since early 2021. Currently, these autonomous trucks are overseen by an in-person operator who ensures that the vehicles are running smoothly, but an Aurora spokesperson says that could change as early as next year, when the company plans to remove the vehicle operator entirely and launch a "small fleet of driverless trucks" on Texas's public roads.
In recent years, the advent of autonomous trucking has been a contentious issue, with some critics worrying that autonomous trucks could displace scores of truck driving jobs in the future; a recent study by researchers at the University of Michigan and Carnegie Mellon University found that autonomous trucks could replace 90% of America's truck drivers in upcoming years.
But industry leaders argue that driverless trucks will mitigate the supply-chain crisis exacerbated by the pandemic and fill in the gaps left by a growing demand for more and more truck drivers in the U.S. According to the American Trucking Association, there's a current shortage of nearly 80,000 truck drivers that's projected to skyrocket to a shortage of 160,000 drivers by 2030.
"There are tremendous opportunities for AV trucks to improve safe and efficient movement of goods in California," says Emily Loper,  a policy director for the Bay Area Council, a business advocacy nonprofit. "In the Bay Area, we're the home of this innovation, and we'd like to see this start to be tested and deployed here in order to realize the benefits."