On Thursday, Cisco announced a new video desk phone designed with a hybrid workforce in mind. The new Cisco Video Phone 8875, which looks like a corporate desk phone with a large 7-inch touch screen, will let workers show up at a "hot desk" and quickly initiate high-quality video calls.
Hot desking, in which workplace desks are used by different people at different times, is becoming a go-to strategy for companies trying to accommodate a workforce that expects to spend a good deal of time working remotely. A survey released last month by WFH Research found that employers expect to allow an average of 2.3 days per week of work from home. As part of that change in work culture, new products like Cisco's may well help normalize a shift in office video phones.
When a hybrid worker visits an office workspace that has Cisco Video Phone 8875s, they'll be able to show the desk phone a Webex QR code from their smartphone to bring up their Webex account profile, settings, and meetings calendar. They can then hit a button to join Webex meetings. The phone has a camera that can be physically covered up for privacy during meetings.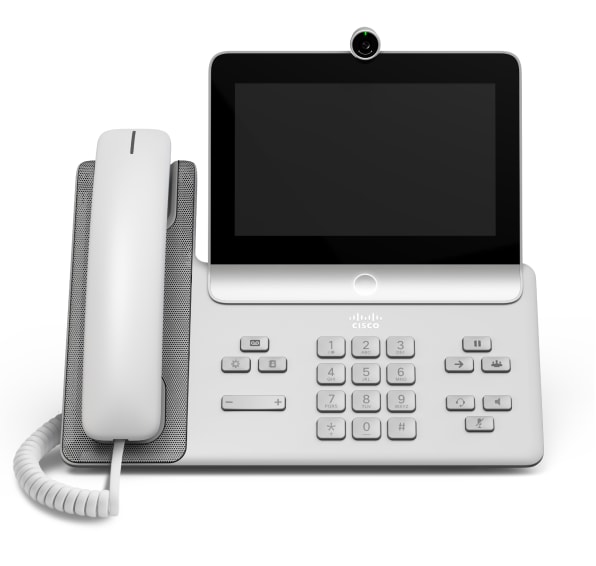 The phone also uses sound intelligence via Webex Calling that analyzes the audio of calls and eliminates distracting background noise (a common cause of fatigue during video conferences, Cisco says). During the demo, a Cisco person rattled some noisy candy wrappers near the microphone while she talked; I heard the sound disappear almost completely when she turned the feature on.
Cisco believes the 8875 will also offer a respite from workers' laptops. "They use their laptop for everything—that's a lot of compute power," says Lorrissa Horton, VP and GM of Webex's calling and online business. Horton says offloading the video conferencing to a dedicated device will improve the quality of the sound and video.
Functioning video phones were first produced by AT&T's Bell Labs back in the 1960s, but video calling certainly didn't become the norm, either for individuals or within corporations. Over the decades, people have been inclined to opt for modes of electronic communication that involve less personal exposure. For simple or quick missives, a text message or email often will suffice whereas the face-to-face interaction of a video call might seem like overkill.
But Horton believes the pandemic might have shifted those biases. She says that, by necessity, we've become much more comfortable with video communications and that people now expect to have that option readily available—and at a high quality—to get work done.
Cisco, which has already sold 100 million phones, expects to sell the 8875 to corporations for their growing ranks of hot-desking employees; while some of the phones will end up in home offices (the device requires no special broadband connection, Horton says). The phone also will be used by essential or front-line workers who have to be at an office or work site every day, but who might benefit from video calling with coworkers who work remotely, such as technicians or support people.
Cisco says the 8875 will sell for $725, and will become available in August. The company plans to update the 8875 to support Zoom and Microsoft Teams calls sometime in 2023.