Sure, bags made from upcycled materials are good for the planet. But can they also be eye-catching objects of desire?
This has always been the vision behind the Swiss company Freitag. The brand, founded in 1993 by brothers Daniel and Marcus Freitag, is known for its one-of-a-kind bags made from industrial materials like truck tarps, bicycle inner tubes, and car airbags. Now, the brand is putting the creative process into customers' hands with a new platform called F-Cut that allows you to design your own bag by digitally cutting pieces from an actual truck tarp.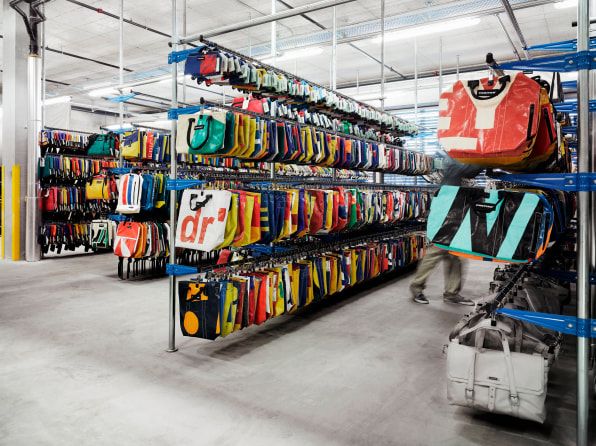 On F-Cut, you can scroll through 30 to 50 digitized images of actual tarps. You then drag the four shapes for a messenger bag onto the tarp you've chosen, playing around with the placement to create patterns. (Or, you can pull from multiple tarps and combine then.) When you finalize your design, you can purchase the bag for $320. Freitag will cut the tarp to your specifications, sew the pieces together, and send it to you. The entire experience happens live, so as you're cutting shapes on a tarp, you might see another user placing shapes on that same tarp. Since each tarp is unique, if you don't cut fast enough, you might lose the one you had your eye on.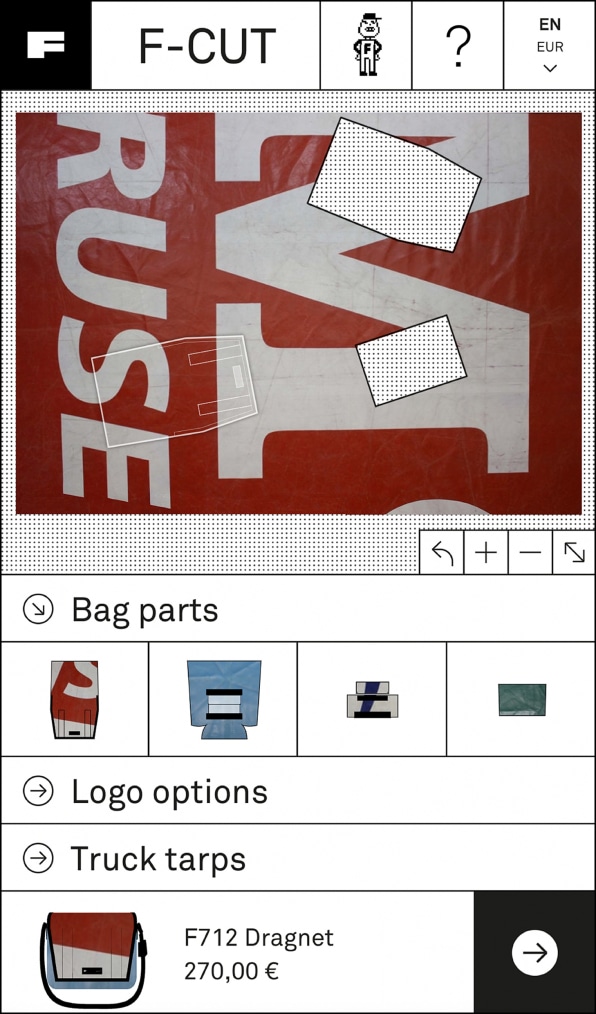 Lis Isenegger, communications lead at Freitag, says F-Cut isn't just meant to be a fun experience, it also serves as an important storytelling device that brings the customer into the process of sustainable manufacturing. When you buy an already-made bag, it can be hard to envision that its materials had a previous life on the back of a truck. But by taking part in the design process, you can see the the full tarp–complete with all of its imperfections like discolorations and stains–and transform it into something new.
Sustainability has always been central to Freitag's approach, but back when the company was founded, it wasn't such a buzzword in the business world. "At the time, words like 'upcycling' and 'sustainability' were not commonly used," says Isenegger. "I don't know if the concept of a 'circular economy' even existed yet. It just made sense to our founders to use highly functional materials that already existed."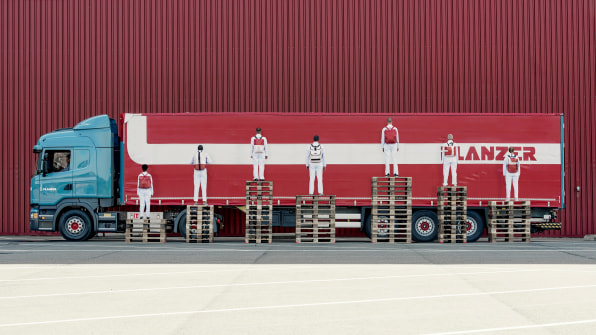 As design students in Zurich, they couldn't find the hip messenger bags that they saw people wearing in New York and London, so they decided to make their own. Marcus happened to live next to a freeway and realized that old tarps would make the ideal bag material, since they were waterproof, durable, and abundant. The brothers began creating bags by cutting up stained, well-worn tarps, using their patterns and letterings to create striking, unique designs. Before long, their friends were asking to buy bags, and the Freitags realized they had stumbled on a business idea. They started a company in Zurich that collects tarps from trucking companies, washes, cuts, and bundles them, and them sends them to European production partners to be stitched into bags.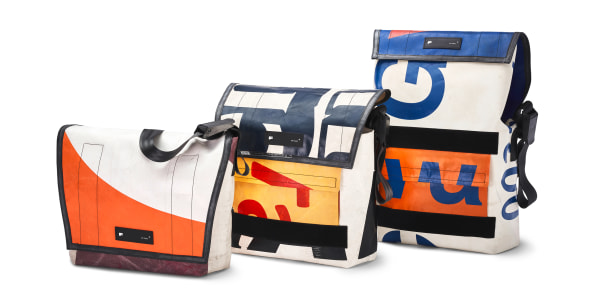 Over the last five years, there's been a spike in demand for more sustainable goods, and Freitag has deepened its commitment to these practices. It offers repair services designed to extend the life of a bag, and if a customer gets tired of a design, they can use Freitag's Tinder-like platform called S.W.A.P (shopping without any payment) to swipe through other peoples' bags and do an exchange. It also launched studios in Zurich, Bangkok, and Tokyo where customers can create custom bags by picking a tarp and having it sewn on the spot by a craftsperson. F-Cut is the natural extension of this commitment."We hope that customers will keep their bags even longer because they've created a bespoke product that perfectly suits their tastes," Isenegger says.