Visitors to the Smithsonian Institution will soon be one small step closer to virtually walking on the moon.
A new partnership between Meta and the Smithsonian's Arts and Industries Building on the National Mall will let visitors don a Meta Quest 2 VR headset and experience the 1969 Apollo 11 mission that sent Neil Armstrong and co. to the moon. Participants will first be placed in the Eagle spacecraft, and will then be able to walk on the moon's surface. 
"You can literally walk around and look and see the lunar buggy next to you and look down and see the rocks and look at the horizon," says Rachel Goslins, director of the Arts and Industries Building. "It has literally never been possible, unless you were an astronaut, to experience the moon this way."

The "Moonwalk" exhibit, which opens May 4, comes as museums around the world are exploring ways to use virtual reality technology to tell stories and engage with visitors, and as the Smithsonian promotes the recently revamped Arts and Industries Building with a renewed focus on exploring the future. While VR technology may be new, Goslins emphasizes the building and the Smithsonian have long played a role in introducing people to science and technology of both Earth and space. "The museum is like the original immersive experience," she says.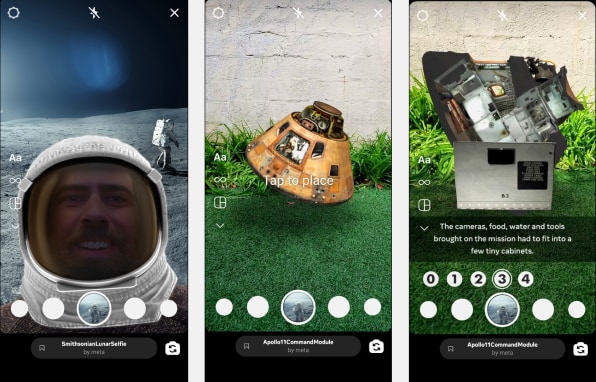 The exhibit is part of an ongoing series exploring potential "artifacts of the future." It relies on more than 7,000 photos taken by NASA astronauts on missions to the moon, stitched together and converted to 3D imagery by humans and AI software through a process called photogrammetry.
"There's just a very large collection of scanned objects that are able to be accessed through our technology," says Monica Arés, head of Meta Immersive Learning, a company initiative providing $150 million in funding for metaverse and immersive experience projects.
Visitors will also be able to hear conversations between astronauts and Mission Control staff as they explore the digital exhibition. "They banter with each other; it just makes it so human," Goslins says.
This won't be the first time the Arts and Industries Building, first opened as the National Museum in 1881, lets visitors learn about the lunar expeditions of the 1960s and '70s. Just a few weeks after the Apollo 11 mission in 1969, Goslins says, visitors were able to see a rock retrieved from the lunar surface.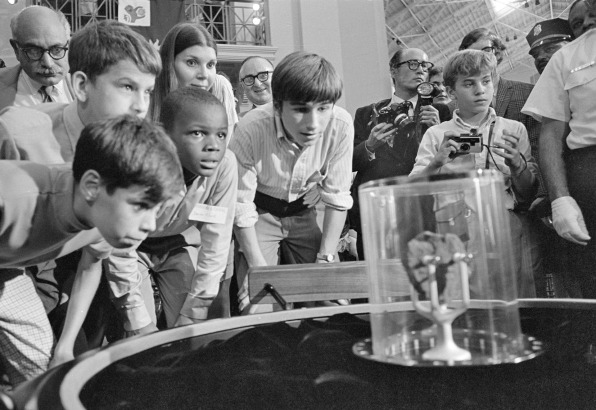 "It was this mind-blowing experience for people," she says. "A little bit later we actually had the Apollo command module and lunar lander in the building."
As museumgoers wait to enter "Moonwalk," they'll also be able to use augmented reality technology to explore the historic lunar command module as it sat in the building on display in the 1970s, and can take a virtual selfie in a digitized astronaut helmet.
 The Smithsonian and Meta previously worked together on a virtual tour of Venice available online, though "Moonwalk" marks their first in-museum collaborative exhibition. 
Arés emphasizes the ability of VR to let people experience immersion in a particular place and time. "It allows you to walk in other people's shoes," she says, "just like being able to walk with the astronauts who were able to go up to the moon."