Go to almost any big furniture store, and there's a room in the back with scratched tables and returned couches. These damaged goods are sold at a discount, offering a project to someone who is handy, or imperfect-but-functional furniture to someone on a budget.
However, as online furniture sales have exploded in recent years—it's now around a $58 billion market in the U.S.—that discount room has ostensibly disappeared. If your coffee table arrives at your house scratched, and you return it for a refund, chances are good that it's simply sent to the landfill, or you're asked to dispose of it yourself. Because that's how retailers handle all sorts of home goods, even goods that are still in perfect shape.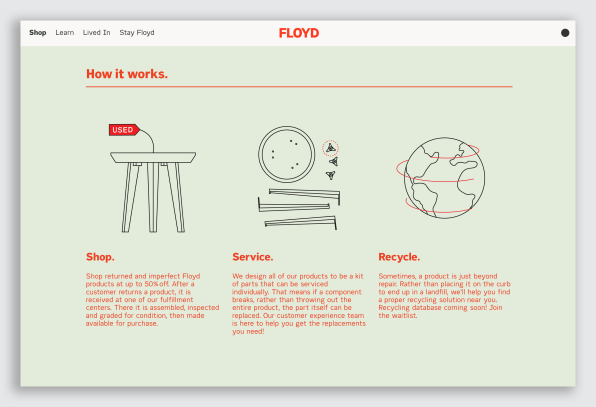 But the Detroit-based furniture company Floyd is proving that another model can work. Their program, Full Cycle, takes back items damaged in transit, which is under 2% of their total orders. Then it mixes and matches parts, like table legs, as necessary to make fully functional (if aesthetically flawed) kits. Floyd resells these items online at a discount.
The model doesn't sound all that complicated, but it's also a rarity in the industry—a rarity that's already working out pretty well for everyone. Now a year into the program, the company has revealed just how well Full Cycle is going in terms of sustainability to both the environment and their business model. And they're doing it pretty transparently.
Full Cycle has (re)sold 272 items to date, representing just shy of 40,000 pounds of furniture; 32% of its returns are being allocated to this program at the moment, with a goal of reaching 100% of returns by end of year.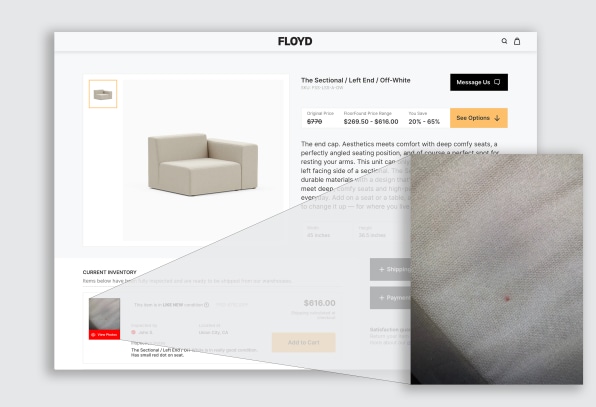 As for Floyd's business, Full Cycle has allowed the company to appeal to new customers. Seventy five percent of Full Cycle customers are new to Floyd, and 25% of them have already made another purchase from Floyd since buying from Full Cycle. In other words, the program is serving as a gateway for landing new customers. Meanwhile, Floyd gets back 72% of return revenue from this Full Cycle furniture, on average. So the program is helping offset losses to furniture returns in a significant way.
Into the future, Floyd plans to push its Full Cycle products well beyond those damaged in transit. They'd like to offer more generalized furniture buy back options, like Ikea launched last year (a promising program that also feels somewhat futile, given the fragility of Ikea's furniture), along with a service akin to Patagonia's repair services. Given that 96% of Floyd's customers report still having their furniture 10 years after purchase, these supportive programs can only extend the usage of their products.
"Longer term, we're striving to own more of the process, to build more of a marketplace, or opportunity, for people to bring product back to refinish and service it," says Kyle Hoff, CEO and cofounder of Floyd. "That's more of a future state, to sell furniture back to us."