On a recent weekend at a laundromat in North Philadelphia, while people waited for their clothes to dry they could choose to also get a cancer screening, have their blood pressure checked, or sign up for health insurance. The services were coordinated by Fabric Health, a startup that wants to improve access to healthcare by partnering with the laundromats that people already visit each week.
"You have to meet busy families where they are, in the time that they have," says Fabric Health cofounder Allister Chang. A typical family that uses a laundromat might spend two hours each weekend in the space—sitting on plastic chairs with little to do as they wait for loads of laundry to finish washing and drying. The same customers are also less likely to have time to go to the doctor during the week.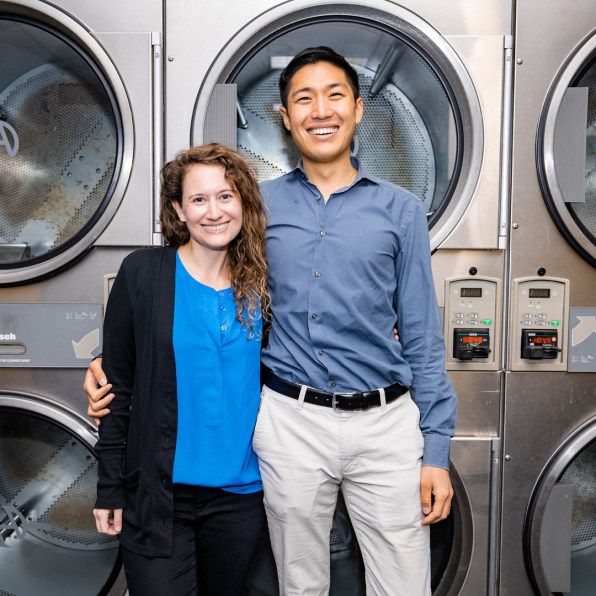 Regular mammograms are recommended for women ages 40 to 65, for example, but women often struggle to fit the tests into their schedules if they work at a job they can't easily leave for a daytime appointment. Additionally, that appointment might have to be scheduled six months in advance, "and then you get your shift that Sunday that says you actually have to be at work on that Tuesday when your appointment was made six months ago, and you can't afford to miss a shift," Chang says. "That's real for a lot of the families that we get to spend time with." Fabric Health partnered with a local hospital to bring a mobile mammogram unit to the parking lot of the laundromat one weekend, a service that it plans to offer repeatedly.
The startup works with health insurance companies that want help improving their customers' outcomes. In many cases, insurers don't even have basic contact information for customers. Fabric's team goes to laundromats during busy hours, often greeting people at the door and offering to help carry in bags of laundry—and sometimes offering a card for a free load of laundry—and then talks to them about their health concerns.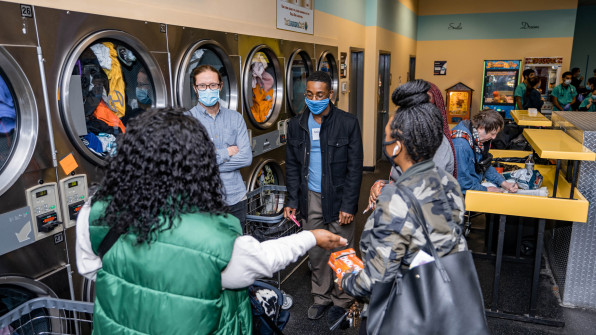 One woman they met, a retired police officer who cares for her children and her mother, was insured, but "couldn't afford her diabetes medication," says cofounder Courtney Bragg. "There are all these benefits that health plans have that are confusing, hard to access, and hard to understand. So we connected her to the resources in her plan, which include affordable diabetes medication and diabetes management resources."
Working with Pennie, Pennsylvania's health insurance marketplace, the startup also helps people who are uninsured (because of language barriers, lack of internet access, or other challenges) enroll in plans. Fabric Health can also help people navigate applications for SNAP, the federal food stamp program.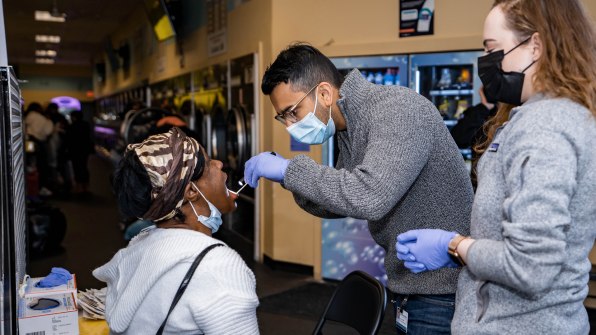 The company is working in a handful of laundromats in Philadelphia so far and getting to know the people who use them. "We've learned a lot through our time there [about] who's insured, what plan they're on, who's taking care of whom within the household, and what their stressors are, what's urgent, and what are the important healthcare tasks that families know they need to do but just haven't had the time to," Chang says.
It's important to actually build relationships, Bragg says. "You've got to make a commitment to community," she says. "I think people are skeptical of people who kind of parachute in and out. And so we don't just leave." But the team also wants to embed deeply in other communities. With a new investment from the Richard King Mellon Foundation, the startup plans to expand to Pittsburgh, and the model could work nationally.
"There are more than 30,000 laundromats across the U.S.," Bragg says, where millions of Americans spend 100-plus hours each year. "Our obsession is with that time that people spend in them. There's just incredible opportunity that we're really excited about."
Correction: Due to a transcription error, a previous version of this story misstated the number of laundromats in the U.S.