My journey to becoming a bidet guy began several years ago when a frequent visitor to my first apartment went on a bidet kick and installed one in my bathroom. (He did—and still does—fancy himself the Johnny Appleseed of bidets). The seed he planted took root, and since then I have spread the good word to anyone who'll listen, installing one in my parents' house and my sister's guest bathroom.
When bidet company Tushy reached out about reviewing its first electric bidet, the $599 Tushy Ace, I had to give it a try. Tushy, I knew, is no run-of-the-mill company. Its launch party, held in the Williamsburg apartment of founder Miki Agrawal (yes that Miki Agrawal) in 2018, included a vodka-dispensing bidet and poop-shaped cookies. Tushy's customer support staff are referred to as "poo-rus." I was worried that the scatological marketing concealed an overpriced dud of a product. I'll admit, I was wrong.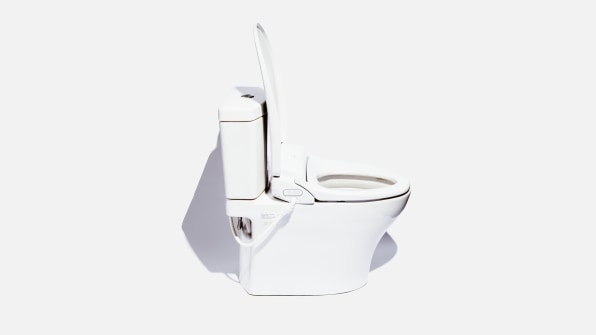 Rather than just attach to the toilet and piggyback off the water supply to the tank like its flagship Tushy Classic, the Tushy Ace is more than a simple vessel for spraying water. It really is an experience, fully replacing your existing toilet seat with a remote-controlled, heated one that includes a self-cleaning, adjustable-nozzle bidet and (perhaps its best feature) a blow dryer.
Given all the bells and whistles, I expected that installing the Tushy Ace would be a lot more difficult than it was. Turning off the toilet water supply and attaching a splitter and the hose to the bidet is straightforward (admittedly, I already had this done for my previous bidet attachment). And because the unit fully replaces the toilet seat, the only hardware that gets installed is a plastic bracket that the Tushy Ace slides onto, clicking into place. I can see how positioning could get tricky, but I managed to get it on the first try. I also appreciate the ability to easily remove the entire apparatus for a good deep clean, and the fact that the nozzle, while self-cleaning, can also be coaxed out for a deeper clean.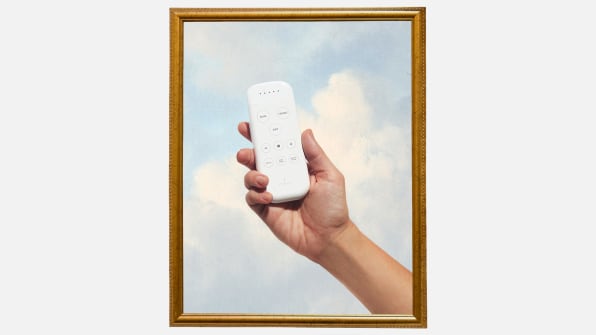 As for functionality, the Tushy Ace manages to feel luxurious, once you get use to some of the idiosyncrasies of having an electric toilet seat—the least of which, albeit the most jarring for newcomers, being the fact that it beeps when you sit down. The biggest adjustment is relying on a remote for all the functions (bum spray, front spray, and dry), as well as navigating the myriad things you can customize—water temperature, spray power, spray angle, and seat temperature. A friend described it as akin to using the bathroom in a particularly fancy rice cooker.
While there are physical buttons on the side of Tushy Ace for the spray functions and dryer, much of the deeper functionality—including the "power wash" function that moves the nozzle back and forth—can only be accessed via remote. And while in theory, because of the bidet, nothing icky is meant to be touching the remote, I'm still inclined to sanitize it frequently for peace of mind. In spite of that, it does feel like a decent solution to the nearly foot-long rows of buttons that bedeck many other electric bidet seats.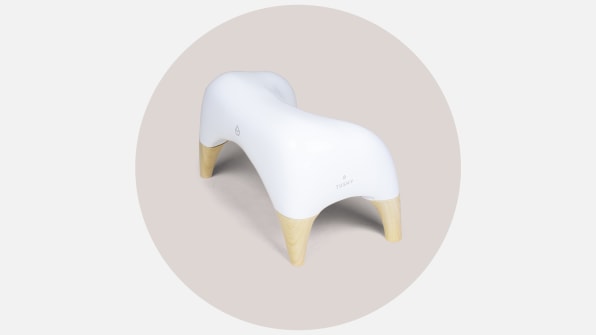 Besides the Tushy Ace, the company also offers the Tushy Ottoman—the company's uncharacteristically demurely named answer to the Squatty Potty. Since Tushy Ace raises the seat by a substantial few inches, it was a welcome and aesthetically pleasing addition. I also tried the company's Tushy Brush, which uses a proprietary coconut-husk scrubbing pad that mostly falls into the toilet and has to be repeatedly fished out with the handle. I'm inclined to believe there are probably better toilet brushes out there for well less than $49.
Certainly, there are cheaper electric bidets, and while the remote—and its marketing—might be uncouth, Tushy Ace manages to bring luxury to an inelegant process.
Fast Company's Recommender section is dedicated to surfacing innovative products, services, and brands that are changing how we live and work. Every item that we write about is independently selected by our editors and, whenever possible, tested and reviewed. Fast Company may receive revenue from some links in our stories; however, all selections are based on our editorial judgment.