In the last few years, we've seen two great comebacks. The first is the vinyl record, which broke CD sales in the U.S. last year. The second is blindingly colorful LEDs, driven by a resurgence in maximalist PC gaming aesthetics.
While I never imagined these two trends mashing up, the musician Brain Eno has proved me wrong. His piece, Turntable, is a glowing, color-changing record player.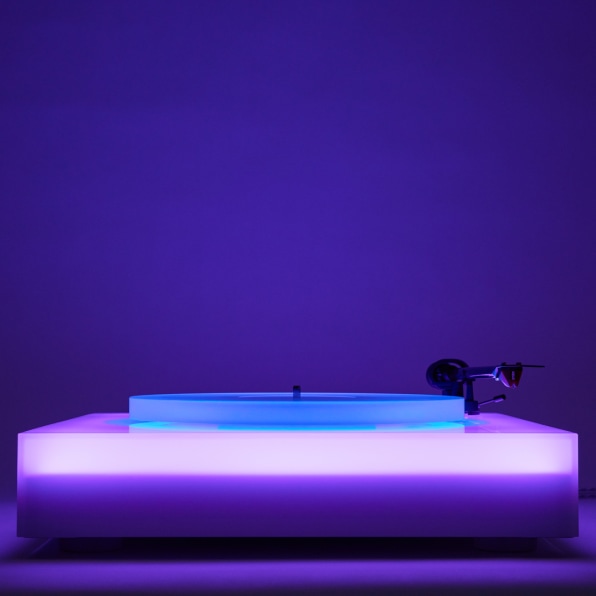 Technically speaking, it's not a complicated design. The piece is made of carved polyurethane. Cycling, internal lights shine right through the casing, operated by a stock Arduino board (the sort of silicon loved by makers). But what he's created is an ethereal, transfixing music machine. It's a record player that looks like it could be designed by light artist James Turrell, carved out of photons rather than plastics.
The design actually reminds me a lot of a defunct project by Philips from 2007 called the Aurea. It was a TV, with a similar, clear LED bezel to the Turntable.
Aurea's sales pitch was that it extended the colors of your television screen through the case and even projected these colors onto your wall. Aurea reimagined the traditionally black-clad home theater—with components designed to recede into your cabinet like shadows—as a bright, expressive experience. I recall claims of lowered eye strain and more immersive content. I was never sold on any of that. It simply wasn't all that practical to stare at those bright lights for two hours while watching a movie. But Aurea's avant-garde design from 2007 still feels avant-garde today.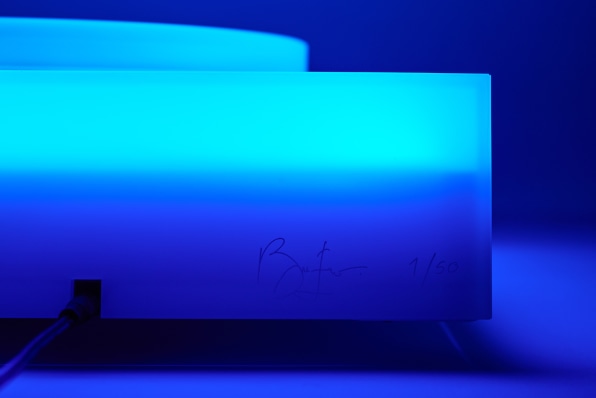 Ultimately, Philips discontinued the Aurea, spinning off its lighting technology into various other more discreet speakers, displays, and kits. As for Eno's turntable, we're told the limited run of 50 just sold out at the Paul Stolper Gallery in London, for an undisclosed price. Perhaps there's something to this idea yet.