On January 10, nearly two years after being trialed in test markets, Beyond Fried Chicken will be available at KFCs nationwide. Developed in conjunction with Beyond Meat, it's the first plant-based chicken to launch in fast-food restaurants across America. Beyond Fried Chicken—which is shaped into fried chunks that are somewhere between a chicken nugget and a chicken finger—will be sold in six-piece packs starting at $6.99.
"This [product] needs to democratize plant-based protein, and do it where consumers love to go and eat," says Ethan Brown, founder and CEO of Beyond Meat. "The position that KFC is in to change how the consumer eats, it's just hard to overstate that."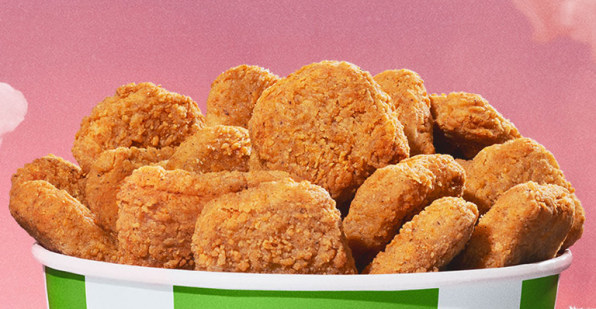 Even if you've tried Beyond Meat's chicken before, you haven't tasted anything like this new offering. The recipe was custom-developed alongside KFC specifically for the restaurant's sole, proprietary use. Not only does it taste like the 11 herbs and spices you know, the protein is designed to shred like a chunk of muscle tissue (a sensation that Beyond Meat tells me is more expensive to produce than the typical extruded or pressure-molded plant chicken, which is another reason why you won't see it everywhere).
KFC says that its Beyond Fried Chicken sold out quickly, to rave reviews, in test markets in early 2020. And the company has not done anything to tweak the formula since then. If that's all true, then why has it taken so long for Beyond Fried Chicken to come to market?
"The biggest thing was COVID," says KFC U.S. president Kevin Hochman. "We blew up our entire promotional calendar." He clarifies that the problem wasn't in sourcing ingredients, but in everything else that had to be updated to KFC's operations during the early days of the pandemic.
With those changes implemented, and the timing of a new year when many people are rethinking their eating habits, KFC hopes to make a splash with the launch of Beyond Chicken across all 4,000+ KFC locations nationwide. "This is a real drop . . . it's not one of those drops you can't find," says Hochman. That said, it is being billed as a limited-time offering "while supplies last."
As for just who will be ordering plant-based chicken at KFC, the company believes it will be a mix of omnivores looking to cut back on meat consumption (90% of Beyond Meat consumers in a grocery store eat meat), and new customers who can finally feel welcome at a chicken restaurant (the company's pilot testing proved that the product attracted new customers).
That's why KFC believes that its launch of "plant meat" is simply part of a greater "modernization" of the brand, including a new mobile app and website that allows you to grab-and-go preorders, much like Chipotle, along with newer menu items like chicken sandwiches and fries.
"Every piece of data we have on the customer—not just for the next couple of years, but decades—[suggests] a diet higher in plant-based proteins," says Hochman.