The giant foam outsoles of modern running shoes aren't just for show. These advanced materials can capture and rebound so much energy that they can make people run quantifiably faster—enough for anyone to shave minutes off their marathon time with the right pair of shoes.
That's the power of foam on your feet. But now, one researcher imagines a new purpose: Protecting our buildings from car crashes and earthquakes.
In a new paper published in Smart Materials and Structures, Tatheer Zahra, an investigator at the QUT Centre for Materials Science, demonstrates that the same sorts of foams we use in sneakers, memory pillows, and mattresses could be just as important for supporting buildings as they are for our bodies. After 3D-printing her own structures made of PLA foam (the same type of foam found in many of the aforementioned products), she estimates that a barrier of foam that's less than an inch thick could stop a car moving 37mph. Zahra imagines that these delicate-looking mesh foams could replace the protective walls that surround buildings in many major cities—and that's only the beginning.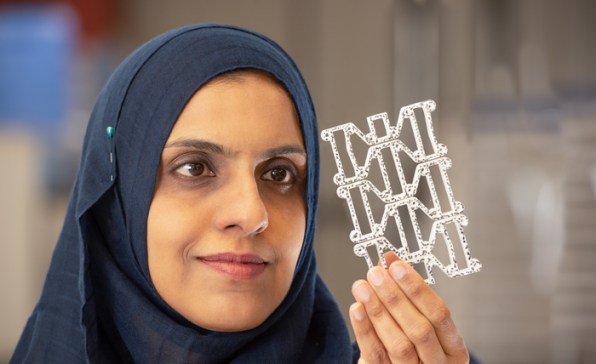 How is any of this possible? How can shoe foam be so strong? PLA is what's known as an "auxetic material." When under pressure, auxetic materials behave differently than any other. Stretch a strip of rubber, or even steel, and it will become thinner and narrower as it grows longer. But when you stretch an auxetic material in such a way, it will paradoxically get wider as it grows longer.
This means auxetic materials can ultimately absorb considerable energy, because when they encounter a force, they can contract or expand in multiple directions at once—diffusing that energy instead of snapping—before returning to their shape.
"I am a structural engineer," Zahra explains, "so after learning about this unique material, I started my journey to investigate whether I could use it to enhance the performance of structures under extreme loads."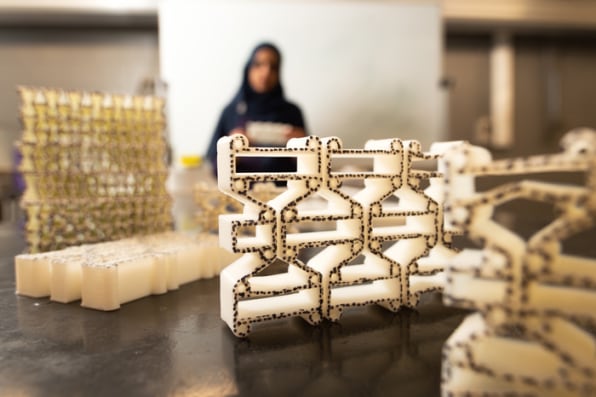 After leading a few studies on auxetic materials, Zahra is convinced of their promise in architecture. The quickest, and most obvious use for these foams is in protective barriers around buildings. While anti-terrorism may be the first use that comes to mind, as many as 60 cars crash into U.S. buildings each day, killing hundreds of people a year. Zahra believes that thin foam walls, made of intricate, honeycomb geometries to enhance a material's natural auxetic properties—could replace the external steel and concrete barriers we use today. (These structures wouldn't necessarily need to be 3D printed, either. Zahra wants to test if the cheap and fast injection molding process could be used to fabricate these structures as rapidly as making shoes.)
However, the larger potential Zahra imagines is to embed these materials inside a building's existing concrete and mortar. Today, steel rebar reinforces concrete to make it stronger (and this approach, while extremely popular, doesn't always work). While not as strong as steel, PLA foam is superb at absorbing energy, and it could use that capability with architecture, essentially making buildings that literally bounce back from adversity.
"My vision is to employ the technology [in cement for] resilient infrastructure such as buildings and bridges capable of surviving disasters such as earthquakes or collisions," says Zahra. Currently, Zahra is proving this approach out on small scale tests before testing it on a building-sized scale. Several pilot and commercial research and manufacturing studies will need to follow. But if the idea does prove out? Your facade could soon match your feet.