After years of hints that Netflix was planning to branch out into merchandise in a full-fledged way, making itself a tad more Disney-esque and finding new ways to capitalize on popular shows like Stranger Things, the streamer finally announced this week that it's making the leap. Through a partnership with Walmart, Netflix has set up the Netflix Hub, an online storefront on Walmart's site, where fans can buy anything from a Stranger Things cassette player to an Ada Twist, Scientist On-the-Go Lab Set to a Cobra Kai headband.
But notably missing from the lineup is anything from Squid Game, which is currently the most popular non-English show ever to hit the platform, and which is on its way to being the most popular show, period, according to Netflix coCEO Ted Sarandos. The Korean show—a dystopian series about a group of people clad in candy-colored track suits who take part in a series of deadly children's games—has spawned nonstop headlines, TikTok memes, and Halloween costumes. Indeed, with its colorful garb and simple, stylized aesthetics, the show is visually arresting and, by extension, incredibly merch-friendly.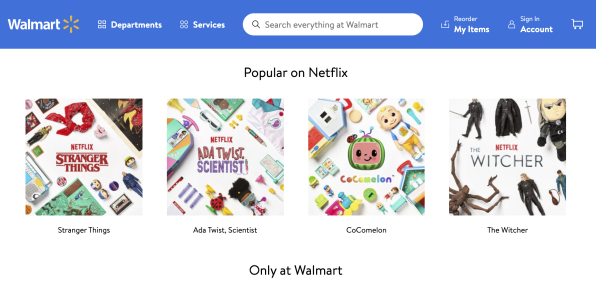 In other words, it would be perfect for the Netflix Hub. Its absence, presumably, has to do with the fact that the show has popped so recently, and so suddenly. (The Netflix Hub site promises that T-shirts are "coming soon!")
But fans' fascination with the show and its actual products, as opposed to those dreamt up by Netflix, point to a hole in Netflix's retail plan: Fans want the real thing, not the fake thing. Indeed, while Walmart and Netflix are waiting to stock up on T-shirts with Squid Game memes, the ultra-white Vans that characters wear in the show are selling like hotcakes. 
Since Squid Game launched, Google Trends search data has reportedly shown that searches of the skater slip-ons have increased by 7,800%. Meanwhile, searches for retro tracksuits has nearly doubled on Lyst, the shopping platform, according to the New York Times. Demand has also grown for yellow T-shirts, orange dresses, and knee-high socks—the uniform of a creepy doll in the show. Seemingly overnight, Amazon has birthed its own Squid Game economy, with dozens of products available for sale, including black masks, jade track suits, and plushies. 
Netflix is making some direct money off Squid Game swag. On Netflix's online shop (separate from the Netflix Hub), there is a limited collection of T-shirts and hoodies related to the show, but they feel more like the kind of T-shirts sold after a U2 concert—perfunctory nods to the actual performers/performance, usually on cheap fabric. Netflix has not revealed how many have actually sold, but one can assume the shirts are not about to cause Netflix's site to crash. 
The strategy toward consumer goods is part of Netflix's overall push to diversify its revenue, as subscription growth has slowed after its surge of signups at the beginning of the pandemic, and as competition from the likes of Disney Plus, HBO Max, and Apple TV Plus has heated up. For products sold on the Netflix Hub, Netflix licenses its intellectual property to manufacturers and also gets a percentage of the manufacturers' sales to retailers. Products are also a pathway to more subscribers.
As Josh Simon, Netflix's vice president of consumer products put it, "We want to continue to meet fans wherever they are, whether that's through our biggest online marketplace at Walmart, or the more boutique and curated Netflix.shop." 
But based on the response to Squid Game, Netflix might want to rethink its idea of what fans really want.