Over the past year, my kitchen has become a testing ground for Recommender potentials. On any given week, I could be putting a new Dutch oven or frying pan on my stovetop, experimenting for durability, ease of use, and overall design. Sometimes I'll just brown a dusting of flour to test for even heat conduction. Other times, I'll crack egg after egg into a hot, dry pan to see how its nonstick coating holds up. (Don't worry: I eat all those eggs when I'm done.) I've even been known to take a hammer or heavy cans of beans to products to test their durability.
Here are my favorite Recommender-approved kitchen goods. Ones that remain tried-and-true—and have passed my multitude of tests.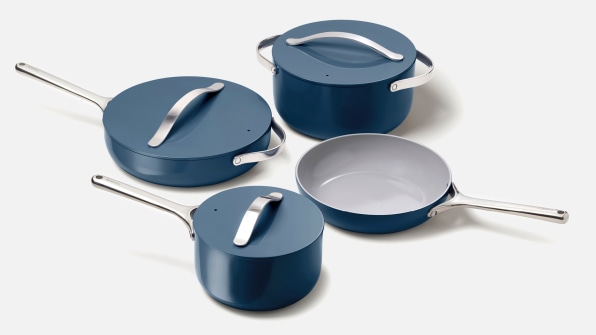 Caraway Ceramic Coated Cookware Set
For a regular working set of pots and pans, Caraway's candy colored ceramic-coated cookware is the best set I've tried. The brand, which announced a $5.3 million fundraise in 2020, has been taking its aesthetics-driven approach to cookware and sheet pans and other bakeware. But its hero product remains star of the show, in my opinion. The pans are great: They heat quickly and evenly, are sturdy and sleek, and come with flat lids that take up minimal space. But it's the detail that went into storage that makes Caraway quite different. The four-piece set comes with magnetic pan racks (which can be separated and distributed across shelves) and a cloth lid holder, which can be hung from a cabinet or pantry door for easy access.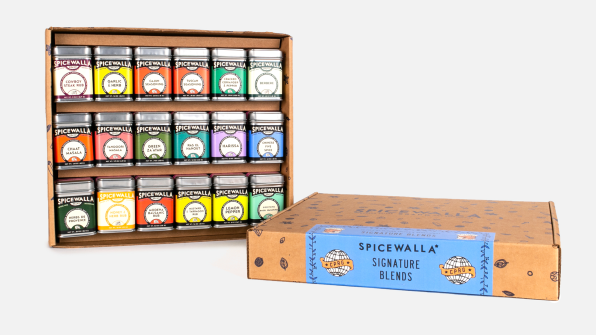 Spicewalla Signature Blends
Many spices come through my testing kitchen. I like almost all of them. The pure deliciousness of Burlap & Barrel cannot be beat. (Seriously, try the Black Urfa Chili and Cured Sumac, and you will understand.) But when it comes to everyday goodness, I always reach for this cheerful box of blends from Spicewalla. Curated by James Beard-nominated chef Meherwan Irani, who also helms the company, the rainbow-colored spice tins feature perfectly proportioned mixes for one-step meals. As a mostly vegetarian (who very occasionally eats fish), making easily accessible protein is key to keeping my meals balanced and filling. Any of the blends in this box work perfectly with chickpeas, tofu, tempeh, pick your plant-based poison. It's a quick roast or air fry to a flavorful and nourishing meal in just minutes.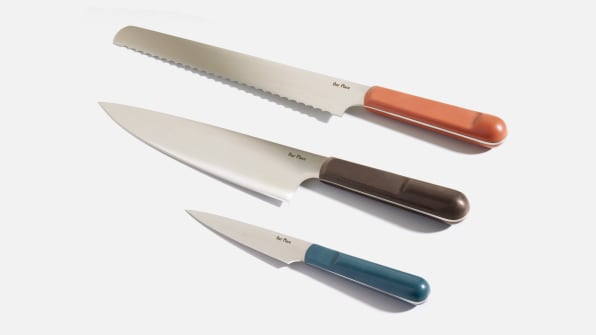 Our Place Knife Trio
I am no knife skills master, so when Our Place—known for its Instagram-famous skillet (which we'll get to next)—released a set of beginner-cook friendly knives, I was intrigued. The result is three well-balanced, exceptionally sharp knifes that are specially grooved to position your hand into the right grip and posture while slicing and dicing. Every time I use one of the three—a Chef's knife, a serrated slicing knife, and a paring knife—I feel like a pro. And I swear, my dicing skills have gotten better as a result.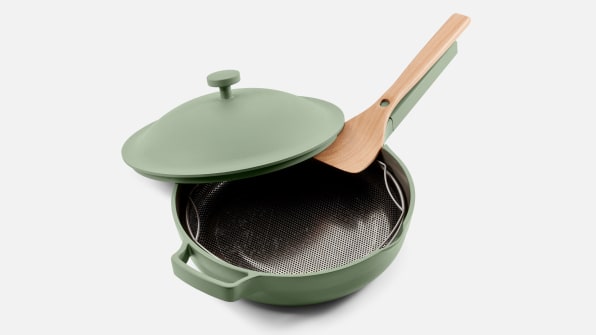 Our Place Always Pan
I was fairly skeptical of Our Place's Always Pan. When I reviewed the company's Perfect Pot (also great) earlier this year, I noted that the Always Pan had made the social media rounds, and some early adopters are now complaining that the pan loses its luster after a few uses. My Always Pan is about a year old now and has suffered the same dings and scorch marks—but isn't that kinda the point? As any owner of a decades-old Dutch oven knows, blemishes mean the pan or pot is doing its work. My Always Pan is the most reached-for item in my kitchen. I like the double handles and spoon rest. Its nonstick has never failed me. It has a nice domed lid with a crevice for easy venting. The steamer/strainer function is dead useful. It's earned a permanent place on my stovetop—scorch marks and all.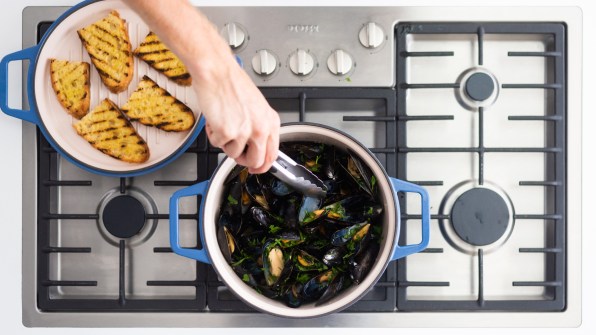 Misen Dutch Oven with Grill Lid
Misen released its dual-use Dutch oven following a successful crowdfunding campaign, raising more than $4.2 million to bring the cookware to life. It is a sublime Dutch oven—lightweight, extremely durable (trust me: I dropped cans onto the pot's practically nonstick enamel from a height repeatedly and have yet to see a ding), and heats thoroughly and evenly. The lid is my favorite feature: Unlike most Dutch ovens, Misen's lid comes with a side handle rather than a top knob, so it can lay flat against a burner. The lid also features grooves and that same nonstick coating, so it doubles as a grill pan. The oven also comes with a lightweight silicone lid for storing leftovers.
Material Kitchen ReBoard Cutting Boards
I love my ReBoard Cutting Boards from Material Kitchen. I had never known the true value of a reliable, everyday cutting board until I had a no-fuss, easy-to-clean one. Material's board is slender and lightweight but still grips to a stainless steel tabletop. It wipes clean between jobs, and can be tossed in the dishwasher for deep cleaning. It's also made from plastic scraps and sugarcane and comes in two excellent sizes for prep. (The mini is great for small jobs and solo meals.) At $35, it makes for the absolute perfect housewarming or host gift, so I advise you to stock up before the holidays.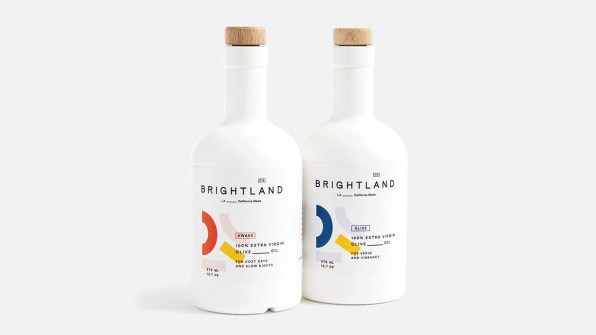 Brightland Olive Oil
Maldon Sea Salt haunted my 20s as a marker of good taste—even when you're perpetually broke. It was an affordable way to elevate any meal and signal that my palette had matured beyond the granular table salt of my youth. In my 30s, my go-to product became olive oil. I became fascinated with the way a slick of exceptional olive oil can transform a sauce, a roasted vegetable, or even just a late-morning avocado toast. After trying many brands, I landed on Brightland, with its clever and thoughtful approach sourcing. I rotate between its gorgeous signature duo of oils: Awake, a grassy and rich finishing oil; and Alive, a light, bright oil for dressings and baked goods.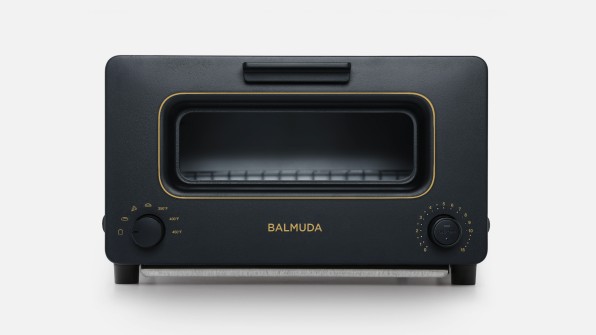 Balmuda The Toaster
The Balmuda steam toaster was one of the first items I tested for Recommender. The glorious little contraption is the invention of the design-forward Japanese home-goods brand Balmuda. It may look just like a stylish toaster oven, but it's so much more. Add a thimble of water to the coin-slot-shaped opening at the top and watch as your baked good is enveloped in steam while the heat cycles through. The result is bread that tastes fluffier and fresher, even if it's a couple days old. The pizza mode shoots an extended blast of heat during the last few seconds of the cooking cycle, resulting in chewy crust and a browned, gooey top. It quickly became my go-to for reviving stale bread, day-old pastries and bagels, and pizza that appears to be past its prime.
Fast Company's Recommender section is dedicated to surfacing innovative products, services, and brands that are changing how we live and work. Every item that we write about is independently selected by our editors and, wherever possible, tested and reviewed. Fast Company may receive revenue from some links in our stories; however, all selections are based on our editorial judgment.