When the iPhone first appeared in 2007, there was one model with two storage sizes. Two phones. With the iPhone 13 line going on sale last week, Apple now sells 24 different iPhones, ranging from $399 at the bottom to $1,600 at the top—a $1,200 delta.
A chart created by longtime Apple pundit and Relay Ventures partner Horace Dediu shows just how much Apple's lineup of phones has widened over the years. This broadening of the product offering reveals Apple's casting a wider and wider net to convince more people to buy iPhones—and then purchase the apps and services on them.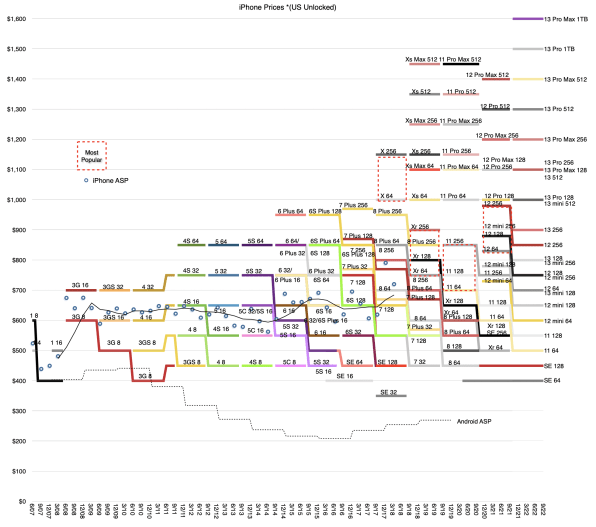 "The mix of product shows also that no matter your budget you can find an iPhone, especially considering the used market, which brings prices all the way down to zero," Dediu tells me in an email.
He points out that much of the iPhone line's growth has happened with higher-priced iPhones. "While growing at the top end, [iPhone] has maintained the same price floor," he says, adding that when you factor in inflation, the average selling price of iPhones "has remained surprisingly steady over 14 years."
To say Apple's iPhone marketing strategy has worked is an understatement. "Considering that over 2 billion iPhones have been sold, and that 1 billion are still in use, the iPhone remains the most popular product of all time," Dediu says.
The iPhone has powered Apple's growth to a $2 trillion company. Now, as the big-time iPhone sales growth of early- to mid-2010s fades, Apple's emphasis has turned to maintaining or growing the size of its base of iPhone users and selling as many Apple services (apps, video, music, storage, etc.) as possible through those devices.
Apple in the Tim Cook era is less about mouth-dropping innovation and more about milking every last cent of profit out of products the company already sells. If Apple's augmented reality glasses and self-driving car appear on Cook's watch, that statement may need revising. But for now, Apple's strategy remains getting as many iPhones into as many people's pockets as possible.