It's a shared joy for children around the world to pull apart the golden arches on their Happy Meals to find, alongside their hamburger or McNuggets, a surprise toy to take home and play with. Now, 42 years after the introduction of the first Happy Meal, the global fast-food eatery says those playthings will soon be made almost entirely from more sustainable materials.
McDonald's today announced that by the end of 2025, all of its toys will be made from recycled plastic, renewable (plant-based) plastic, certified sustainable fiber, or a mix of those materials in the more than 100 countries where it sells Happy Meals. The toys have already rolled out in a handful of countries.
McDonald's is committing to a target of a 90% reduction in fossil-fuel-based plastics over the next four years, compared to its 2018 levels. Simply reducing the number of materials used in the toys at the design stage will make it easier to pull from the new permitted list of ingredients. (The chain still expects that small parts that are harder to convert to alternatives, mostly bonding and connecting agents, may contain virgin plastics.)
"We will, of course, always look to push farther than that," says Jenny McColloch, chief sustainability officer at McDonald's.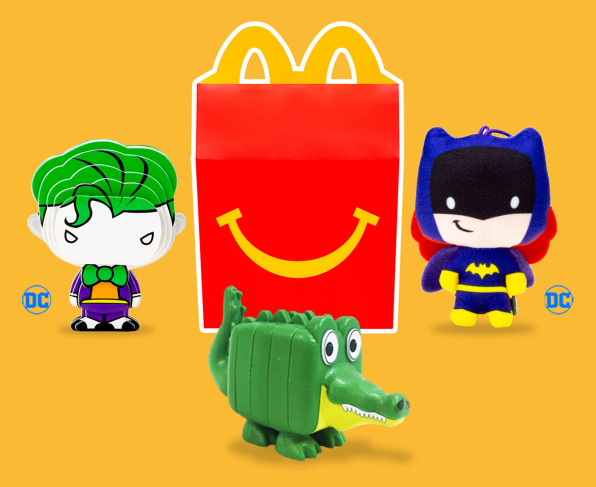 While the toys are small, the impact may not be trivial: Happy Meals are as popular as ever, and the company gives away roughly a billion toys in the meals every year. Kids will still get the same kind of toys, but plush toys will be made from recycled or plant-based plastics; figurines like Batman, Batgirl, or the Minions will be made from recycled plastic; there will be paper-based puzzles and coloring books; and construction sets will be made from sustainable fiber. The toy packaging will also be completely sustainable by 2025.
Restaurants in the U.K., Ireland, and France have already reduced virgin plastics in toys by 30%. Starting this year, for instance, British and Irish McDonald's began limited toy offerings of soft, paper-based toys or books. Those tests, McColloch says, will help determine what works for other markets, including the U.S.: "We are anticipating that some of these alternative materials will be [in] the U.S.-based toy mix starting this winter."