Hear me out: Backpacks can be fashionable. Not just the tiny, design versions, made for holding your keys, wallet, and nothing else. Like, real made-for-a-laptop-size backpacks, with comfortable shoulder straps and an Inspector Gadget-amount of pockets and compartments. Beautiful leather, clever ergonomic features, and design-forward shapes make these backpacks some of our favorites. Here are eight backpacks that won't put a cramp in your style or a pain in your neck.
Caraa Studio 2
I turn to New York-based Caraa when I want a stylish do-it-all bag with a clown car level of storage. The brand's Studio 2 is the sleeker sister of its Studio Bag (which I have and adore), with all the internal bells and whistles without any external bulk. It's available in four sizes—and designed to accommodate a range of tech, while incorporating thoughtful details like a clear, zippered jewelry pocket and shoe bags. 
Day Owl Slim Backpack
Pittsburgh's Day Owl repurposes post-consumer materials in partnership with First Mile, a waste collection distributor for supply chains, which also works with the likes of Puma and Aerie. Day Owl's waxed canvas Slim Backpack weighs only 2 pounds and is 3.5 inches deep—because sometimes all you need is your laptop and a few snacks.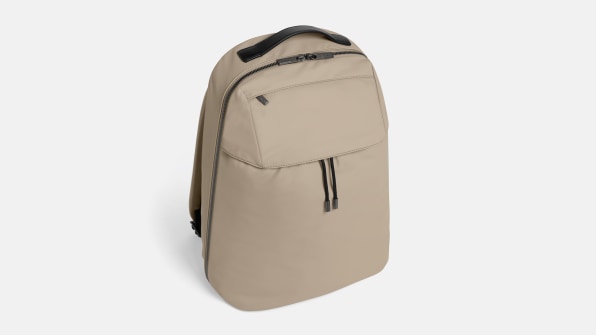 Away Flap Backpack
A minimalist dream: Away's Flap Backpack is designed with big and small commutes in mind. We like its clam-shell opening—the front flap opens wiiiiiiiide so you're never rummaging for anything—and appreciate that ability to easily slide it onto a roller suitcase's handle.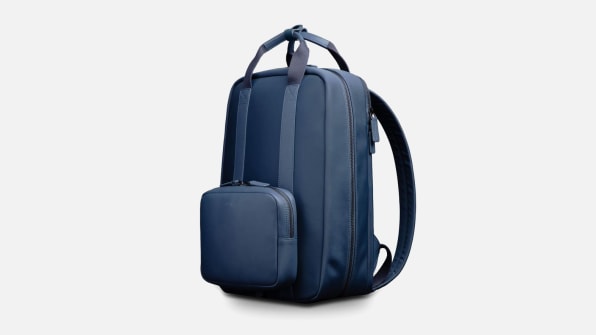 Monos Metro Backpack
Monos—a Vancouver-based modern travel competitor to the aforementioned Away—incorporates a modular system into its Metro Backpack. Included with each pack is a Metro Classic Kit, a pocket case that can be snapped on or off with a simple click. 
Hammitt Hunter Backpack 
California-based Hammitt's Hunter Backpack is cushy, handsome, and shaped like a pebble. While it doesn't fit a full-size laptop, tablets will fit snuggly in its back pocket. It's ideal to bridge the gap between a traditional backpack and a purse.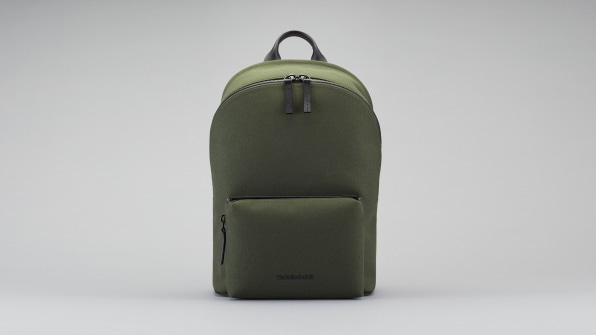 Troubadour Apex Backpack
London-based Troubadour's Apex backpack is designed with office-bound commuters in mind. It features clean lines, weatherproof fabrics and zippers, and comfort details, like memory foam-padded shoulder straps set at a back friendly angle. 
Bellroy Tokyo Totepack
Slender and full of pockets, the Tokyo Totepack—built by Bellroy, a Melbourne, Australia-based B corp—starts as a simple two-handle tote. Pull out the shoulder straps, which tuck away into the back panel when not being used, to sling it on like a regular backpack.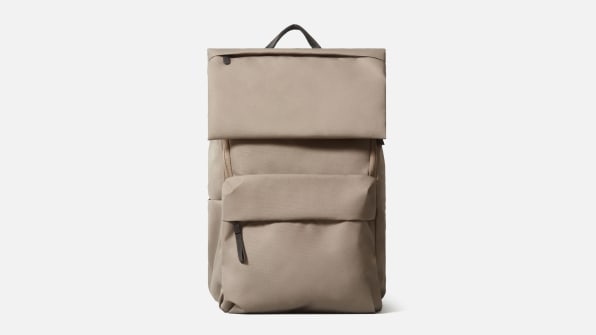 Everlane ReNew Transit Backpack
Everlane's roomy ReNew Transit Backpack is designed with the airport traveler in mind. Laptops slide into an exterior pocket, water bottles and tech accessories are easily accessible in multiple front pouches, and the magnetic flap closure keeps everything looking sleek.
Fast Company's Recommender section is dedicated to surfacing innovative products, services, and brands that are changing how we live and work. Every item that we write about is independently selected by our editors and, wherever possible, tested and reviewed. Fast Company may receive revenue from some links in our stories; however, all selections are based on our editorial judgment.