Sometimes the best new building is the building that already exists. "One of my mottoes is 'Start with what's there,' " says architect Jeanne Gang, whose Chicago-based firm, Studio Gang, has become a go-to for environmentally conscious and architecturally adventurous design. Gang's philosophy leans heavily on community input, ecological awareness, and knowing when to reuse existing structures and materials instead of building anew.
Founded in 1997, when Gang was just 33, Studio Gang became famous for stunning new structures like the Starlight Theatre, in Rockford, Illinois, and the undulating 82-story Aqua Tower, in Chicago. The firm has matured into a global powerhouse (and a perennial Innovation by Design honoree), with work around the world, including New York's Solar Carve, the Q Residences in Amsterdam, and the 101-story St. Regis Chicago, which will be the third-tallest building in a city known for its architectural feats. These projects have bolstered Gang's reputation and helped her firm grow to 125 people, with four offices across the U.S. and one in Europe. Forthcoming projects include an Aspen-tree-inspired mid-rise tower in Denver, a carbon-neutral center for the University of Chicago in Paris, and Assemble Chicago, a carbon-neutral residential community in the city's Loop district.
Gang's increasing focus on sustainability is gaining momentum. Construction and related activity account for nearly 40% of global greenhouse gas emissions, according to the nonprofit Architecture 2030. When Beloit College wanted to re­imagine a former coal-burning power plant as a multifunctional student union and fitness center, Gang's proposal topped the short list. Studio Gang's competition-winning design preserved and adapted elements of the century-old plant's industrial past, while targeting LEED Silver certification. Since opening in 2020, it's become the heart of the campus, according to Beloit College president Scott Bierman. "As beautiful as the building is," he says, "the function of this building transcends its beauty by orders of magnitude."
Gang isn't focused exclusively on old industrial structures but also hulking concrete office and apartment buildings. "If you think of the scenario where they're not reused, and there are thousands of these across the country, they become a huge blight on cities," Gang says. "Reusing them has this double benefit."
Commissioned to design a new building in downtown San Jose, Gang and her team expanded the scope to include the adaptive reuse of a 1980s office building next door. Part of a 5 million square foot, multibuilding downtown redevelopment, Gang's vision will help the project meet a goal of producing zero greenhouse gas emissions—partly by not demolishing the old office building.
Though hers is the rare woman-led architecture firm working at an international scale, Gang is less concerned with staying at the top than pushing the industry forward. Reuse—from recycled materials to chunks of rooms to entire structures—remains her focus, both in her design work and in her teaching at Harvard's Graduate School of Design.
"This idea of obsolescence is outdated," she says. "It's obsolete."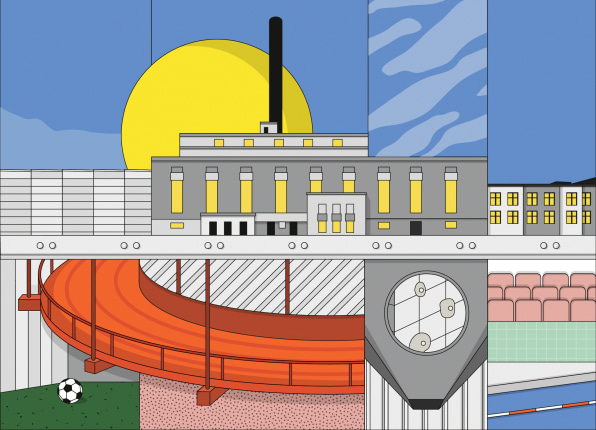 Beloit Powerhouse, Studio Gang
More than a decade after its closure, in 2010, a historic power plant next to Beloit College in southern Wisconsin has been given an unexpected new life. Adaptively redesigned by the architects at Studio Gang, the once obsolete facility is now a multipurpose fitness center and student union called the Powerhouse. But its coal-burning days are hardly forgotten. Physical elements of its industrial past now support many facets of this unique building.
1. Smokestack
The plant's smokestack is a landmark in Beloit. After decades of coughing out coal smoke, it's now pulling light into the building's conference center.
2. Coal Hoppers
Room-size inverted pyramids that once funneled coal into furnaces have been retrofitted, one with space for a bar and a slanted interior wall for climbing.
3. Running Track
Steel armatures for the plant's gantry cranes now support a jogging track that appears to float as it winds through—and sometimes out of—the original building.
4. Field Addition
The large indoor training field, a COVID-19-safe area, can host the college's graduation ceremony and will also be the site of a farmers market.