There's a dirty secret in the delivery business. Delivery vans are fast, but cargo bikes are faster—up to 60% quicker at navigating cities to deliver packages, all without emitting any exhaust.
Of course, it's hard to imagine your Amazon, UPS, and FedEx packages being delivered by someone huffing away on pedals. But what if they had a zippy electric bike instead…made by one of the most exciting electric vehicle startups in the world?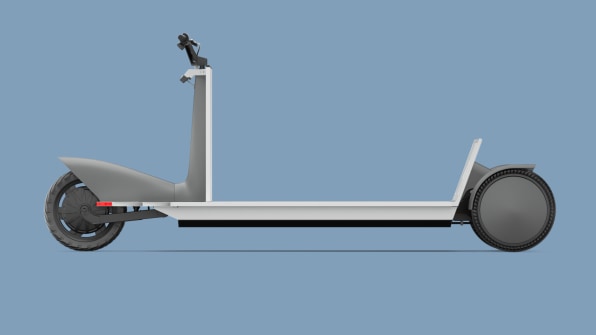 That's the idea behind the Re:Move. It's an electric cargo . . . bike (sled? wagon?) that's been prototyped by the Swedish EV company Polestar in collaboration with the designer Konstantin Grcic, aluminum producer Hydro, and electric motorbike company Cake. While Polestar is making no promises that the Re:Move will actually be released, the company tells Co.Design that it's continuing to invest in its development. (Polestar is also developing several patents out of the work that a spokesperson says could be used in future projects.)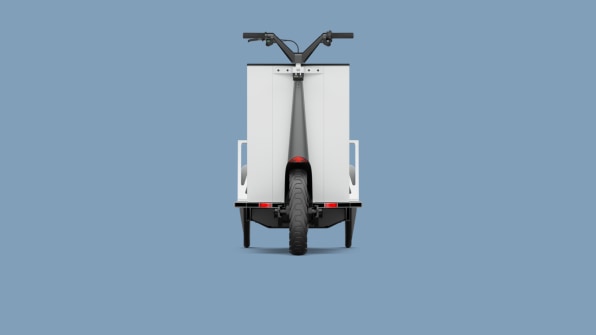 The three-wheeler features an exposed aluminum frame reminiscent of Apple products. It's essentially a big, flat platform on wheels, capable of carrying up to 400 pounds at 15 mph. To drive, you stand on the back, and use the handlebars to steer it just like a bike, complete with an integrated throttle and brake. The Re:Move is engineered in such a way that, as you turn, electric steering tilts the entire vehicle into turns.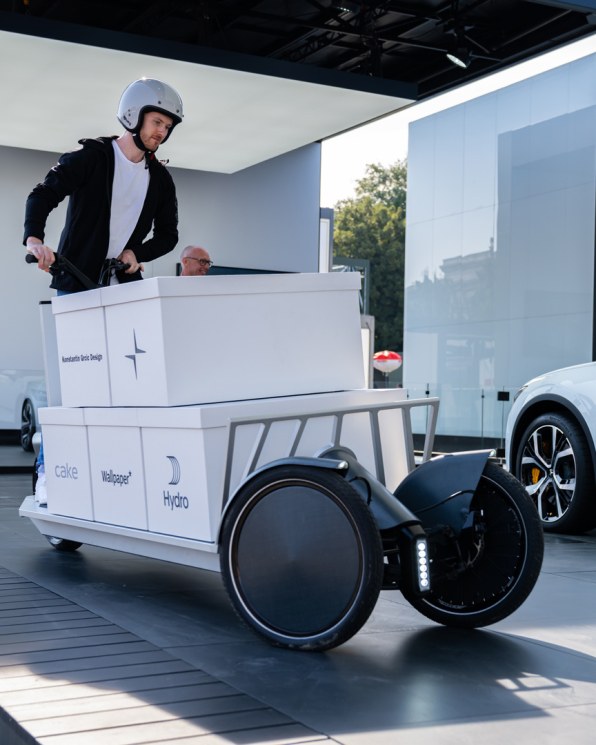 But the real twist is that this vehicle is only 2.5-feet wide, meaning that you can ride it in a stock bike lane—theoretically cutting back on street traffic from cargo vans. Notably, the Re:Move's battery is only about 1/40th the size of that inside an electric car. So you could literally build 40 Re:Moves with the battery investment of a single standard EV.
An alternative to delivery vans can't come a moment too soon. A 2020 report from the World Economic Forum found that, without intervention, the number of delivery vehicles in the 100 largest cities across the globe will grow by 36% over the next decade. Resulting CO2 emissions from delivery will grow by 32% as a result. And to add insult to injury, the extra traffic congestion would add 11 minutes to the average daily commute. We'll be stewing in pollution on the way to work, unless we figure out another way to deliver packages, like the Re:Move.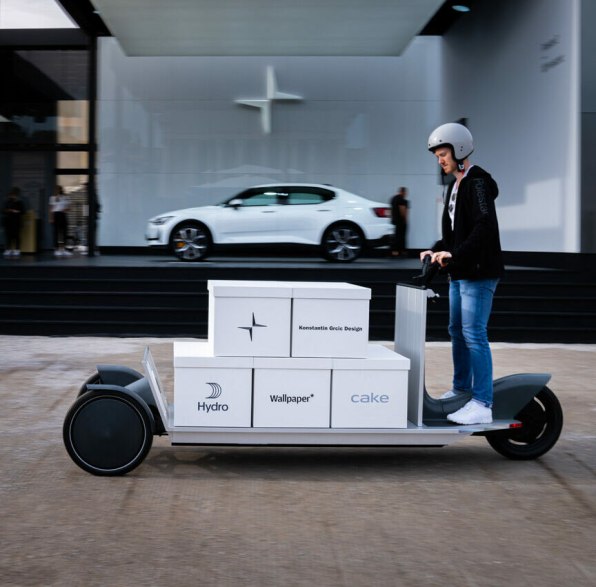 Now, what would happen were Amazon to flood American cities, which are already underserved by bike lanes, with a fleet of electric bikes? Surely we would be facing some capacity issues that we're unequipped for in the short term. That said, we already know there are too many delivery vans on the road. So we might as well bring on the electric sleds, instead!