I'm not a huge seltzer person. While the rest of the world seemingly went mad for LaCroix and White Claw, I planted my flag by my filtered water pitcher, sniffing, "what's the big deal?" To me, flavored seltzer never tastes as good as it smells, and unflavored, it's what I imagine television static to taste like.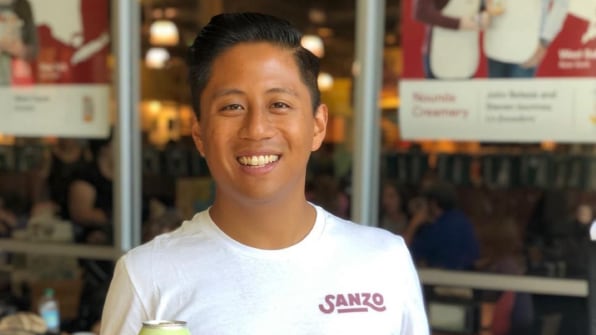 That said, I cannot get enough of Sanzo, a new sparkling water brand from New York. Founded in 2019 by Queens-born Filipino American Sandro Roco, the company offers three Asian-inspired flavors: lychee, mango, and calamansi. Each candy-colored can includes a Roy Lichtenstein-esque silhouette of the fruit it contains, and each drink comes with no added sugar and just enough fruit puree to tint the liquid a delightful pastel shade. "With [seltzers], the carbonation leads instead of the flavor," says Roco. "But we thought the fruits were delicious and they should be first."
Sanzo's drinks are lightly carbonated—there are no aggressive, bloat-inducing bubbles here—but fizzy enough to complement the fruit-forward finish. My favorite is the mango, made with alphonso mango puree, which is nectareous and slightly floral—like a real mango should be.
Roco said he aimed to get the flavors as authentic and true to life as possible, noting some consumers might be experiencing flavors like calamansi, a Southeast Asian citrus fruit that's somewhere between a lime and an orange, for the first time.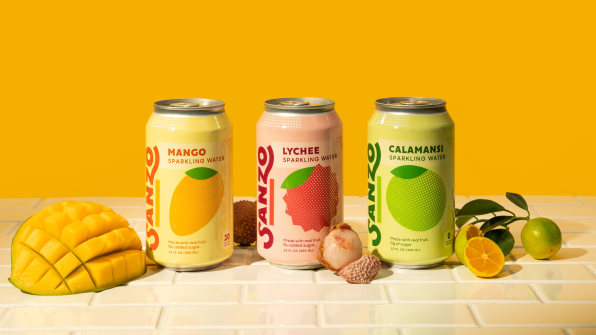 Roco, whose previous pursuits included stints in nuclear engineering and on Wall Street, created Sanzo after what he deemed the "summer of LaCroix" in 2018. With Crazy Rich Asians and BTS dominating popular culture, he saw an opportunity to bring cultural influences into the sparkling water category. Roco self-financed the launch from his 500-square-foot studio, Zipcar-ing Sanzo orders to restaurants and selling through his website.
Today, Sanzo is also sold in Whole Foods, Erewhon, and Thrive Market. The company will roll out in 900 Panda Express locations toward the end of 2021.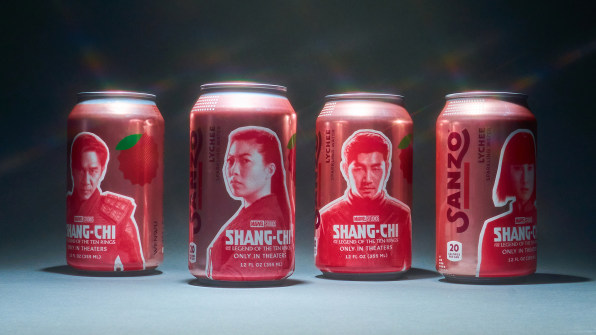 Sanzo announced a $1.3 million fundraise in August 2020, with the likes of Away CEO Jen Rubio and Adobe chief product officer Scott Belsky investing. This August, Roco added San Francisco VC firm Hyphen Capital, which focuses on supporting Asian Americans and Pacific Islander (AAPI)-founded startups, and actor Simu Liu (yes, Marvel's Shang-Chi) to its list of investors. Liu joined Sanzo's cap table in tandem with the brand's reveal of limited-edition lychee cans featuring the film's four leads. Five percent of sales from the $39.99 Shang-Chi 12-packs will be donated to the Coalition of Asian Pacifics in Entertainment (CAPE), an AAPI-representation in entertainment advocacy group.
As for what's next for the brand, Roco says there's no shortage of flavor suggestions from his customers. The goal is to stay authentic, but also accessible, as the brand grows.
"We are balancing what's commercially feasible and a price point that stays accessible," he said. "Ultimately, we want to bridge cultures. There's the ability to be that taste of home for Asian Americans across the diaspora, but also, to be a source of discovery for people who might not have experienced [these flavors] before."
Fast Company's Recommender section is dedicated to surfacing innovative products, services, and brands that are changing how we live and work. Every item that we write about is independently selected by our editors. Fast Company may receive revenue from some links in our stories; however, all selections are based on our editorial judgment.