The era of the soggy french fry is over.
Wendy's has announced its new and improved side, call the Hot & Crispy Fry.
The potato-based fast-food staple is designed to keep the heat in and the crunch on to cater to the growing number of people getting Wendy's meals and snacks at a drive-through or via a delivery service, according to the Dublin, Ohio-based chain. The latter is accomplished by what Wendy's calls a "whisper" of coating.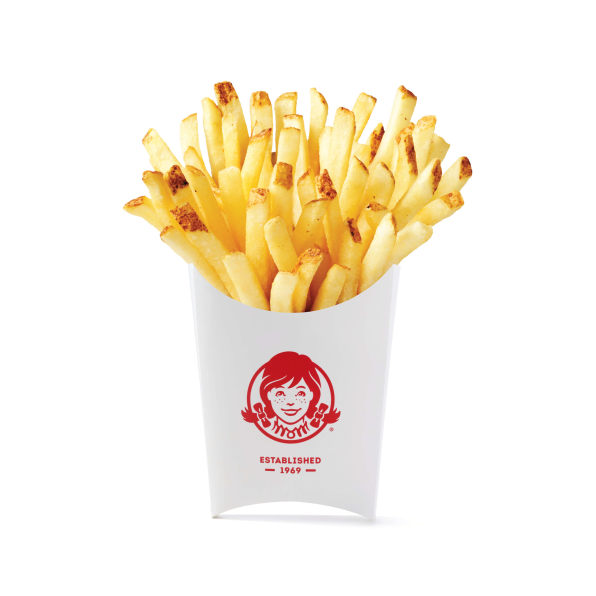 The extra attention to this caloric extra isn't surprising, because the fast-food giant says fries are among its best-selling menu items.
Wendy's is rolling it out in the United States now, and the new fries will be in all restaurants by October. Then, it'll be launched in other countries.
"It's a new day for fries at Wendy's," said Wendy's vice president of culinary innovation John Li.
A small fries has 260 calories, 12 grams of fat, and 470 milligrams of sodium.
According to the company, it's been working on a better fry for the last few years, including testing more than 20 different cuts and shapes. The final skin-on fry design isn't a perfect square. Rather, it has a thick side for heat retention and thin side for better crispiness. Wendy's calls the fresh take on the classic fry shape more dependable, and still good for dipping.
Wendy's also kept drive-through and delivery customers—a category of diner that spiked during the COVID-19 pandemic—in mind during its spuds overhaul, because the chain wanted them to have the same fry experience as in-restaurant eaters.
"These fries are a cut above the rest—literally," punned Emily Kessler, Wendy's senior specialist, culinary and innovation.