Residents of the Australian city of Logan, located near Brisbane, are able to have everything from coffee and dog treats to roast chickens and hardware store items delivered to their homes via drone.
Thanks to Wing, Alphabet's drone unit, people in the city of 300,000 have received more than 50,000 deliveries in the past 8 months, the company reports. That's helping put Wing on target to achieve its 100,000th drone delivery in the next few days.
In the first week of August alone, the company reports it made more than 4,500 drone deliveries in Logan, roughly one every 30 seconds that the service was operational. Wing says its automated service selects the best aircraft and route based on what the customer ordered and where they're located. Customers can track the drones on their phones, similar to ordering an Uber, and an aircraft then lowers packages to recipients via a tether.
So far, orders in Logan have included more than 10,000 cups of fresh coffee, 1,700 snack packs (helpful to families stuck at home due to coronavirus lockdowns), and more than 1,200 "hot chooks," as roast chickens are known in Australia. The Canberra Times reported Thursday that the drone service, which also delivers in that city, has seen a surge in demand there due to the current COVID-related lockdown, with service moving from five to seven days per week.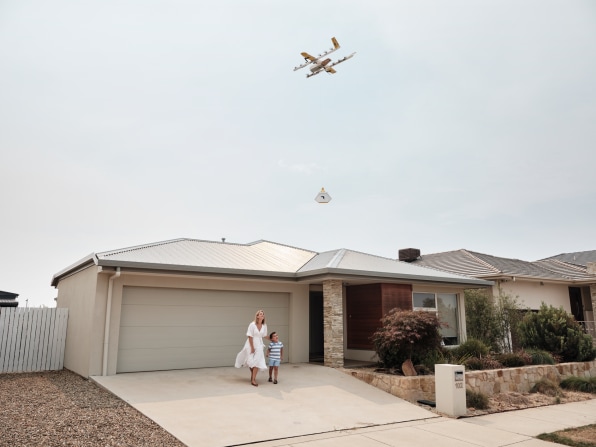 In the U.S., the Google sister company became the first drone operator to win Federal Aviation Administration approval in 2019. It offers some commercial delivery service in Christiansburg, Virginia, and made headlines last year, helping school librarians deliver books to students at home due to the pandemic.
Other companies, including UPS and Amazon, have also made pushes into drone delivery, although Wired recently reported that Amazon is scaling back its drone-related operations in the U.K. According to that report, Amazon faced challenges in trying to have its unmanned aircraft actually land at delivery sites, as opposed to lowering packages from the air. Jeff Bezos has been promising home drone delivery for years.
In general, drone delivery services in densely populated areas face safety and regulatory hurdles, with officials and potential customers justifiably wary of the risk of a crash. Delivery giant DHL recently scrapped its Parcelcopter delivery drone project, with the company referring in a recent blog post to "unrealistic hype" in the drone delivery industry. Earlier this year, the Wall Street Journal reported that Pizza Hut is experimenting with drone delivery technology in Israel, but the drones deliver pizzas to a central location like a parking lot, rather than to individual customer homes.
These challenges haven't seemed to deter Wing so far. In its announcement, Wing mentions that Logan, Australia, is comparable in size to New Orleans; Florence, Italy; and Manchester, England; suggesting that other similarly sized or even larger cities could see drone deliveries soon.
"Logan's success implies a not-too-distant future in which similar high-volume drone delivery services could be replicated in similar cities, and even larger metro areas, around the world," according to the company.