It's one of the small annoyances of everyday life: the last bit of lotion or conditioner gets stuck in its bottle and can't be squeezed out. By some estimates, as much as 17% to 25% of the lotion in a bottle will end up in the trash.
A new line of packaging called EveryDrop is designed to eliminate that waste, and make bottles easier to recycle—or even reuse—because they can be easily cleaned out. The extra-slippery bottle, from the MIT spinout company LiquiGlide, ensures that each drop of a product slides out. The technology adds a nontoxic layer of lubricant to the surface to eliminate friction.
"We all think when we throw a bottle into a recycling bin it will get recycled, but recycling is almost impossible when product is left behind and you need a significant amount of water to clean it," says Kripa Varanasi, an MIT professor and cofounder of LiquiGlide. "So the reality is that some of this packaging actually ends up in a landfill."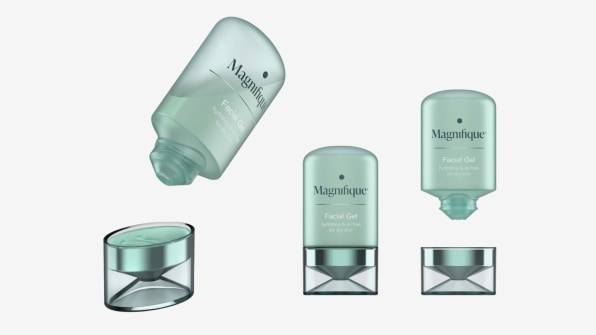 The environmental impact of wasting the product itself is probably even more significant, because of the energy and other resources that go into making the ingredients, manufacturing the product, and shipping it to stores and consumers. Consumers can also save money since they won't have to buy the same product quite as often.
Because the bottle is so slippery, it's also possible to make more concentrated products; right now, bottles of conditioner are filled with water so they can be dispensed. But the new packaging can allow companies to avoid that step—and avoiding shipping water around the country—with smaller, lighter-weight bottles that have a smaller carbon footprint. The bottles can also be used with products like heavy creams and gels that would normally go in heavier jars.
A typical lotion bottle is opaque, in part because the product looks messy as it sticks to the walls of the package. But the new bottles can be clear, since as the product is used, the empty part of the bottle looks clean. It's satisfying to use, says CEO and cofounder Dave Smith. "There's this extra kind of delight that you get in just experiencing it and how nicely it slides down the wall," he says. "It's kind of hard to explain until you get it in your hands."
After working with designer Yves Béhar on the shape of the bottles and preparing for large-scale manufacturing, the company is now in talks with personal care brands that want to shrink their environmental footprint. It may be on shelves within a couple of months, the founders say. The company previously worked with Colgate on a similarly slippery toothpaste bottle.