In Phoenix, where a drought has lasted for 27 years so far, one source of water—the Colorado River—may soon dry up. The city is also getting hotter, with a record number of days over 110 degrees Fahrenheit in 2020. At the same time, the population continues to expand. Over the last decade, Phoenix grew faster than any other American city, and Arizona was one of the fastest-growing states.
In Michigan, on the other hand, a state that's likely to be relatively less likely to be impacted by climate change, the population grew slowly. A recent Census Bureau map shows the overall trend: Many Americans have been moving to areas that are likely going to be harder hit by climate impacts. (A new report from Redfin found the same trend.)
Florida, where coastal cities are facing stronger hurricanes and more flooding as sea levels rise, was among the top 10 fastest-growing states between 2010 and 2020. (The trajectory has continued through the pandemic, as an estimated 330,000 additional people moved to Florida between April 2020 and April 2021.) Utah, with the fastest population growth by percentage, is dealing with extreme drought, wildfires, and ongoing air pollution from fires in other states like California. Texas, another quickly growing state, is one of the places most at risk from both extreme heat and drought.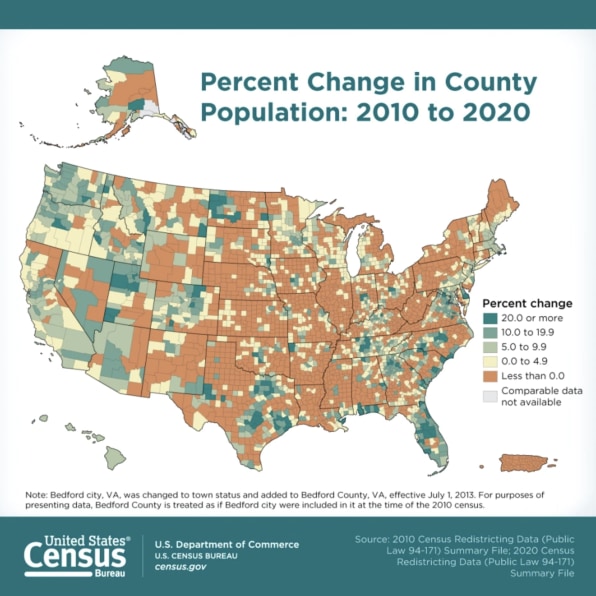 "The White House has looked at international climate migration, and there's a whole working group on that now, but there's nothing on domestic climate migration," says Jesse Keenan, an associate professor of real estate at the Tulane School of Architecture who studies climate change adaptation and the built environment. "I think that's a missed opportunity on many fronts."
People move for many reasons, of course, and climate change still isn't necessarily a major factor. In Paradise, California, many people are now rebuilding their homes, and the population is surging, three years after the town was destroyed by a wildfire—even though the chances of another major fire are high. But it seems likely that growing numbers of people may choose to move because of climate change over time. (There might be some early signs of this now, as Maine, a place likely to be a little less impacted by climate change, became one of the more popular places for people to move in the first quarter of this year, according to data from the relocation tech company Updater.) And better planning by the government, at all levels, could help that happen more slowly.
Keenan previously studied the capacity of Duluth, Minnesota, to meet a potential wave of climate migrants; the city is cold enough that it doesn't face the same risks of extreme heat and wildfires as many other places. Before air conditioning existed, the city advertised itself as a cool place for summer vacations. Now, although no place is immune from climate impacts, it may market itself as a relative climate haven. The mayor of Buffalo, New York has also called his city a climate refuge. It's not clear how well this is attracting new residents. Duluth grew by only a little more than 400 people over the last decade. Buffalo, however, did get a wave of new residents from Puerto Rico after Hurricane Maria. States could also try to incentivize people to move to help grow local economies, in the same way that Vermont offered $10,000 grants to remote workers willing to move to the state.
The federal government could also potentially encourage more people to move to less risky areas. Some changes are slowly starting. A Federal Emergency Management Agency (FEMA) program called Building Resilient Infrastructure and Communities, for example, helps cities buy out risky properties after a disaster, but also requires a place for those residents to move so that they don't end up in another highly disaster-prone home. In the past, the national flood insurance program has paid to rebuild a flooded home multiple times on the same spot.
Private home insurance may become harder to get, which could be an incentive for some people to move. "In areas where [insurance companies] know that there will be too many [claims] because of a climate event, they'll either make it cost prohibitive to write that coverage, or deny that coverage, or not offer it," says Kurt George from Property Damage Appraisers, a damage appraisal firm that works with major insurance companies. When insurers pull out, states like Florida have often responded by creating insurance programs of their own—something that can help residents in the short term but doesn't help reduce future risk if people stay in place.
Any mass internal migration should be carefully planned for, especially because the wealthiest people in hard-hit areas may be first to leave. "What happens if people get left behind?" says Keenan. "You have a diminished economic activity and output, and you can run this risk of reinforcing poverty cycles in very concentrated areas. And I think that's almost the sole reason that we have to have the federal government engaged in this," he says. Cities have to plan to adapt to the climate impacts that are already happening. Phoenix, for example, is planning for the fact that it may soon no longer have access to Colorado River water. But it also makes sense to consider whether populations in some cities should shrink.