Over the past 18 months, women have been living in a state of flux. We work wherever we can, schlepping our laptops from the dining room table to the office to an Airbnb. We squeeze in childcare, walks, and trips to the grocery story—always toting hand sanitizer and masks. Given that the pandemic appears here to stay, unpredictability is the new normal. And thankfully, Cuyana has designed its new System Tote to make our lives easier during this time and beyond.
Cuyana launched in 2011 with a classic leather tote bag that developed a cult following. Over the past decade, even as the brand has expanded into clothing and jewelry, the brand's designers have continued to create innovative bags that are tailored to women's lifestyles. And when the pandemic threw our lives into disarray, they began to consider what kind of bag this moment called for. "We see ourselves as ethnographers, studying the women we serve," says Shilpa Shah, Cuyana's cofounder. "And we believe that a good, carefully designed accessory can improve our customers' lives."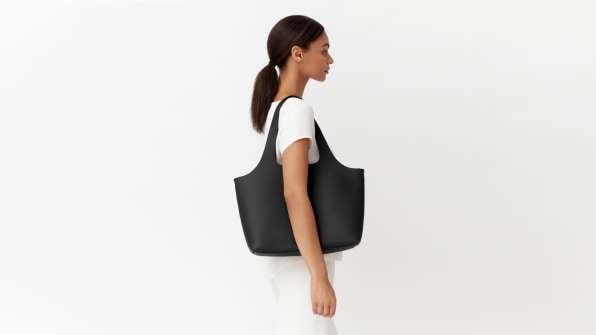 The brand's new System Tote incorporates all of these insights. It begins with a sleek leather bag made from supple Italian leather that is perfectly sized to carry everything you would need for a full day of work or a full weekend with your family. But the tote can then be customized with two additional features: a laptop sleeve and a clutch that doubles as a crossbody bag. The laptop sleeve neatly clicks into the center of the tote, protecting your computer while also creating a clever divider in the bag. The clutch clicks into the side of the tote, serving as an extra pocket, but can be easily taken out when you need something smaller to carry. (You can mix and match the colors of your tote, laptop sleeve, and clutch, from classic pebbled leathers to snake- and crocodile-embossed leathers.) And finally, there's a strap that can transform your clutch or the entire tote into a crossbody bag.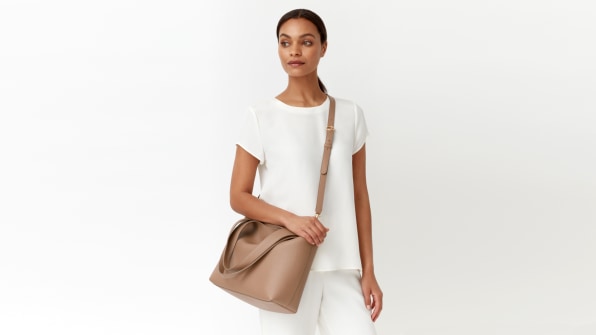 Shah says the idea for the bag was to create a single spot for you to keep everything you need for the week, but make it easy to transition from one experience to another. And as I tested the system, I found that it did just that. I spend most mornings working at a coffee shop, so I carry the tote fully loaded with my laptop and clutch. When I go pick up my daughter after school, I leave the tote in the trunk of my car, but carry the 6-by-9-inch clutch as a crossbody bag when I head to the playground. On weekends, I leave the laptop in its sleeve at home, and fill the tote with snacks, water bottles, magazines, and bug spray for a day in the park. Since my wallet, keys, and masks are always safely in the clutch pocket in the tote, I never have to worry about forgetting them.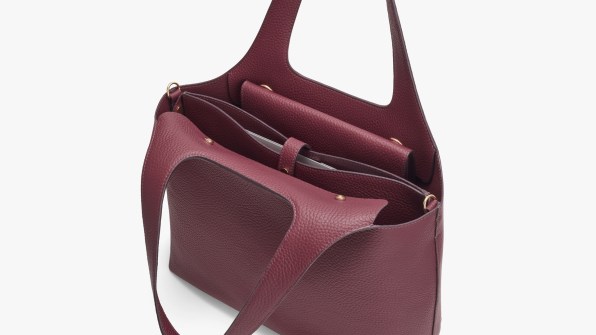 Of course, not everyone is a working mother like myself, and this bag is designed to fit into different lifestyles. "Every woman will use the bag differently," says Shah. "But we've made the System flexible and versatile, so she can customize it to her needs. And you don't need to buy the whole system, just the pieces that fit into your life."
When the pandemic does, eventually, come to an end, we're still unlikely to return to the regularity of a nine-to-five day in our workplaces. Our lives will continue to be a hybrid of working from home and popping into the office, blurring the lines between the professional and the personal. Cuyana's System Tote is designed for this new reality, where every day is slightly different than the one before.
Fast Company's Recommender section is dedicated to surfacing innovative products, services, and brands that are changing how we live and work. Every item that we write about is independently selected by our editors and, whenever possible, tested and reviewed. Fast Company may receive revenue from some links in our stories; however, all selections are based on our editorial judgment.