Look away and you'll miss it; look again, and you'll notice something different. That is the bet behind Infinity—a never-ending film that promises endless entertainment and a surprisingly hypnotizing experience.
Created by Universal Everything, a British digital art collective with a client list that includes Apple, MTV, and Radiohead, Infinity features a parade of extravagant characters, each slightly different from the other, marching, skipping, or darting across the screen. The film is composed entirely through generative design—in this case, computer programming is used to simulate human movement. With far-reaching implications in fashion, gaming, and, perhaps most surprising, healthcare, Infinity provides more than a mesmerizing experience. It's a way to visualize variations of the human condition that can't be described by words alone.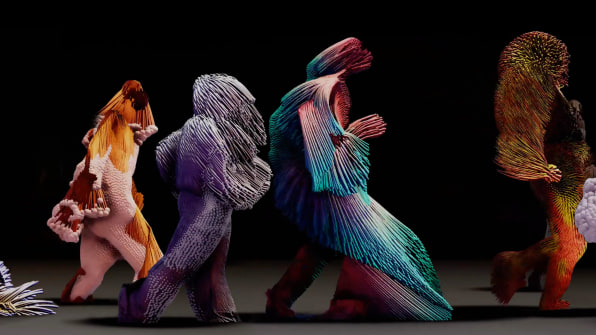 The premise of the film is simple: Every single character on the livestream was born from code. Every single character has a name, too. When I checked the stream while writing this story, Lord Argote trudged past in a bulbous, fluorescent blue costume, and Dr. Stehle plodded along with a striated, mother-of-pearl fur. This exact configuration, with these exact characters looking this exact way, will never repeat itself. Still, a common denominator remains. "Each character is a random combination of parameters but crafted within aesthetic rules we directed," explains Matt Pyke, the founder of Universal Everything. "To use generative design means designing the seed."
The seed began with a coding system that grew simulated hair onto motion capture data. The designers then observed the wide variety of figures that ensued and shaped characters by simulating—then randomizing—colors, hairstyles, and gaits. Soon enough, "an endless parade of personalities emerged," Pyke says. "It is our role as designers to craft the rules of the seed to ensure every outcome feels alive and natural."
Much of Universal Everything's work is centered on characters moving on a screen, many of them large-scale videos reigning in a gallery or adorning the side of a building. In Seoul's international airport, the studio designed a billboard-size video in which characters run against a blank background then take flight right as they reach the end of the screen. On Hyundai's media facade in New York City's Times Square, the designers portrayed a running man as he evolves from scrap to molten metal to the frame of a car, reflecting the automaker's production process.
"In our studio's work on large public screens, we have noticed traditional, repetitive video loops begin to grow familiar and become invisible over time," Pyke says. By devising an ever-evolving stream of content, Pyke hopes to keep people on their toes and increase viewers' attention spans, but the applications for such technologies are much broader.
Can viewers interact with the parade of characters and influence their behaviors and style? Can body-tracking cameras capture people's movements and let them become part of the parade? The gaming industry is a clear contender for generative technology—Pyke even suggests "unique video game characters for every user"—but perhaps the biggest implications can be felt in healthcare.
Over the past few years, Universal Everything has been working with Samantha Gallivan—an orthopedic surgeon and deputy academic lead at Imperial College London—to develop an interactive app, currently in clinical trials, that would enable patients and doctors to visualize and better communicate chronic pain symptoms.
By drawing, or letting patients draw, different textures onto a human body on the screen, doctors can diagnose pain more easily, Pyke explains. Ranging from a prickly texture (akin to some of the character costumes in Infinity) to a red halo that hints at a burning sensation, the patterns can be customized in size and intensity to match the felt symptoms.
Regardless of the industry, Universal Everything's broad portfolio shows the potential of code-generated art to tell stories in nontraditional ways. With Infinity, Pyke says he's excited about what films with no beginning or end could bring to the film industry. "We love the idea of infinite storytelling," he says. "Just a world that exists forever."