Modern rechargeable batteries, such as Panasonic Eneloops, are superb products. These AA and AAA batteries are little workhorses that can be reused hundreds of times before they're no longer reliable, meaning a single rechargeable battery can keep dozens out of the landfill.
But there's a reason my black Eneloop charger is hidden beneath cobwebs in a corner. It's every bit as attractive as my electric drill.
Leave it to Ikea to address just this problem in its refreshed Ladda batteries ($10/four) and Tjugo charger ($25). While the company has produced rechargeable batteries since 2018 (which many believe to actually be white labeled Eneloops), they featured a pretty typical design, with a pretty typical wall charger. Ikea's only special Ikea design touch was that its batteries were wrapped in white.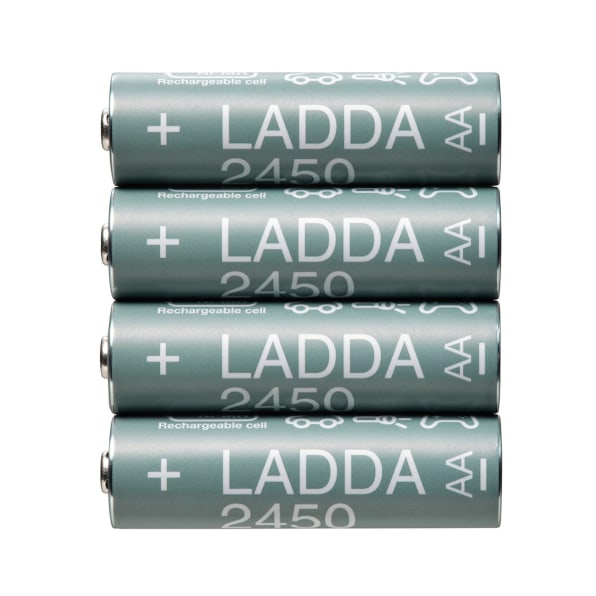 This week, however, Ikea released updates to its rechargeable line that give some nod to aesthetics. The Ladda batteries themselves are now a blue-green muted by a liberal bit of gray—the sort of calm colorway beloved by modern home goods.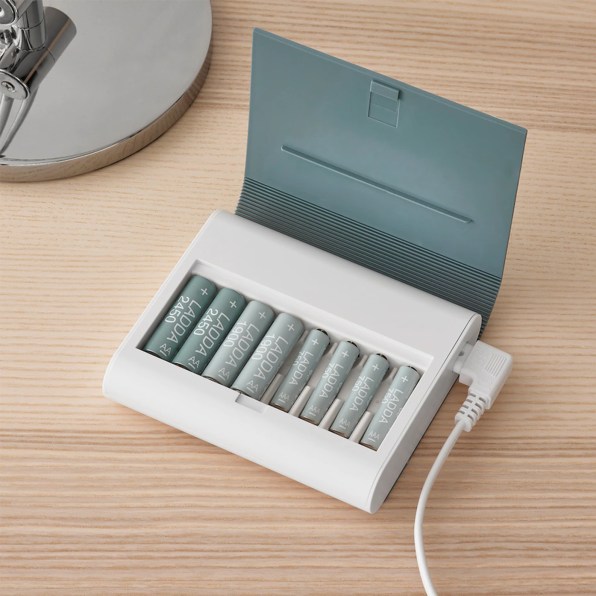 A new, small, four-slot wall charger accommodates both AA and AAA batteries in each slot, so you can use the same charger for all of your batteries. (This charger doesn't appear to be available on the U.S. site just yet.) Meanwhile, the new Tjugo charger features eight charging slots. Such a huge battery charger could look pretty monstrous, so Ikea designers mellowed it out by making the Tjugo close-up look like a book. Literally, its outer shell wraps around just like a book jacket to blend in on a table or shelf.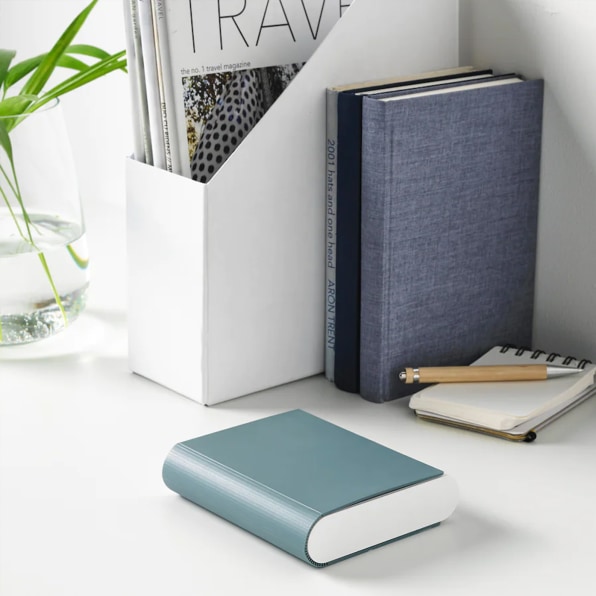 The whole battery-in-disguise approach is a bit reminiscent of those fake shaving cream cans that you can buy to hide valuables from robbers. But then again, why not conceal your batteries while charging them? We go to incredible lengths to snake our TV cables through our walls, and shove our Wi-Fi routers inside cabinets, simply to declutter and bury away the ugly technological infrastructure that makes our home work. Ikea just built its own hiding place right into its product.
The new line of batteries is available now.