Athletic Propulsion Labs is known for creating performance sneakers that work almost too well. Its first product, a basketball shoe that launched in 2010, gave such a boost that the NBA banned it, saying it gave players an unfair advantage. Now, APL wants to bring its technical prowess to running.
APL recently launched the Streamline, a $300 shoe designed to push the limits of what a running shoe can be. The brand spent two years developing it and spun out two new technologies in the process: a foam engineered to provide high energy return and a woven exterior that encourages airflow to reduce foot drag. These features are designed to enable the wearer to run as swiftly and as comfortably as possible. It's still unclear whether it will give professional runners an unfair advantage, but for the amateur sportswoman like myself, the layers of cushioning certainly make for a more pleasurable workout.
Twin brothers Adam and Ryan Goldston founded APL in 2009 when they were 22, with the goal of bringing new technologies and innovations into footwear. After the success of that first basketball shoe—the Concept 1—they went on to develop other sneaker technologies that went into running and training shoes, including TechLoom, a 3D woven stretch material designed to move with your foot, and Propelium, a sole designed to optimize shock absorption. But they believed they could create an even better running shoe.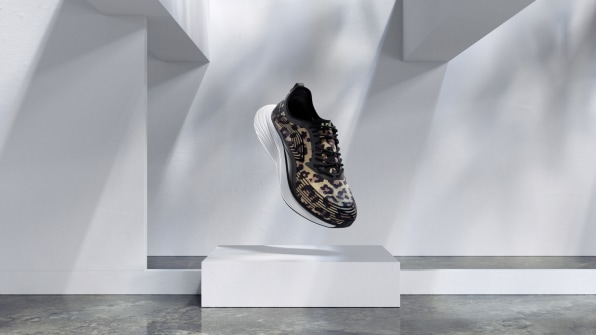 The idea for the Streamline came to the Goldston brothers when they spent the day walking through Tokyo and sat down for a stack of Japanese soufflé pancakes, which are extra thick and fluffy. Inspired by the structure of the pancakes, they decided to develop a midsole that was incredibly light, but also springy and bouncy. When they went back to the lab, they developed a foam blend called Future Foam, which is twice as thick as any other shoe APL makes. As they tested the midsole in the lab, and then with runners, they found that the new midsoles provide good energy return and compression. They also built a woven material called Aerolux, which is APL's lightest upper to date. It's made from a sturdy material that supports the foot and keeps its shape, but lets air circulate, which reduces fatigue and drag.
I tested a pair of the Streamline shoes prior to launch. I enjoyed how they cradled my foot, absorbing the impact of every step. I overpronate, which means I tend to be flat-footed; but the foam in this shoe supported the arch of my foot, allowing me to keep a good form, without it being too firm. In other words, it did sort of feel like my foot was bouncing on soft, springy pancakes. Unlike many APL shoes, which have a soft, fabric-like exterior, this shoe has a harder, structured upper. I liked how the upper kept my foot firmly in place, reducing friction when my foot moved. I found that the shoes worked well across several high-impact sports, including HIIT workouts. And after taking them out on a muddy day, I was able to stick them in the washing machine, and they were as good as new.
If you're in the market for a new pair of runners, you can't go wrong with the Streamline. They'll keep your feet comfy and airy, whether you're jogging around the block or running your next marathon.
Fast Company's Recommender section is dedicated to surfacing innovative products, services, and brands that are changing how we live and work. Every item that we write about is independently selected by our editors and, wherever possible, tested and reviewed. Fast Company may receive revenue from some links in our stories; however, all selections are based on our editorial judgment.