Ever since the NFT phenomenon took off several months ago, it's been all about exclusivity and the value that exclusivity drives—i.e., a lot of money. Digital artists like Beeple have auctioned off NFTs, or non-fungible tokens, of their artwork for tens of millions of dollars at auction houses like Christie's. Video snippets of highlights from the NBA—say, LeBron James dunking—have generated over $300 million in sales. 
But Jeff Marsilio, CEO and cofounder of a new NFT platform called Nifty's wants to change that. Nifty's, which launches on Monday, is all about making NFTs more accessible to the average person who may not want to spend money (let alone millions) on a digital file that's stored on a blockchain network. An NFT's value is driven by their unique digital certificates of authenticity that make them impossible to fake.
To drive home the message of accessibility, Nifty's has partnered with Warner Bros. to create 92,000 NFT collectibles tied to Space Jam: A New Legacy, which comes out on July 16. Anyone who registers on Nifty's and visits the Space Jam 2 gallery will be automatically be given a Space Jam NFT for free. (The normal purchase price is $2.99 each.) The NFTs come in 2D and 3D formats and are based on nearly a dozen characters from the film, including LeBron James and Bugs and Lola Bunnies. Users are prompted to share the NFTs on social media, and, once shared, they're rewarded with another Space Jam NFT. All of the NFTs are randomly selected and have varying levels of rarity. Beyond the freebies, users can only purchase one NFT per day. 
Marsilio likens it to a "Willy Wonka experience. You might get lucky and get a rare NFT. The thinking here is that we want this to be fun for everyone and to be inclusive for everyone. We don't want economics to be a barrier to having fun with this project." 
Marsilio, who previously worked at the NBA as senior VP of new media, says the concept for Nifty's—which recently raised a $10 million seed round from such investors as Polychain Capital, Ethereal Ventures, Draper Dragon Fund, Dapper Labs, and A&T Capital—is based on what he found talking to brands there. "A lot of them were looking for more options than a small number of NFTs selling for large dollar amounts. There was no option to do that until now."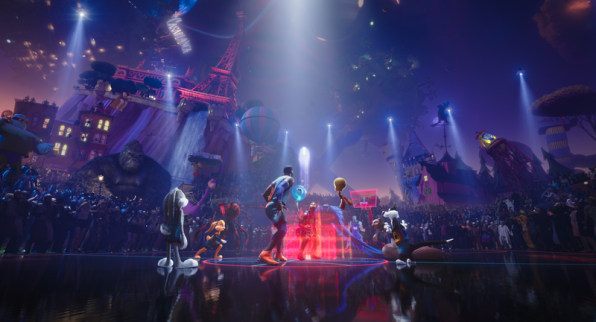 Beyond making NFTs more accessible, the idea is to create a social media-type platform where people can browse and share Nifty's 2 million NFTs without ever necessarily having to buy them. Nifty's allows users to create theme-based playlists, much like Spotify, that can be shared on social media and that don't have to be limited to NFTs that a user owns. "It gives everybody something to do in the NFT space, even if they're not ready to take the plunge and spend money," Marsilio said. 
It also gives Warner Bros. a new, potentially massive, marketing tool as well as a way to leverage the NFT space—something that studios, talent agencies, and producers are all scrambling to do in Hollywood, seeing the craze as the latest wave of "found money" as Chris McGurk, chairman and CEO of Cinedigm Digital Cinema recently told Fast Company. Indeed, Warner Bros. receives a share of revenue generated from each $2.99 Space Jam NFT sale. Vice Media has a similar arrangement with Nifty's and is launching with a Vice playlist based on the history of crypto art. 
Most of all, though, Marsilio just wants to make NFT's easy to understand and use. "We try to make that complexity that is the blockchain as invisible as possible," he says. "When you sign up for Nifty's, all you need to do is enter your email, choose a handle, and you have the option to connect to an existing wallet (of cryptocurrency). Or you can skip that, and we'll create it for you." 
Users don't even need to use cryptocurrency to purchase the Space Jam NFT's—they can simply charge a credit card. 
"We try to make every step as easy as possible."