It's hot. Sometimes it's A/C hot, sometimes it's open windows hot. But then there are the times when the heat is stuck somewhere in between. If you are a temperamental temperature queen like me, you want the optimal indoor comfort at all times. That's where a good fan comes into play: moving stagnant heat out, bringing (moderately) cool air in. Overall, generating cross breeze and flow that brings a room back down to a more comfortable degrees.
As we discovered when we reviewed the stylish Windmill A/C, climate control appliances can be more than just hideous seasonal necessities that obstruct our room's feng shui. Here are six fans that 1: work well, 2: are actually stylish.
Vornado Energy Smart Large Floor Fan 
Vornado was the fan brand that dominated my childhood home—and those fans, they're still spinning. I still have two Vornado fans in my home today: a retro-style desk fan that keeps my laptop cool and provides white noise; and a larger fan that sometimes whirls so fast I expect it to grow wings and fly away. The Energy Smart circulator uses the same engineering—moving air up to 100 feet by creating a vortex that blows its cooling powers to all corners of your room—while promising to stay energy efficient.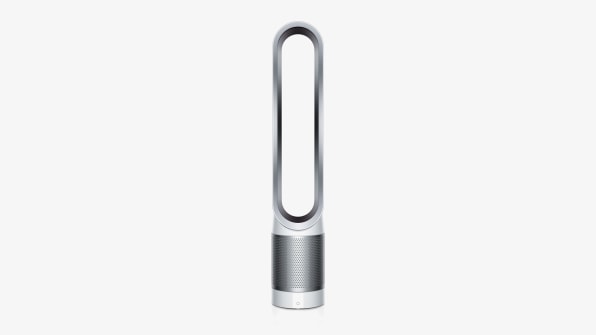 Dyson Purifier Cool purifying fan
This is not a traditional fan. I repeat, this is not a traditional fan. If you want a fan that's going to chill an entire area, this is not it. However, if you want a fan that's going to efficiently move air, cool things down, and leave you with a fresher, cleaner-feeling atmosphere Dyson's Purifier Cool can do that. The unit moves air—pulling it through a HEPA filter to remove pollutants and other particles—and quietly oscillates 350 degrees while blowing out a purified breeze.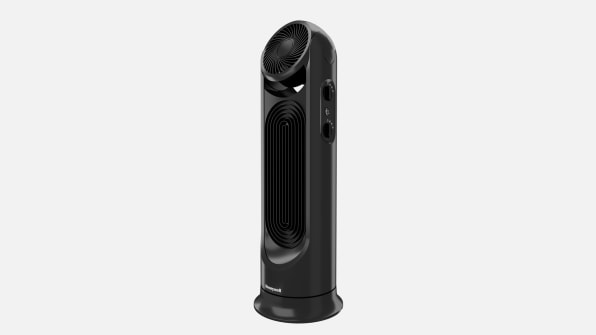 Honeywell TurboForce Air Circulator & Power Tower Fan 
Tower fans are my partner's fan of choice. They tend to be quiet, effective, and keep their blades contained and away from stray paws and curtains. Honeywell's Air Circulator & Power Tower Fan offers the best of both world: an oscillating tower that moves the entire room, while the top can be swiveled and pinpointed for more personalized comfort.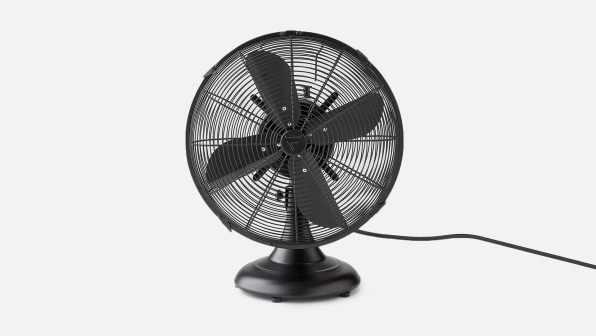 Schoolhouse Table Fan
OK, but sometimes you just want a fan that looks nice, too. Schoolhouse built its model with a modern farmhouse aesthetic that makes me want to release my inner Joanna Gaines and build a shiplap wall around it. The matte metal oscillating table fan looks like intentional decor, opposed to a device designed with one sole purpose: to cool you as fast and quickly as possible. Luckily, this one can do that, too.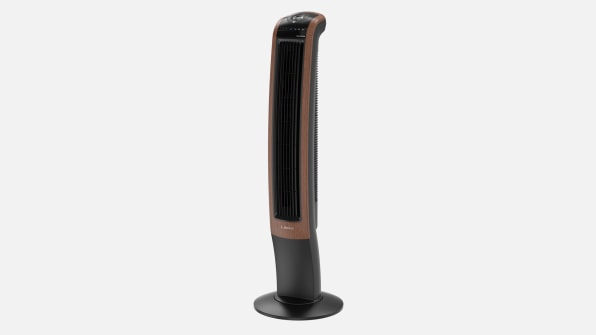 Lasko 42" Oscillating Tower Fan
If you want a more traditional tower fan, Lasko is a reliable bet. Its 42″ Wind Curve is quiet, comes with a Bluetooth-connected app, and features woodgrain-patterned paneling that can easily blend into the background of your MCM-designed living room.
Better Homes and Gardens 12″ Retro Table Fan
Even at a budget price, this BH&G fan offers a lot of style (and a rainbow of color options) to your room. Its study metal build looks great and is fully functional with multiple speeds, and a tilt-able, oscillating head.
Fast Company's Recommender section is dedicated to surfacing innovative products, services, and brands that are changing how we live and work. Every item that we write about is independently selected by our editors and, whenever possible, tested and reviewed. Fast Company may receive revenue from some links in our stories; however, all selections are based on our editorial judgment.