Fewer than half of people with mental illness received any treatment in 2019, according to research by the Rand Corp. This was before the global pandemic and the mental health impacts and provider shortages that came with it.
Rand recently released designs by its inaugural data artist-in-residence, Giorgia Lupi, depicting data from its report focused on transforming mental health in America. In Lupi's "Imaging Mental Health in America," colorful strands connect across a brain-like image to depict the challenges and barriers to care that those with mental illness face. They branch out from the same origin and at times intermingle on a black background.
As the visualization shows, there is no single reason Americans don't get treatment for mental health issues. Factors include race, homelessness, and lack of access to care. And they all connect in Lupi's diagram to create a portrait of our failure to provide sufficient help to those in need.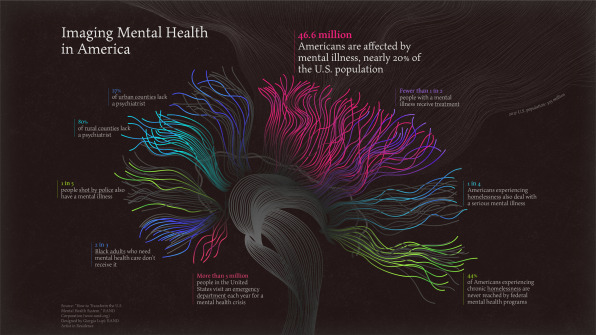 Lupi says she and her team chose to focus on mental health because the pandemic highlighted the astronomical scale of America's mental health crisis. "All of us who are not in complete denial of what happens in life have probably been very affected by this year," Lupi says. "All of our plans fell apart and our vision for the future fell apart and we had to just stop." Though she is familiar with mental health issues, she says some of the stats Rand exposed her to were surprising: "46.6 million Americans suffer from mental illness—that's nearly 20% of the population," she says, focusing on a 2017 statistic she illustrated.
Lupi turned Rand's data into images inspired by "connectomes," colorful visual maps that scientists use to portray neural connections in the brain. The designer and her team member Phillip Cox, who both work for Pentagram, decided on this method after being struck by the beauty of connectomes while searching for visual inspiration. "Seeing all the connections felt really compelling," says Lupi, who chose a connectome over a solid brain image. "It's a visual metaphor," she explains.
The colors and background selected for the design are just like those used in connectomes. However, instead of illustrating neural connections, they show the devastating connection between being mentally ill and experiencing homelessness or getting shot by police.
Residency curators The Gordon Co and Debbie Millman, who selected Lupi as Rand's first artist-in-residence, hope her images catapult Rand's research into the public eye. "We recognized that there was an opportunity for Rand to present their research in a new and compelling way," says DeeDee Gordon, a trend forecaster. "We found that young people are really adept at consuming large quantities of information, especially when it is presented to them visually," she says, explaining the catalyst behind the fusion of art and data that is central to the residency.
Lupi, who often uses data to tell personal stories, hopes her most recent work "makes people feel less lonely." This message is especially important as we emerge from the pandemic without knowing the long-term effects of lockdowns, mass casualties, and illness.
Researchers at Rand hope the solutions suggested in the report will be taken up by those in control of education and the healthcare system to help promote future well-being. According to Rand, strides in mental health might be made simply by teaching kids to recognize the signs of depression or anxiety as part of health education. This way, youth experiencing distress might know to seek help, allowing for better outcomes with early intervention.