I often fall into kitchen slumps. In these moments, the last thing I want to do is pull out my pots and pans and cook when I could just tap my way to delivery from my phone. But unlike with takeout, there's rarely an occasion in which I walk away from a homemade meal feeling like I have made a bad decision.
One way to get back into the cooking groove is to stock your cabinet with a new ingredient and then get obsessed with it. (Like the time I discovered how to make my own labneh and talked about it for about six weeks straight.) Mixing up your pantry with new spices is a fun—and affordable—way to bring fresh flavor into your kitchen and open the door to obsession-worthy dishes. Here are four great direct-to-consumer spice brands that are making small-batch and single-source spices and blends that will certainly shake up your routine and spice up your life.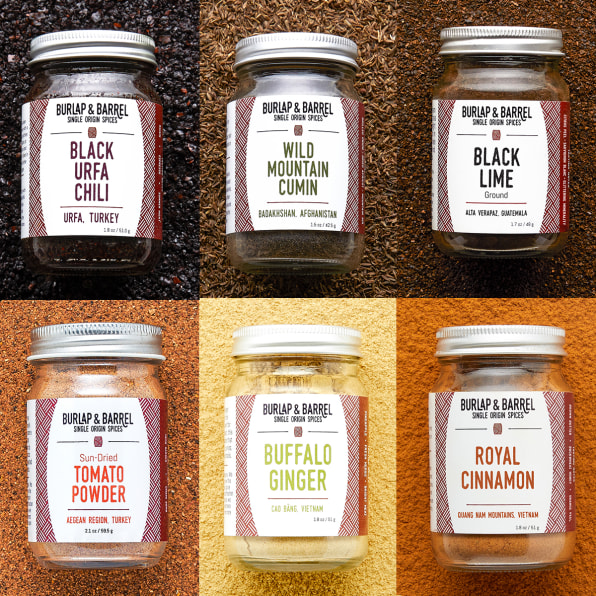 Burlap & Barrel
Co-founders Ethan Frisch and Ori Zohar launched their company in 2016, lugging spices directly from farmers to create high-quality, single-origin products. Not much has changed since—except Burlap & Barrel has become bigger and more ambitious. The company continues to work with farmers to purchase unique and rare spices, such as ground Cinnamon Verum from Zanzibar, Tanzania, and Black Urfa Chili from a family farm in Urfa, Turkey. Here at Fast Company, we are big fans: I can't live without the Purple Stripe Garlic powder from Cao Bằng, Vietnam, which has a deliciously nutty brown-butter flavor. Senior Editor Amy Farley swears by the company's sour, salty, and rich Cured Sumac as the perfect topping for avocado toast—no lemon juice necessary. You can find both spices, plus the Black Urfa Chili, in Burlap & Barrel's three-pack Weeknight Dinner Collection ($24.99).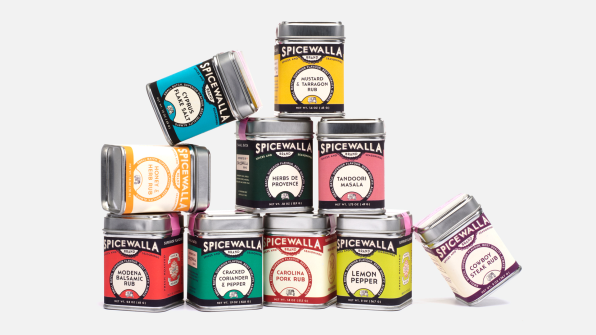 Spicewalla
Chef and restauranteur Meherwan Irani's small batch spices bring a rainbow of flavors into your kitchen. While his ethically sourced spices are fresh and sensational, it's really the blends that you'll want to hoard. (And to gift, because they're just that good.) Irani's culinary expertise shines in ready-made mixed spices with global influences, from Spicewalla's Buxton Hall Turkey Rub, a kicky blend of black pepper and herbs de Provence, to the actually perfect Pakora Masala. 
Diaspora Co.
Founder Sana Javeri Kadri's equitably sourced and well-branded spices are what pantry shelfie goals are made of. The company, which was founded in 2017, emphasizes direct relationships with farmers to create more beneficial supply chains across India and Sri Lanka. The spices are also delicious—and regularly accrue waitlists, since each Diaspora Co. product is guaranteed to have come from a same-year harvest. There's plenty on offer, like the Wild Heimang Sumac sourced from Manipur, India, the smokey, fiery Sannam Chillies, from India's Guntur region in Andhra Pradesh, and the buttery Makhir Ginger, from the Meghalaya state in northeast India.
The Spice House
This midwestern spice apothecary is under new ownership as of 2018, with Dave Grossman and Dan Yates giving the legacy brand an elevated new look and more consciously sustainable practices. (The previous owners originally landed on my radar for their  controversial "don't mix politics with business" stance.) The updated Spice House collection shines with its extensive offerings of spices and blends: a candy store-esque selection that includes Chicago Deep Dish Pizza Seasoning, which will knock the socks off any mediocre frozen pizza or jarred sauce; a Gateway to the North maple-garlic blend that's perfect for baked beans and sweet potatoes; the classic Lake Shore Drive Shallot and Herb seasoning, which is chock-full of chives, scallions, green peppercorns, and (yes) shallots; and the popcorn-ready Vulcan's Fire Salt.
Fast Company's Recommender section is dedicated to surfacing innovative products, services, and brands that are changing how we live and work. Every item that we write about is independently selected by our editors and, whenever possible, tested and reviewed. Fast Company may receive revenue from some links in our stories; however, all selections are based on our editorial judgment.