In the dead of summer my apartment dangerously hovers between 85 and 95 degrees, which makes cooking dinner an absolutely miserable experience. An air fryer became my savior last year, but also proved to be quite limiting. Sometimes I wanted those roasted, juicy flavors and texture that you get from long hours of braising in the oven. So when Anyday, a cookware brand that dares users to make delicious meals in the microwave, started aggressively popping up on social media, I had to try it.
Anyday launched direct-to-consumer in March with glass dishes specifically designed for microwave cooking. Their collection is made up of four bowls—two deep, two shallow, in medium and large sizes—made from frosted, heat-resistant borosilicate glass with microwave-safe stainless steel and silicone-rimmed glass lids. Each features a silicone knob that acts as a steam vent when popped up and creates a vacuum seal when pressed down. Founded by Steph Chen and heavily endorsed by business partner chef David Chang, Anyday looks like your average food-prep storage—but it isn't.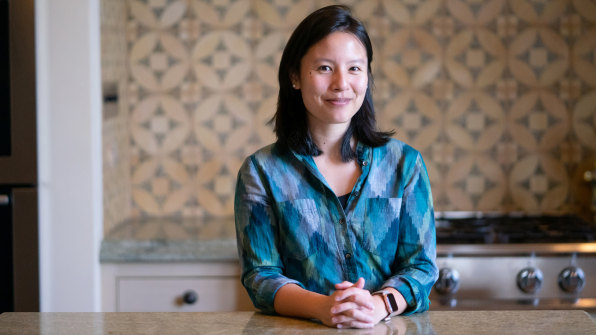 Cookware innovations run in Chen's blood—her family owns Meyer Corporation, makers of Anolon, Faberware, and KitchenAid—and her pursuit of Anyday stemmed from foodies' distaste for microwave-cooked meals. She found that people (like myself) perceived microwaves as an unnecessarily harsh method of cooking, draining food of moisture, texture, and nutrients—which is simply not true. When so many succulent and delicious meals are celebrated as cooked "low and slow," how could something zapped in minutes be nearly as good?
Anyday's product is simple enough: the glass bowls are sold individually ($30-$40), lid included, or as a $120 set of four. The set arrives with recipe cards, but users can also refer to the website, where the company has a database of recipes ranging from mushroom risotto to peanut butter chocolate lava cake to shrimp scampi to granola. It emphasizes the versatility of the bowls—whether you want to steam rice or prepare a full one-bowl meal like couscous with lemon, chicken, and dates—noting just how much time you'll "save" by opting for a microwave, with cheeky suggestions for what to do with the spare minutes. (The four to five minutes spent on a Chinese steamed egg? Catch up on a podcast.)
Chen explained that the bowls use microwaves' efficient heating power (rapidly vibrating food's water molecules to produce heat) to heat quickly, while the vented knobs help keep steam circulating, resulting in moist, never-dry dinner. One of the other big hurdles Chen had to leap over was educating users in how microwaves work in general—in order to sufficiently persuade them to try out zapping dinner. That's where Chang's help came in, as he made a series of very convincing videos of complete microwave meals using fresh ingredients straight out of his refrigerator. "This is about as good as I can make food at home," he says while digging into a one-pot rice and salmon bowl.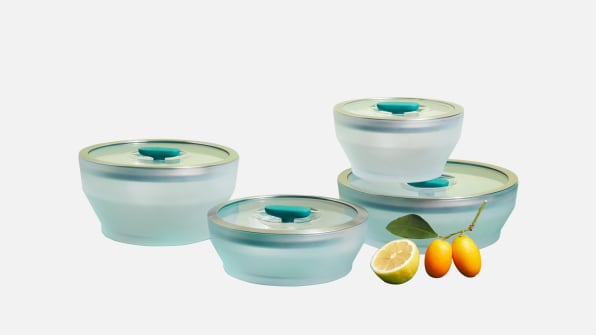 Following his lead, I made an amazing do-nothing lunch with a half cup of white rice, frozen stir-fry vegetables, and frozen shrimp in the Anyday Medium Deep Dish. Spoon on some chili crisp and you have an incredible lunch with little to zero kitchen time. The shrimp were plump and evenly cooked with zero oil. Frozen vegetables retained their firmness and slight crunch. Plus, the ability to throw in a handful of veggies when you cook your protein makes it even more mindless to sneak some green into every meal.
Spinach dip is dangerously easy to whip up using Anyday. Creamy and emulsified, it's made from splashes of refrigerator staples and a few handfuls of frozen spinach. Silky mashed potatoes are cooked and ready to serve in one bowl within minutes. It's nice to be able to serve meals straight from the microwave (!!!) and then seal leftovers in the vessel it cooked in. And when it's all over, cleanup is a breeze.
Some recipes take some trial and error. Replicating Chang's salmon took a few spins before the fish was flaky and cooked through. I spaced on directions and wound up with a hard-as-rock rice puck when I overcooked my first batch. (Always take note of the wattage and power-level instructions.) When I was successful, the rice turned out fine and convenient, but I still struggle to imagine this method replacing my beloved rice cooker. While I fretted what I would do when I made my way through Anyday's recipe database, Chen assured me her team of chef testers would be updating the selection on a regular basis, with the hopes that user recipe development takes off, à la the Instant Pot community.
Still, Anyday is a brand that I cannot believe isn't TikTok famous already. Every time I open an Anyday bowl, I turn to my boyfriend and am like, "Can you believe this?!" The experience is almost always a thrill—like those initial months of marvel with an electric pressure cooker or air fryer, except way more low-key and inexpensive. I've already shipped an Anyday bowl to a friend who loves to cook but has been having trouble since she had a baby. (Baby food is apparently doable in an Anyday.) It's an easy win for a busy family in a matter of minutes.
Fast Company's Recommender section is dedicated to surfacing innovative products, services, and brands that are changing how we live and work. Every item that we write about is independently selected by our editors and, wherever possible, tested and reviewed. Fast Company may receive revenue from some links in our stories; however, all selections are based on our editorial judgment.