Today, we get our first glimpse of the hotly anticipated collaboration between Gap and Kanye West. It's a $200 unisex, electric blue puffer jacket featuring a "YZY" logo on the tag.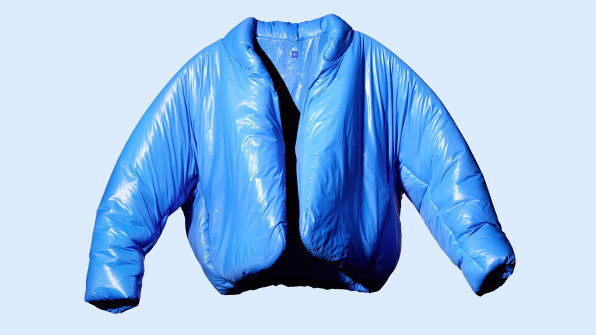 Gap has staked a lot on this collaboration, reportedly paying West $1 billion on a 10-year agreement to design collections for men, women, and kids under the YZY label. For Gap, the 51-year-old American brand, which has seen declining sales for years, the partnership represents an opportunity to be relevant again. "I get asked about Yeezy everywhere, all the time," Mark Breitbard, Gap's president and CEO, told me recently. "There is so much energy around that, it sort of reinforced the decision to do the partnership with Kanye. That's why we're so committed to it and confident that it's a good move."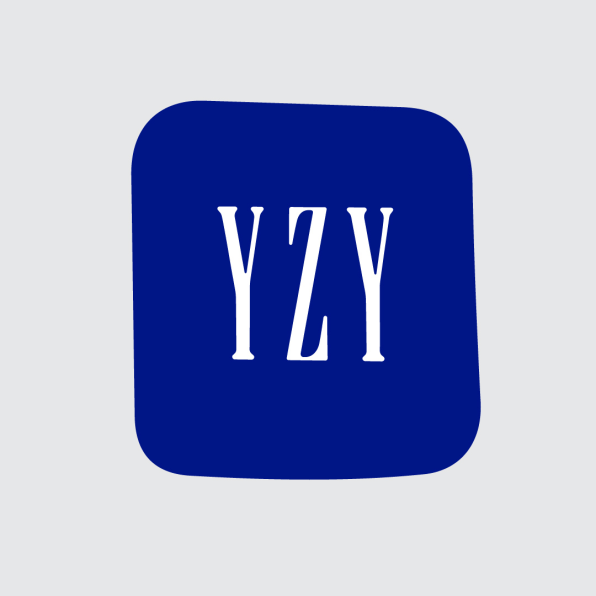 With this drop, Gap is also tapping into West's expertise at generating hype. The product launch came without warning. West chose June 8, his 44th birthday, to launch the piece. Last night, ghostly floating projections of the jacket began appearing on buildings across New York, Los Angeles, and Chicago. Customers can preorder the jacket starting today. Both West and Gap declined to do interviews for this story.
The new piece, which is called the "cloud jacket," has an amorphous shape, reflecting the normcore streetwear aesthetic of West's luxury brand Yeezy. But it is also not that far removed from the puffer jackets that Gap releases every fall and winter. If this is any indication of what's to come with Yeezy Gap, West aims to push Gap out of its comfort zone—but not so far that it alienates the average Gap shopper.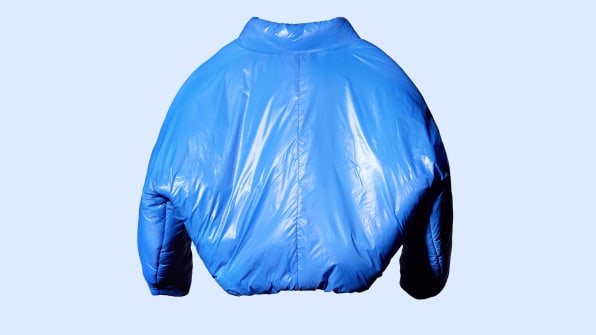 But what West may provide Gap, even more than style, is hype. West is a master at creating excitement and anticipation around his products. He often drops albums unannounced (most recently on Christmas Day in 2020 when he dropped the album Emmanuel, which sold millions of copies). He taps into a playbook that has been used for decades in the luxury and streetwear industries of cultivating demand for products by inviting customers to preorder or sign up for a waitlist. West has been able to bring his marketing genius to other major brands. He has partnered with Adidas since 2015, designing sneakers and apparel for the German sportswear giant that has generated billions in revenue.
Will the magic formula work for Gap? Gap has struggled with an identity crisis over the past decade. It hasn't had a distinct aesthetic since its khakis and plain white tees were cool in the early 2000s. It does not have an easily recognizable mission or audience. The partnership with West suggests that Gap is branching into streetwear in an effort to appeal to millennials and Gen Z. But after a decade of seeing Gap as a bland, boring label, even a brand as powerful as Yeezy may not be able to change their minds.