The pandemic winter has been rough. The weather was bleak and so was the cultural outlook.
But with summer just around the corner, free public artwork is cropping up everywhere. Here are some of the biggest and most immersive installations you can catch in one of the country's most culturally vibrant (and gradually reopening) places: New York City.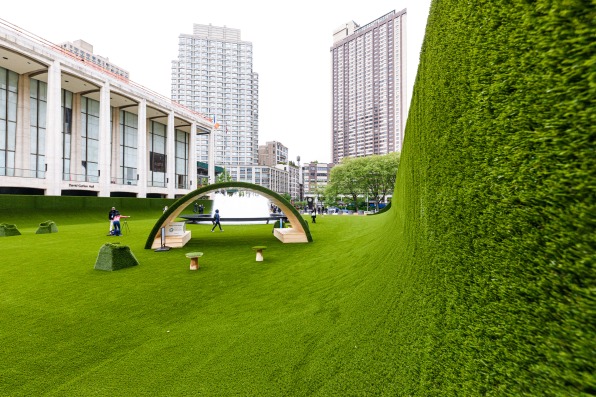 The Green at Lincoln Center
The Lincoln Center for the Performing Arts, which houses the New York City ballet, opera, and symphony, is an incredible institution in its own right. It's designed by one of the most renowned industrial designers of the 20th century, Eero Saarinen. This summer, however, the plaza looks decidedly different. That's because the 20,000-square-foot-space surrounding its iconic fountain is covered in green turf aptly called "the Green" and designed by Mimi Lien. The makeover is part of Lincoln Center's Restart Stages initiative to kickstart the arts in New York City following pandemic-related closures. But the lawn, punctuated by sod-covered chairs and half-pipe shaped arches perfect for reclining, also makes for the perfect spot to take a break after soaking it all in. On view through September.
Little Island
The newly opened $260 million floating park off the Hudson River is a surreal oasis, with natural gardens, green rolling hills, and puffy trees that seem all too ethereal for the meatpacking neighborhood it's moored off of. The park is designed by Heatherwick Studio—the same firm that designed the Vessel in Hudson Yards—and developed by Barry Diller. Little Island is worth sightseeing even from a distance: you can see that it's lifted up out of the water by toadstool shaped columns of various heights. Look out from the island and there's another visual treat: gorgeous views of Manhattan's skyline. On permanent view.
Day's End
Just a stone's throw south of Little Island, you'll find a new public artwork by artist David Hammons called Day's End. The massive installation started with an illustration Hammons mailed to the Whitney; seven years later it's on full display. The work sits in the Hudson River Park directly across from the Whitney Museum. Day's End, which looks like the steel outline of a building, is a sort of inversion of a 1975 artwork of the same name by artist Gordon Matta-Clark. For that work, Matta-Clark cut five openings into the Pier 52 shed with a blow torch, which has since been removed. Hammons' rendition is in the exact same spot. On permanent view.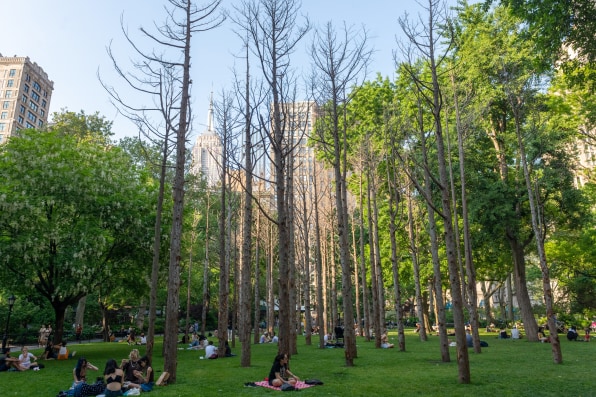 Ghost Forest
Forty-foot white cedar trees loom throughout New York's Madison Square Park as part of artist Maya Lin's work, Ghost Forest. The tree is endangered on the East Coast due to logging and climate change, according to the artist statement. This public work uses scale to overwhelm those who walk through it as a reminder of the outsized and devastating impact of climate change. Ghost Forest has an accompanying audio component so you can also hear animals that once populated Manhattan. On view through November 14.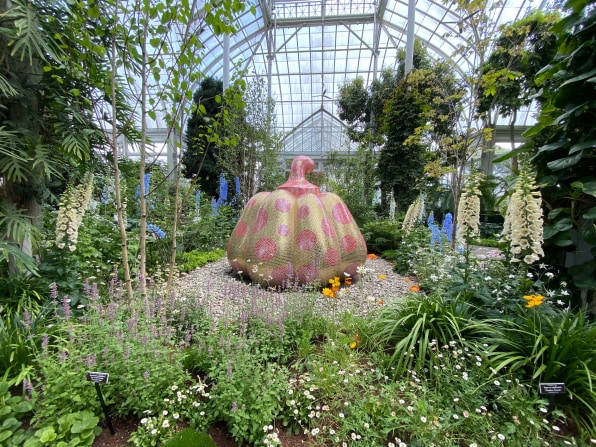 Kusama: Cosmic Nature
The popular Japanese artist Yayoi Kusama—known for her immersive, dotted installation and sculptural work—is taking over the New York Botanical Garden in the Bronx this summer. See fantastical, brightly colored, and, of course, spotted floral sculptures mixed in with real flora throughout the gardens, as the artist explores her connection to the natural world. On view through October 31.
View this post on Instagram
Oracle
Rockefeller Center is known for its ice rink and as the location for the Today Show, but it can also be a great place to see large public art commissions. This year, the plaza will be taken over by the work of conceptual artist Sanford Biggers, who designed a 25-foot-tall cast bronze statue called Oracle. The statue, which weighs 7.64 tons is inspired by the Greek temple of Zeus, as well as Luba and Maasai religious art. It's part of Biggers' ongoing Chimera series, which combines the mythology and history of different cultures through masks and figurative sculpture. On view through June 29.
View this post on Instagram
At Home Heroes
This photography exhibit isn't by one artist in particular—in fact, it includes photos of over 150 New Yorkers. The exhibition projects photos of New Yorkers' "care-giving in action," against one of the pillars of the Brooklyn Bridge. New Yorkers submitted photos of their parenting over the past year—everything from at-home haircuts to family dinners. The exhibit creates a poignant connection between the city's history and present, and is a moving tribute to the everyday struggle of living life during COVID-19. On view nightly at dusk until 10 p.m. in Dumbo, Brooklyn, through June 20.