Amazon is getting into personalized fitness with a new feature for Halo, its fitness tracker and app, Called Movement, it measures how a person moves, identifies areas of improvement, and offers up curated exercises.
Amazon introduced its Halo fitness tracker at the end of 2020. It was a notable departure from other wearables such as Apple Watch and Fitbit, with features for tracking body fat percentage, body temperature during sleep, and tone of voice. Overall, it focuses on tracking aspects of a person's health that are simple to understand, such as body fat percentage instead of BMI and a weekly activity score instead of daily one. The new Movement feature is consistent with that approach.
Inside Halo's smartphone app, the Movement assessment directs users to record themselves performing various exercises using their phone's camera. The test takes roughly five minutes and assesses for 20 potential physical limitations relating to issues such as range of motion and strength.
Once complete, it serves up 5-7 routines based on a person's specific problem areas that will improve exercise form and ultimately mobility. Through the app, users can record every time they do these exercises and track their improvement.
What this feature is really about is preventing future injury. The goal of Movement is to build muscle memory around correct movements. When you do a squat, is your back straight or are you tucking your pelvis at the bottom of the squat? Are your knees over toes? The app aims to let you know for sure.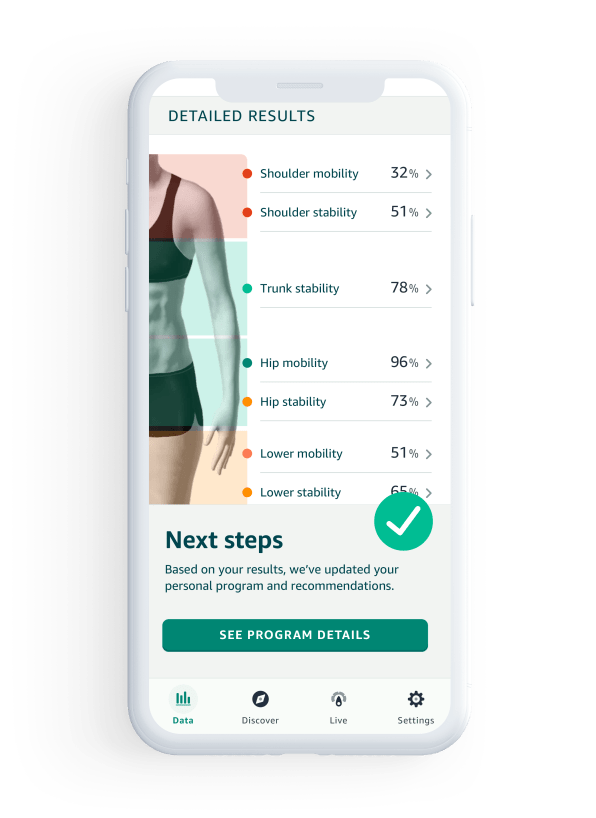 There are a total of 35 possible corrective exercises—roughly ten minutes or less each. The program is designed by physical therapist and author Dr. Kelly Starrett, a celeb to the CrossFit crowd, who demonstrates each of the exercises in videos. In addition to these short exercises are a range of workouts up to 60 minutes that incorporate the same recommended mobility exercises for people who want a more vigorous experience.
This is Halo's first foray into personalized fitness content and follows Apple's launch of Fitness+, which features an array of online exercise classes. Where Apple's health offering is all about curation, Amazon emphasizes personalizationL Fitness specifically for you, based on your metrics and your physical ability (not what you think your physical ability is). Google has taken a similar approach to meeting people where they are with its recent dermatological search tool and smart phone breath and heart rate monitor. But Amazon clearly wants to get more personal with content specifically targeted to you and your unique issues.